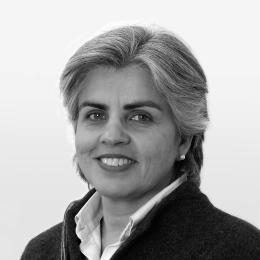 Gemma Aiolfi is Senior Advisor Compliance and Collective Action at the Basel Institute on Governance. Gemma helped to establish the Basel Institute on Governance in 2003 alongside Prof Mark Pieth, former Chair of the OECD Working Group on Bribery, and served as the organisation's Head of Compliance, Corporate Governance and Collective Action until October 2022.
Together with a team of compliance and Collective Action specialists, Gemma supports the Basel Institute's extensive private sector work and outreach. This includes providing tailored guidance and training on anti-corruption compliance, corporate governance and crisis management to organisations of all sizes and sectors, and driving the use of Collective Action approaches to tackle corruption, raise standards of business integrity and level the playing field between competitors.
A barrister by training, Gemma studied Swiss law in Basel, Switzerland and holds a law degree from the London School of Economics and a postgraduate degree from Stockholm University in Sweden. Among other roles, Gemma has worked as Global Head of Anti-Corruption at Swiss bank UBS, and as Legal Counsel to the Integrity Department and internal Office of Special Investigations at ABB. 
Gemma served on the OECD's Working Group on Bribery in International Business Transactions and as an advisor to the UN Independent Inquiry Commission on the Iraq Oil-for-Food Programme. She is a Member of the Board of Ethics and Compliance Switzerland and of the OECD's Trust in Business Initiative, a member of the Steering Committee of the Alliance for Integrity and a former External Council Adviser to the Board of Graña y Montero, Peru.
Her 2020 book, Anti-Corruption Compliance: A Guide for Small and Mid-Sized Organizations published by Edward Elgar, offers step-by-step guidance to companies and non-profit organisations in managing their corruption risks.