03. August 2020
Gemma Aiolfi publishes new book on Anti-Corruption Compliance: A Guide for SMEs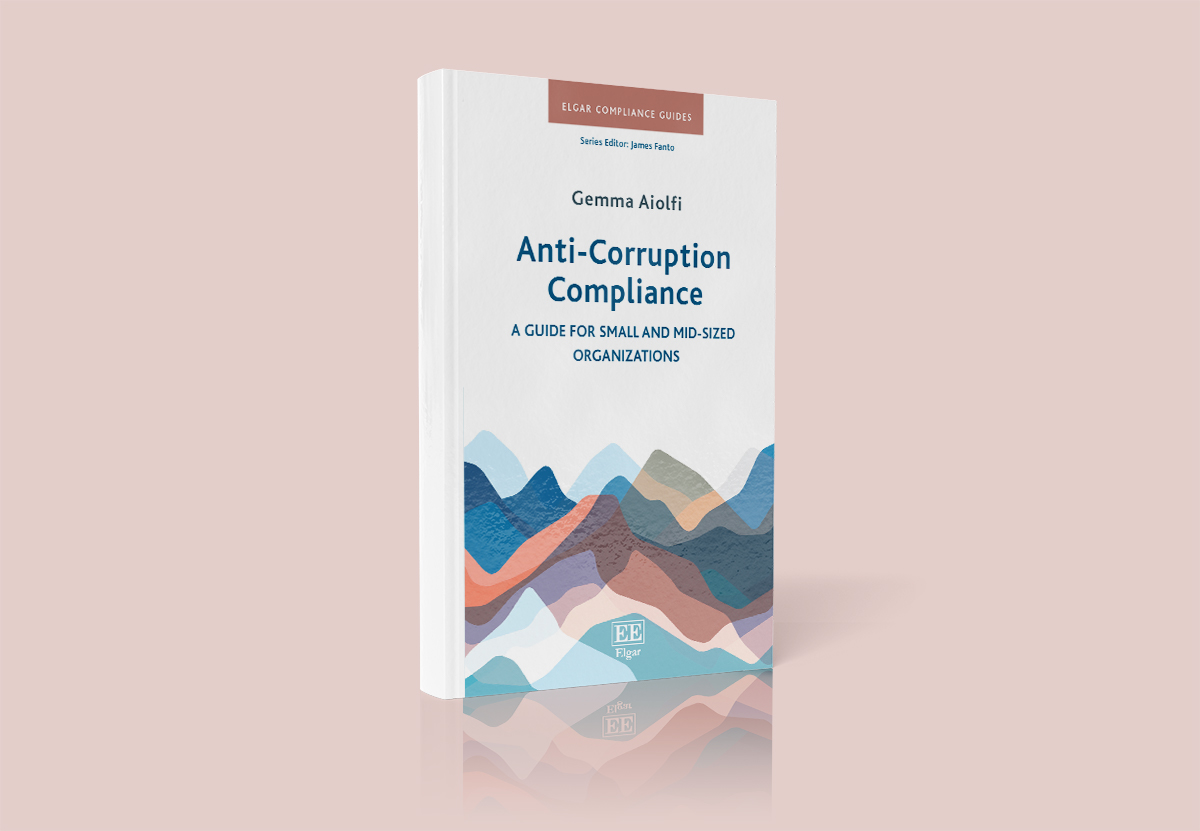 Our Head of Compliance and Collective Action Gemma Aiolfi has turned her decades of experience in anti-corruption compliance and corporate governance into a practical guide for small and medium-sized enterprises (SMEs).
Published this July by Edward Elgar, the book offers step-by-step guidance to small and mid-sized companies and non-profit organizations in managing corruption risks in overseas markets. It covers how and why to build a culture of integrity, develop a risk-based anti-corruption compliance programme, and engage with other industry players in collective action against shared corruption challenges.
The focus on culture, compliance and collective action helps resource-stretched companies to build a strong foundation for a healthy and flourishing organization, as well as contribute towards raising standards of integrity across their industry.
Key features
Guidance for creating and contributing to collective action
Quick definitions, tips and practical tools such as checklists
A hands-on approach with an emphasis on culture and leadership
Case studies and real-life examples of both corruption risks and the importance of a strong compliance culture
Anti-Corruption Compliance will be an invaluable resource for senior managers of small and mid-sized organizations in minimizing exposure to corruption risks in international markets. It will also prove useful to corporate lawyers and others involved with compliance functions in larger companies, as well as to academics and students of corporate law with an interest in anti-corruption and compliance.
It is part of Edward Elgar's popular Elgar Compliance Guides series.
Praise for Anti-Corruption Compliance: A Guide for Small and Mid-Sized Organizations
Michael Silverman, Hughes Hubbard & Reed LLP and first World Bank Group Integrity Compliance Officer comments that: "This book should have a place in the libraries of SMEs and MNEs alike, and worn copies on the desks of compliance personnel and other senior company officers concerned with risk. Well-written and researched, the book should help enlighten and inform its primary audience of SMEs as well as others ranging from experienced compliance professionals at MNEs to regulators and academics. The case studies put real meat on the bones of sometimes obtuse or confusing anti-corruption laws and showcase possible compliance responses and good governance solutions to difficult real-life corruption risks."
Philip M. Nichols of the University of Pennsylvania in the US calls the book "a must-read for people who are serious about understanding and complying with the myriad rules about corruption. The book is concise and direct, but comprehensive – it packs tremendous insight into a digestible format."
Meanwhile, Nicola Bonucci of Paul Hastings LLP in Paris, France, states that "Aiolfi's book addresses policy issues and presents practical solutions in a condensed and user-friendly manner. It is great reading for all practitioners, be they chief compliance officers, in house and external lawyers or CEOs.
If you're not yet convinced by these testimonials, read it for yourself. For a limited time, you can get 35% off hardcover or paperback versions by purchasing Anti-Corruption Compliance on the Edward Elgar website. Just use the discount code AIOL35 when checking out.