23. March 2021
Welcoming the OECD's new FAQs on corruption risks in mineral supply chains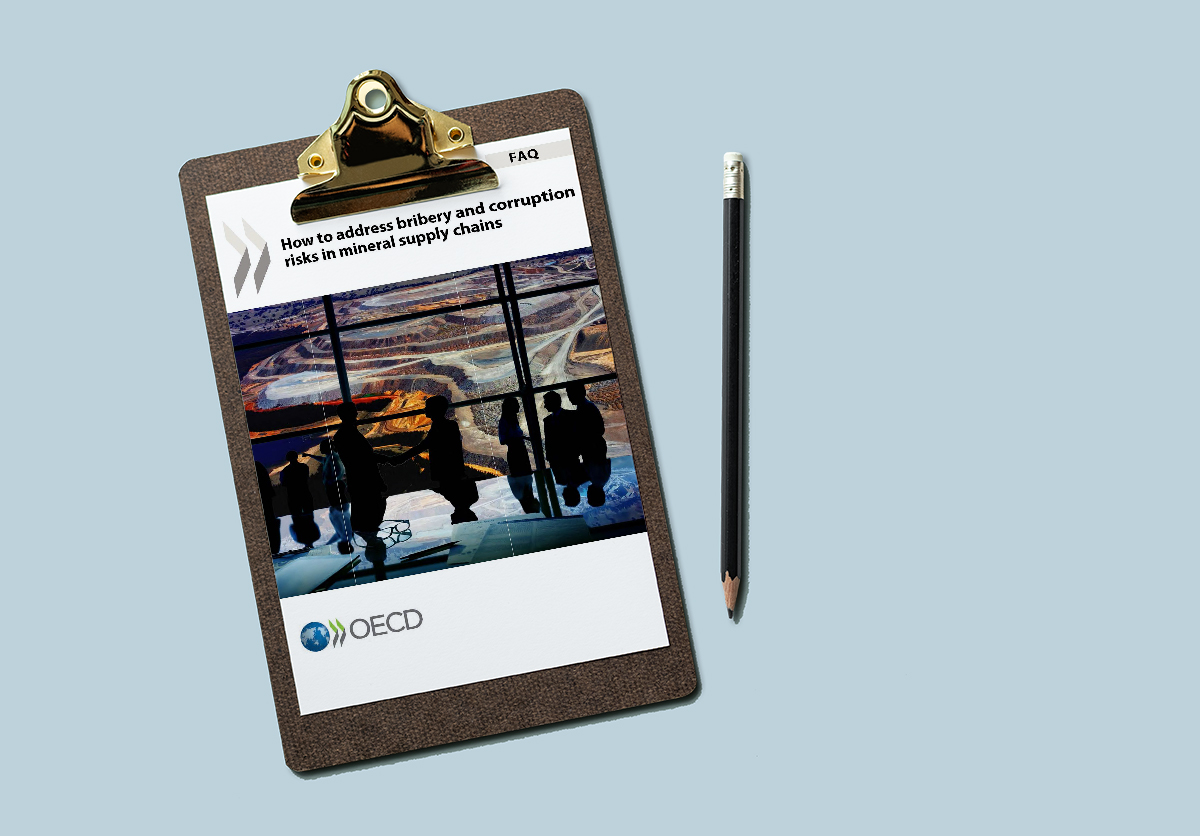 Our partners at the OECD have just published a set of Frequently Asked Questions (FAQs) to help companies involved in minerals sectors better address bribery and corruption risks throughout their supply chain.
Find it here: FAQ: How to address bribery and corruption risks in mineral supply chains
The FAQs complement the user-friendly and interactive online version of the gold-standard OECD Due Diligence Guidance for Responsible Supply Chains of Minerals from Conflict-Affected and High-Risk Areas (Minerals Guidance). The questions cover some common challenges in identifying, preventing, mitigating and reporting on bribery and corruption risks in mineral supply chains.
We welcome the FAQs for many reasons.
A practical tool...
First, because good policies and guidelines against corruption often suffer from weak implementation on the ground. Practical tools that help companies to implement recommendations can only help to make anti-corruption measures more effective – and the industry fairer and more efficient as a result.
... serving real needs
Second, these FAQs really address the concrete needs of users because the OECD consulted extensively with governments, the private sector and civil society in developing them.
We were happy to contribute as part of the consultation process through our Green Corruption programme, which applies anti-corruption and governance approaches to counter environmental degradation.
... endorsing Collective Action
Third, we are glad to see that the OECD endorses and encourages anti-corruption Collective Action as a way for companies to increase their leverage over suppliers further upstream in the supply chain. Answer 8 states:
"Companies can join forces with their peers, usually at a similar position in the supply chain, to apply pressure on specific issues such as corruption. This can be done via established fora, such as industry associations, multi-stakeholder groups and High Level Reporting Mechanisms where available, or by working with buyers from the same supplier associated to corruption risks."
This endorsement of Collective Action, in this case through multi-stakeholder groups and partnership initiatives led by industry associations, aligns with a general trend we are seeing across a variety of high-risk industries. 
As our recent paper on Mainstreaming Collective Action reveals, governments, standard-setters and the private sector itself are increasingly recognising the value of companies engaging with others in Collective Action initiatives to tackle shared corruption risks and create a more level playing field.
Developed and promoted by the OECD and the Collective Action team at the Basel Institute on Governance, the High Level Reporting Mechanism (HLRM) is a good example of how a Collective Action tool can help to quickly and effectively address reports of bribe solicitations or unfair business practices. Governments around the world are currently implementing or considering the HLRM for high-risk, high-value tenders such as those found in the extractive industries.
... supporting risk assessment
Finally, we are also glad that the OECD authors recommend two of our flagship digital tools in the FAQs to help companies conduct corruption risk assessments on:
Company leaders, compliance officers and all those seeking to improve responsible and sustainable business practices in mineral supply chains are strongly encouraged to use and share the FAQs.
Sharing experiences: joint OECD-Basel Institute webinar series
We hope to see some of you at upcoming editions of our Corrupting the Environment webinar series. Co-hosted by our Green Corruption team and the OECD, the series brings together thought leaders among government, private industry and civil society to explore burning issues of environmental degradation, financial crime and illicit trade.