11. May 2023
A personal history of ICAR training – Q&A with Phyllis Atkinson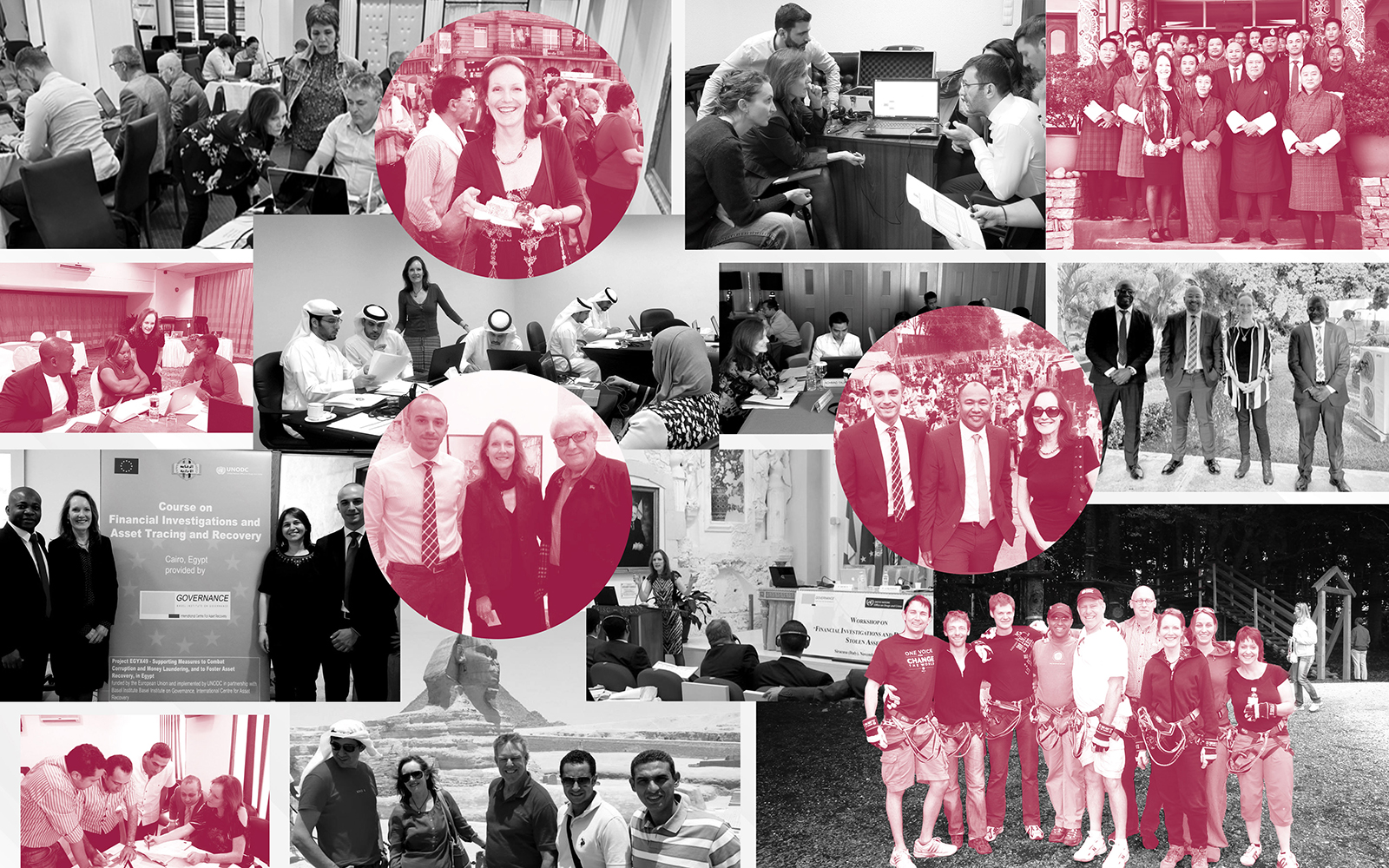 Phyllis Atkinson has led the training team of our International Centre for Asset Recovery (ICAR) since 2010, having joined ICAR in 2009. The team's work is essential to ICAR's mission to support partner countries in developing their capabilities to investigate corruption and recover stolen assets.
The training programmes are widely acknowledged as unique in their methodology, which emphasises collaborative learning and involves simulated investigations tailored to local contexts.
Phyllis has herself trained over 4,000 investigators, prosecutors, judges and others in more than 40 countries, often travelling more than six months of each year. As she prepares to hand over the reins to her long-standing colleague Thierry Ravalomanda in July, she reflects on the evolution and impact of ICAR training over the years.
How did it all begin?
For me, it began in 2008 while I was working for Deloitte Forensic & Disputes Services in Cape Town as a forensic specialist investigating white-collar crime and participating in anti-fraud and corruption training initiatives. Daniel Thelesklaf and Tom Lasich, then at the Basel Institute and its newly established ICAR, supported a training initiative on a project I was supervising in Tanzania.
As a former prosecutor and investigator in South Africa for 23 years, focusing on economic crime for much of the time, I was immediately struck by the uniqueness of their training approach. I could see its potential to make a difference in developing and transition countries.
I joined ICAR in 2009 as a Senior Asset Recovery Specialist, succeeding Tom Lasich as Head of Training in 2010. I can only describe Tom as the mastermind behind the ICAR training methodology. He has been an experienced and trusted mentor, advisor and friend throughout the years.
The Basel Institute's Managing Directors, Daniel Thelesklaf and later Gretta Fenner, have also played a pivotal role in nurturing our training offer as our Institute and asset recovery work expanded.
What makes the approach unique and successful?
Of all the many things that make our training unique, I want to highlight that we don't offer an "off-the-shelf" product. Rather, both the theory and the extensive practical exercise – a simulated investigation – are customised to the specific needs of a country and adapted to its legal and institutional context.
We achieve this by closely liaising with relevant national authorities and working onsite in the concerned country, including during the preparatory stages of a training programme. This is because we are seeking to build the technical skills of trainees in handling concrete cases within the constraints of their own legal system and proceedings.
It takes time and effort to customise the training programmes. But the reward is that it results in training that is credible, tailored and relevant to participants.
What role does the simulated investigation play?
As I explain in my quick guide to effective training, a simulated corruption and money laundering investigation is the centrepiece of all our training programmes. Participants work together in groups to "follow the money" and gather evidence for use in court. "Learn by doing" is something I repeat and encourage over and over again.
The exercise is interspersed with short sessions on theory – laws, procedural aspects, etc. – to enable them to advance to the next stage of the investigation.
This not only helps participants immediately put their new skills and knowledge into practice.  It also fosters peer learning and networking among participants from different agencies and institutions along the criminal justice chain. Investigators, prosecutors and analysts often need to work together in real life on corruption investigations, yet usually work in silos.
Our recent training programme in Zambia is an example: the 34 participants came from eight different institutions, from law enforcement to prosecutors, the procurement authority and the Central Bank.
Our regional training programmes foster similar peer learning and cooperation among counterparts across borders, aiding in and supporting international co-operation in transnational investigations.
How has ICAR training evolved under your leadership?
The core principles have remained, but we have developed additional modules on topics like mutual legal assistance, dealing with offshore structures such as the Common Law trust, cryptocurrencies, and most recently non-conviction based asset forfeiture.
We introduced a blended learning element a few years ago. Participants take our self-paced Operational Analysis eLearning course, developed in collaboration with the Egmont Group of Financial Intelligence Units, before attending our onsite Advanced Operational Analysis training. Gaining the foundational skills in advance through eLearning maximises the amount of time participants can spend putting theory into practice in the classroom.
We have also become more digital, for example providing the course materials through our Basel LEARN platform rather than paper. This has not only reduced the environmental impact of printing but also followed the welcome wave of digitalisation that has taken place globally, including in law enforcement agencies.
Since the coronavirus pandemic and related restrictions on travel and meetings, we have been offering adapted versions of some of our training programmes virtually via video conferencing and the Basel LEARN platform. Our programmes feature intensive, hands-on group work and are designed to be delivered in person. However, we are open to virtual delivery whenever it makes sense.
What about sustainability?
Ultimately our goal is to build long-term capabilities in our partner countries.
One way we do this is our train-the-trainer programme, which aims to result in four or five ICAR Certified Trainers while simultaneously training other local participants in the process.
In Kosovo, where we delivered a five-part train-the-trainer programme from 2022–2023, we collaborated with the Academy of Justice and helped their staff to integrate the ICAR customised training material onto their own online platform for professional development. This will help the certified trainers to continue training their peers efficiently and independently in the future.
Our remarkable in-country teams and external partners, including development agencies, international organisations and multilateral development banks, often have a continued presence in our partner countries. This also helps maintain momentum in between training programmes and make sure new skills are put into practice.
Does the training really make a difference?
Yes. First, there are the statistics. Alongside pre- and post-tests, we started conducting impact surveys some years ago to assess the effectiveness of our training in the short and long term. We measure whether the training led participants to:
Significantly change their approach to work
Use new tools or procedures
Use professional contacts/networking to facilitate work
Replicate learning with peers 
In 2022, for example, 79 percent of impact survey respondents reported a significant change to their way of working as a result of the training, including the application of new investigative tools or procedures. 93 percent of those who took our core financial investigations and asset recovery module said they had had an opportunity to apply their new knowledge and skills in their work. Over half indicated a case success or significant milestone that they could attribute to something learned during the training.
Beyond statistics, I would like to point to the many wonderful people we have helped to achieve their dreams of fighting corruption effectively in their countries. Many trace their first successes back to an ICAR training course.
People like Martin Chipofya, for example, a Senior Resident Magistrate in Malawi who has testified to the impact of our training on inter-agency cooperation. The multi-agency group work is "crucial for getting to know each other and understanding the challenges that our counterparts face" and a "platform for getting feedback on how our agencies are performing and how we are complementing or assisting the work of officers in other agencies," he said.
Or Phillip Kagucia, now Head of Asset Recovery at Kenya's Ethics and Anti-Corruption Commission, who has explained how a specific financial analysis method acquired during our training led to a successful prosecution and "paved the way for the use of unexplained wealth legislation in Kenya."
Passion and commitment to drive change
Of course, individually our training programmes are a small contribution to the wider fight against corruption. But as I have said for over 20 years:
The biggest mistake of all is to do nothing because you can only do a little.
Hence my determination to continue doing what I could to assist developing and transition countries to fight corruption and money laundering and to recover stolen assets.
All those I have been lucky enough to work with and to meet over the last 14 years will doubtless attest to my passionate belief in the relevance and effectiveness of our training.
That is because I see its capacity to bring about a paradigm shift in how our trainees behave in their work and how they work with each other. Achieving quality takes time and effort. I have never allowed shortcuts and never compromised on quality, because bad training is a waste of money and a waste of the participants' time.
And in the fight against corruption, I truly believe the stakes are too high.
Learn more