Informal networks as investment: A qualitative analysis from Uganda and Tanzania
Published in the peer-reviewed journal Governance, this paper interprets informal networks as investments made by citizens and business people to cope with the public sphere. Informal networks often orchestrate corruption, connecting public and private actors. The paper aims to understand their key characteristics, scopes, and functional roles.
Ten mini case studies from Tanzania and Uganda are studied. The research applies narrative analysis to explore the experiences of citizens, entrepreneurs, and low-level public officials, who built informal networks as a problem-solving mechanism. It uses a grounded theory approach. The findings serve as working hypotheses about variables and patterns emerging from the bottom-up analysis.
The paper outlines:
Whether there are distinct types of informal networks associated with particular types of corruption;
How, why and by whom these networks are built;
Whether different individuals play specific roles;
The unwritten expectations and norms that govern such networks.
The results highlight critical implications for anti-corruption practice, showing, for example, how this can be strengthened by shifting the intervention unit from individuals to networks.
About this article
This peer-reviewed article is based on extensive field research and analysis conducted by the Basel Institute's Public Governance team in Tanzania and Uganda. The research was funded by UK Aid under the Global Integrity Anti-Corruption Evidence (GI-ACE) programme. See the links below for the open-access research outputs, including a full research report and two sets of case studies.
Links and other languages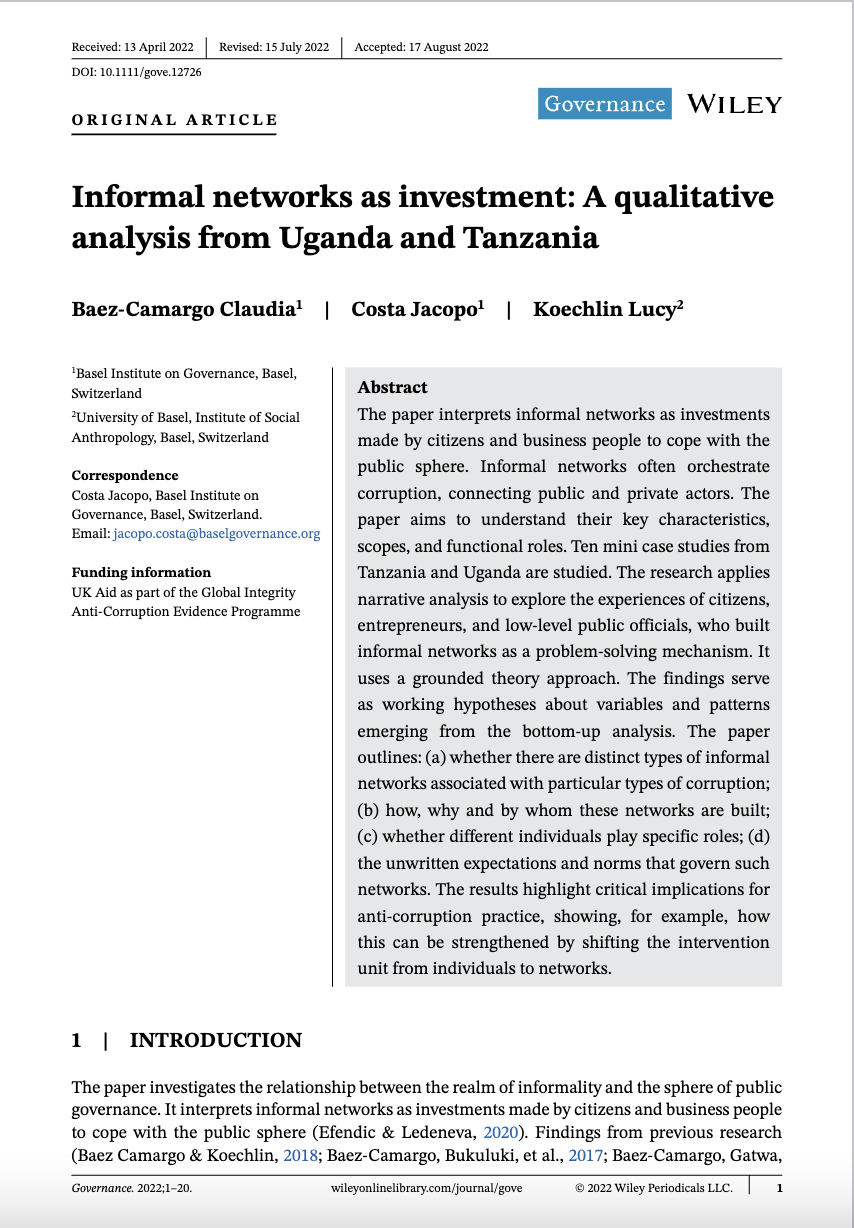 Publisher
Governance (Wiley-Blackwell on behalf of the IPSA Structure and Organization of Government Committee)
Author(s)