Illicit Enrichment: A Guide to Laws Targeting Unexplained Wealth
Forthcoming in May 2021
Illicit Enrichment by Andrew Dornbierer provides a comprehensive guide to illicit enrichment laws and their application to target unexplained wealth and recover proceeds of corruption and other crimes. The book covers both criminal and civil-based laws from around the world.
Investigators, prosecutors, legislators and academics alike will benefit from the clear descriptions and practical guidance on different approaches to targeting unexplainable increases in wealth, how to establish cases in court, and common legal challenges to illicit enrichment laws.
Features:
Extensive analysis of jurisprudence and cases around the world
Tables, flow charts and graphics explaining key concepts
Discussion of common questions and challenges
A collection of laws from 103 jurisdictions, also as an online database
A step-by-step guide to financial investigations and source and application analyses to support illicit enrichment cases
Illicit Enrichment was developed and published by the Basel Institute on Governance through its International Centre for Asset Recovery, with research support from the NYU School of Law.
Open-access licence and acknowledgements
This book is freely available as an open-access research publication under a Creative Commons Attribution-NonCommercial-NoDerivatives 4.0 International Licence (CC BY-NC-ND 4.0).
Please use the following citation: Dornbierer, A., 2021. Illicit Enrichment: A Guide to Laws Targeting Unexplained Wealth. Basel: Basel Institute on Governance. Available at: illicitenrichment.baselgovernance.org
ISBN are as follows:
Paperback: 978-3-9525409-0-9
eBook: 978-3-9525409-2-3
PDF: 978-3-9525409-1-6
This work was funded by the core donor group of the International Centre for Asset Recovery in 2020–2021: the Government of Jersey, Principality of Liechtenstein, Norwegian Agency for Development Cooperation (Norad), Swiss Agency for Development and Cooperation (SDC) and UK Foreign, Commonwealth & Development Office (FCDO). Many thanks.
Links and other languages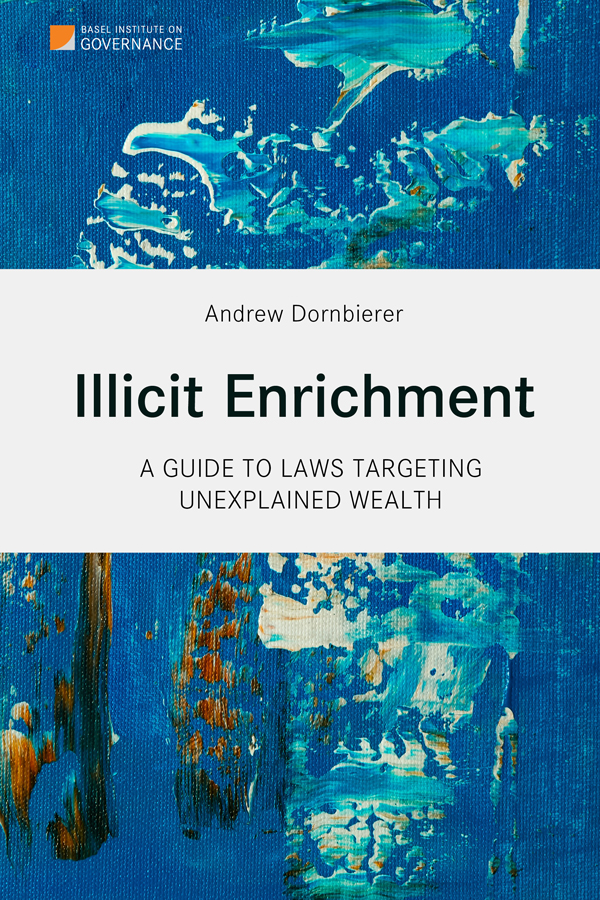 Publisher
Basel Institute on Governance
Author(s)