23. November 2020
Terrorist Financing: New free eLearning course in cooperation with the Egmont Group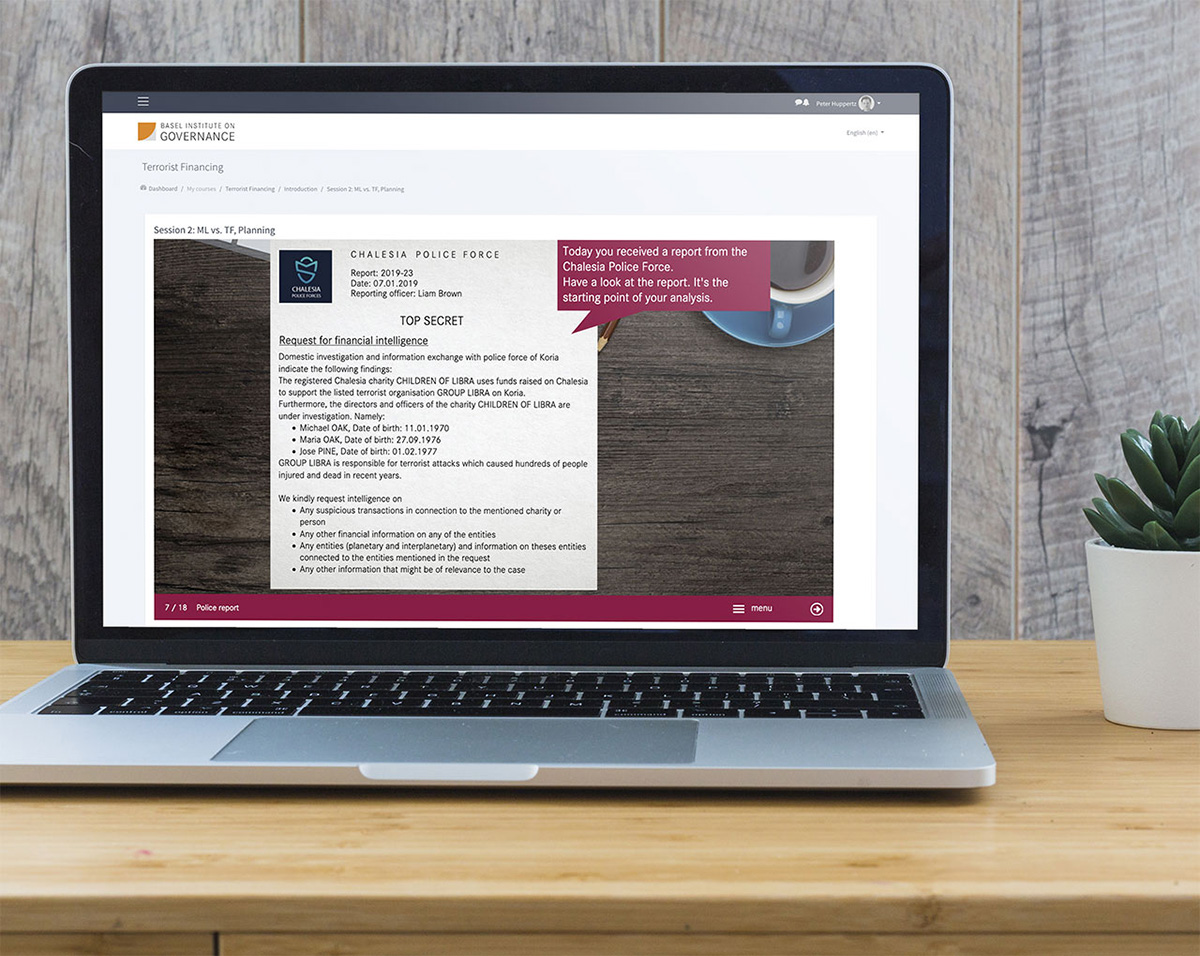 The Basel Institute on Governance has released a new eLearning course on Terrorist Financing.
Developed in cooperation with the Egmont Group of Financial Intelligence Units (FIUs), the course is aimed at analysts, investigators, prosecutors, representatives of FIUs and professionals in the field of anti-money laundering and counter financing of terrorism (AML/CFT).
At the end of the self-paced course, practitioners will have a clear and up-to-date understanding of terrorist financing threats, as well as how to identify, analyse and report them. This will help them to align with the latest AML/CFT regulations, systems and stakeholder expectations, which are strengthening rapidly around the world.
Terrorist Financing course content
This eLearning course, which is freely available online on the Basel Institute's LEARN platform, is based on the content of the Egmont Group's on-site Terrorist Financing training.
Participants will learn about the different actors involved in combating terrorist financing and explore the differences and similarities between money laundering and terrorist financing. They will get an insight into the reasons that terrorist groups need funds and the different sources of those funds.
How to research and gather information on terrorist groups is another key component of the course, along with how to spot typical indicators of terrorist financing activity.
Lastly, participants will learn how to create effective reports and visual graphs, plus some caveats when disseminating these.
User-friendly online learning platform
This course joins the Basel Institute's existing suite of self-paced eLearning courses on asset tracing, intelligence gathering and financial analysis.
Located on our user-friendly LEARN platform, the courses feature cases that are close to the everyday work of practitioners in the field. Interactive exercises allow participants to practise and test their newly acquired knowledge and skills.
The courses also complement the highly regarded, instructor-led training programmes of the International Centre for Asset Recovery, which are exclusively offered to government authorities in partner countries.
All eLearning courses are available free of charge on learn.baselgovernance.org. Simply register and start learning.
How to get started
The Terrorist Financing course consists of three modules comprising a total of eight sessions. Each session should take between 5 – 30 minutes and can be repeated at any time.
After completing all three modules, participants can download a certificate of completion.
The Terrorist Financing course is currently only available in English, with other languages under consideration depending on demand and funding.
Interested? Log on and start learning now!