17. May 2023
Switzerland to return USD 8.5 million to Peru in precedent-setting case of non-conviction based forfeiture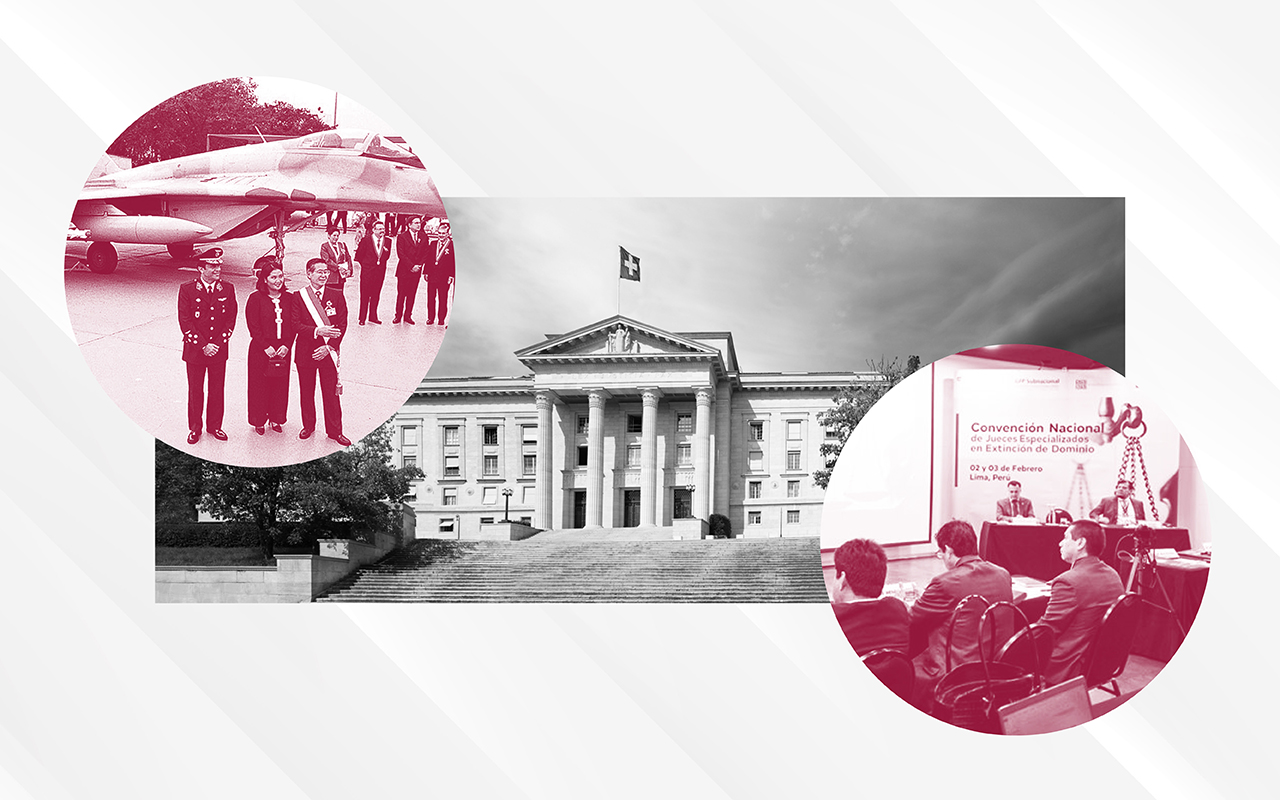 It has taken nearly 20 years, but a decision by the Swiss Federal Supreme Court has cleared the way for the return of around USD 8.5 million in corruptly obtained assets to Peru. The money to be returned is part of a complex of cases linked to Vladimiro Montesinos, Head of Intelligence under former President Alberto Fujimori.
It is a highly symbolic case for both Switzerland and Peru and sets an important precedent for the use of non-conviction based forfeiture laws to recover illicit assets. Such laws enable the confiscation of these assets without a criminal conviction of the defendant.
The case shows two things:
First, that non-conviction based forfeiture is an innovative and promising tool in the fight against corruption. It makes it possible to get at the "untouchables", or at least the money they have stolen, even when the criminal justice system fails to convict a person for whatever reason. Peru's successful application of this legal tool has already inspired other asset recovery practitioners far beyond Peru or even Latin America.
Second, that it shows the merits of states (in this case Switzerland) being open to novel asset recovery mechanisms so as to be able to offer help in the context of international judicial cooperation. Other large financial centres can take note. As we regularly promote in policy forums and among our partner governments, all states should live up to their international commitments to provide the widest possible measure of international cooperation in asset recovery.
The Basel Institute has been supporting the Peruvian authorities since 2012 in emblematic asset recovery cases through capacity building and hands-on mentoring. We congratulate the authorities in both Peru and Switzerland, and thank the core donors of our International Centre for Asset Recovery (ICAR) and the Swiss State Secretariat for Economic Affairs for supporting our technical assistance in the country.
Multiple appeals from a man who fled prosecution
Despite the relatively small amount of money – at least compared to the amount stolen through corruption – it was a challenging case, says Oscar Solórzano, who leads the Basel Institute's asset recovery efforts in Latin America.
Peruvian prosecutors working with Solórzano were able to prove in court that the USD 8.5 million derived from corrupt contracts for the purchase of overvalued fighter jets from Belarus during Peru's Fujimori government. The beneficial owner of the bank account was German-Israeli businessman Moshe Rothschild Chassin, an accomplice of Montesinos. He fled to Israel to evade prosecution and, despite being subject to an Interpol red notice, remains free.
In 2021, after Peru's Courts issued the confiscation order, the judicial authorities sent a mutual legal assistance request to the Swiss authorities to execute the confiscation order and return the money.
Oscar Solórzano explained that Moshe challenged the confiscation order at all three appeals stages in Switzerland: in the Attorney General's Office in Zurich, in the Federal Criminal Court in Bellinzona and in the Federal Supreme Court in Lausanne.
"The Swiss judges agreed first with their Peruvian counterparts that, through a detailed financial investigation, Peru had successfully proven that the bank account in Zurich constituted proceeds of crime. Second, they rejected the appeals, noting that the non-conviction based forfeiture procedure in Peru had been conducted in accordance with all applicable standards and legal rights."
Untapped potential of non-conviction based forfeiture laws
The Peruvian confiscation order was based on its Extinción de dominio law, a form of non-conviction based forfeiture law that is quite prevalent across Latin America. Sometimes known as civil forfeiture, this type of law enables the confiscation of assets linked to corruption or other crimes even if the perpetrator cannot be prosecuted.
This was the case for Moshe. As an accomplice rather than a public servant, Moshe can never be prosecuted on criminal charges of collusion and bribery. He will also not be extradited from Israel. As a result, Peruvian Judge Eduardo Torres said:
"The autonomy of the Extinción de dominio procedure from the criminal process was key to its use in this case."
The standard of proof in non-conviction based forfeiture laws is civil (balance of probabilities) rather than criminal (beyond reasonable doubt). Various judicial mechanisms are in place to ensure that the person's rights are fully respected throughout the process.
Its Extinción de dominio law is one reason why Peru has become a positive role model in the region in terms of asset recovery. At a recent convention of judges organised by the Basel Institute's team in Lima, the Head of Peru's Judiciary Javier Arévalo Vela highlighted that the law had already enabled the recovery of around USD 64 million in illicit assets, with many more cases in the pipeline.
Judge Torres added:
"The case is also important for the Peruvian justice system as a whole. The fact that money misappropriated from the Peruvian treasury will be returned shows we are in compliance with international treaties. And we are sending a message to the corrupt: if you misuse the public administration and steal Peruvian money, ultimately you will not profit from it."
International cooperation
Another boost to Peru's asset recovery efforts has been improved international cooperation with financial centres such as Switzerland.
International cooperation is a constant challenge for countries seeking to recover corrupt assets, as Specialised Prosecutor Hamilton Castro explained in this interview, and is a core element of ICAR's technical assistance in Peru and other partner countries. In too many cases, states harbouring illicit assets will not cooperate on cases where they do not have an equivalent asset recovery mechanism.
Though Switzerland does not have a comparable (autonomous) non-conviction based forfeiture law, it has shown willingness to evaluate Peru's law according to its own legal principles and offer assistance where possible.
Judge Torres said:
"International cooperation was a decisive factor in both achieving the confiscation order and executing it. The Swiss decision paves the way for other countries to carry out similar procedures, following Peru's example and maintaining the rights of the affected party throughout the process."
What's next?
The funds will be transferred to Peru and used in a manner to be agreed upon between the two concerned jurisdictions. Over USD 25 million confiscated by Peru previously in this complex of cases were returned under a trilateral agreement in 2020 between Switzerland, Luxembourg and Peru that foresees the use of funds to strengthen the country's law enforcement and judicial systems.
Asked what we can take forward from this and related cases, Oscar Solórzano says:
"Not only have Peru's judicial authorities gained knowledge and confidence in applying this law and having confiscation orders executed internationally. We also see prosecutors and judges in other Latin American countries empowered by the positive example set by Switzerland and Peru.

At the Basel Institute, we promote asset recovery mechanisms globally that are effective, but also proportionate and respectful of human rights. We believe these are the ingredients to make these laws truly global legal tools in the fight against corruption and other forms of crime."
Judge Torres expressed his hope that:
"...we will continue to recover large amounts of money in transnational cases, with the collaboration of all entities involved in the recovery process and in particular with the collaboration of the Basel Institute on Governance. For example, Oscar Solórzano's assistance in tracing the money through various transactions to its final destination was key to unlocking the case in the first place."
Read more
Learn more about the work of our International Centre for Asset Recovery and our Programa GFP Subnacional, which together undertake our asset recovery assistance in Peru. ICAR is funded by core contributions from the Government of Jersey, Principality of Liechtenstein, Norwegian Agency for Development Cooperation (Norad), Swiss Agency for Development and Cooperation (SDC), UK Foreign, Commonwealth & Development Office
(FCDO) and UK Home Office. Our Programa GFP Subnacional is funded by the Swiss State Secretariat for Economic Affairs.
See our asset recovery case study series.