03. November 2021
Interview: Applying Peru's non-conviction based forfeiture law in international cases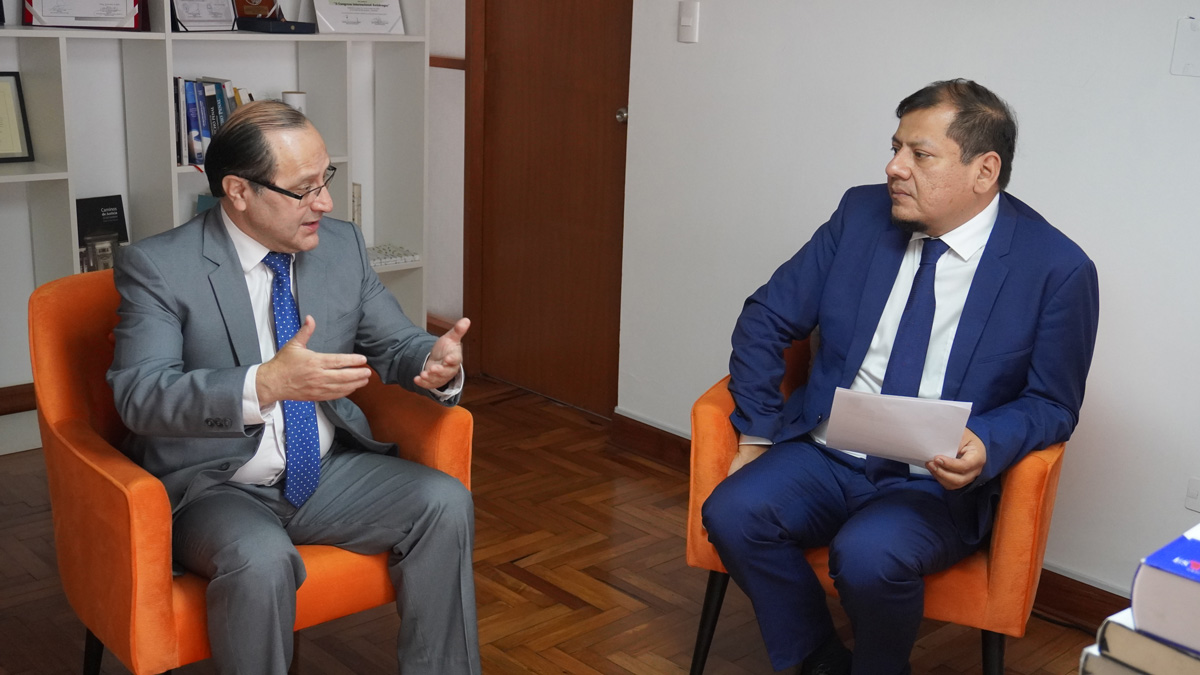 Oscar Solórzano, Head of Latin America at the Basel Institute on Governance and Senior Asset Recovery Specialist at our International Centre for Asset Recovery, interviewed Dr Hamilton Castro Trigoso, Provincial Prosecutor of the First Provisional Provincial Prosecutor's Office for Extinción de dominio in Lima, on his experiences in investigating and enforcing asset confiscation judgements abroad.
The case that Hamilton Castro came to talk about is not just any case. It is a final decision that the prosecutor has just obtained in the Peruvian judicial system that recovers part of the assets of a General who collaborated with the criminal organisation led by Vladimiro Montesinos. Montesinos was the Head of Intelligence under the corrupt government of Alberto Fujimori and widely acknowledged as the former President's right-hand man.
The General fled the country and died before justice was able to catch him. But it is catching up with his assets and helping ensure they cannot now be enjoyed by his surviving relatives.
Insightful viewers will be able to see and understand the emotion of the prosecutor, who maintains that his job is not only to recover illicit money but also to contribute to restoring the meaning of the word justice in Peru. 
You can watch the video in Spanish with English subtitles here or read the answers below in English translation.
1 – Solórzano: Dr. Castro, what does the confiscation of the Malca account mean for Peru? What does the judgement – after 20 years – signify for the country's fight against corruption?
Castro: The Malca Villanueva case is of utmost importance for Peru for more than one reason.
First, because of who the man was. General Malca Villanueva was a prominent member of Alberto Fujimori's government, serving as Minister of the Interior and then Minister of Defence. Afterwards, he was rewarded when he retired from the Ministry of Defense – from the Army – by being made Ambassador of Peru in Mexico. He carried out this diplomatic role for around two years, despite having no experience whatsoever.
Second, this case carries a message of non-impunity regarding the recovery of illicit assets, even when part of them are held in accounts abroad. An important point about this case is that the criminal justice system in Peru was never able to apprehend General Malca Villanueva, nor his family. He died in 2015 in a resort in Brazil called Santa Catalina.
So this judgement is extremely important. It sends a message that justice may take time, but it arrives nonetheless.
2 – It has been nearly three years since the Extinción de dominio law entered into force in Peru. How well is this non-conviction based forfeiture mechanism working in the country?
I am optimistic about the implementation of Legislative Decree No. 1373, which is the law that introduces the mechanism of Extinción de dominio in Peru. The results in these two and a half years have been highly positive.
The Specialised Prosecutors' Offices at the national level have achieved a large number of sentences in various cases. Some of these are extremely important, such as the case of Malca Villanueva, which show that the mechanism of Extinción de dominio is a well-crafted criminal policy tool targeting the assets of criminals. This has been quite well understood by our practitioners and has allowed definitive judgements to be obtained.
Compared to the time it takes to prove the criminal responsibility of accused individuals in traditional criminal proceedings, and to confiscate their assets, Extinción de dominio is much faster.
So, as I said, I am very optimistic about the implementation of this new law.
Of course there is a long way to go. There are challenges we have to overcome and many tasks we still have to do [for instance in relation to mutual legal assistance]. We understand, however, that the rules are versatile. We cannot not rule out the possibility that at some point the Extinción de dominio law could be reformed in some aspects. Not just to make the law more effective in terms of prosecuting assets, but also about improving the provisions aimed at protecting the fundamental rights of affected persons.  
At the practical level, the subsystem suffers the shortcomings of any other prosecutorial body in Peru. But in general terms, both the Judicial Branch and the Public Prosecutor's Office have been able to put in place a specialised subsystem of prosecutors and judges. Their number may increase in the future depending on the workload.
3 - What do you think are the challenges that this tool faces at the international level? What can be done to improve its global application?
The good success we have had over the last six years in recovering illicit assets abroad, especially in the Fujimori and Montesinos complex of cases, is linked to more than one factor. It was certainly not easy, and the successes are the result of the efforts of a large number of individuals and institutions, both in the requested and requesting States.
We went knocking on the door of several countries with a new and unknown tool for them. It has taken us several years and a lot of effort to get recognition for our decisions of Extinción de dominio. By doing so, we have learned the difficulties associated with international judicial cooperation in criminal matters.
One of these problems is the speed with which foreign evidence is obtained from abroad. For that, we have set up in Peru a swift system of legal procedures that include the transfer of evidence from criminal proceedings to Extinción de dominio.
This has made it possible to save a lot of time, because the criminal proceedings had already gathered abundant evidence in the Malca Villanueva case. This even includes reviews of bank statements and financial information from other countries that were used in Extinción de dominio proceedings.
The correct interpretation of the principle of speciality in this case has allowed us to use bank information from countries such as Switzerland, Panama or other financial centre in which the accounts that we are trying to recover are located. The modern, correct and lawful interpretation of this principle has allowed us to understand that it is not violated if the information obtained through international judicial cooperation is transferred from criminal proceedings to Extinción de dominio as these proceedings are criminal policy tools conceived to target criminal assets.
There have been other success factors in recent years, but these first two are fundamental.
I must also mention strategic alliances such as with the Basel Institute on Governance, which has allowed us to better understand the nature of these tools and of international judicial cooperation, and to establish proper and efficient contacts with authorities of other countries. This in turn has allowed us to use other mechanisms, such as spontaneous cooperation or informal information-sharing with the authorities of other countries.
Within this framework of mutual cooperation, we have been able to move faster and obtain good results in recovering illicit funds deposited in accounts in financial centres such as Switzerland, Luxembourg, Andorra and others.
Finally, it seems to me that these best practices have already had a good result and should be applied in the case of Malca Villanueva's Mexican bank account. The judgement we have obtained in Peru is not sufficient; through the mechanisms of international judicial cooperation, it will have to be transferred to Mexico for execution.
All the experience that we have acquired in these years and in other cases will be useful to recover the USD 1.5 million or so stashed in Malca's account in Mexico.
4 – What is the key message that prosecutors in other countries should take into account when seeking to recover assets held in foreign jurisdictions?
Legal practitioners, prosecutors and judges in any jurisdiction need to understand that recovering such assets goes beyond what the domestic jurisdiction can do alone.
It is extremely important to establish partnerships with institutions that allow us to gain a better understanding of the tools of international judicial cooperation. This enables the requesting State to adjust to international standards and the standards of the requested State.
The point is that judgements in these cases should not remain purely ornamental and domestic, but be duly executed in financial centres like Switzerland, Luxembourg or Andorra.
These countries have a different legal system and in some cases respond to different legal traditions than Latin American countries. So it is important to establish direct contact with the authorities of those countries in order to understand their standards and ensure that our request for mutual legal assistance is duly executed there.
More
Watch the video