19. July 2023
Bulgaria: key government and party leaders come closer on anti-corruption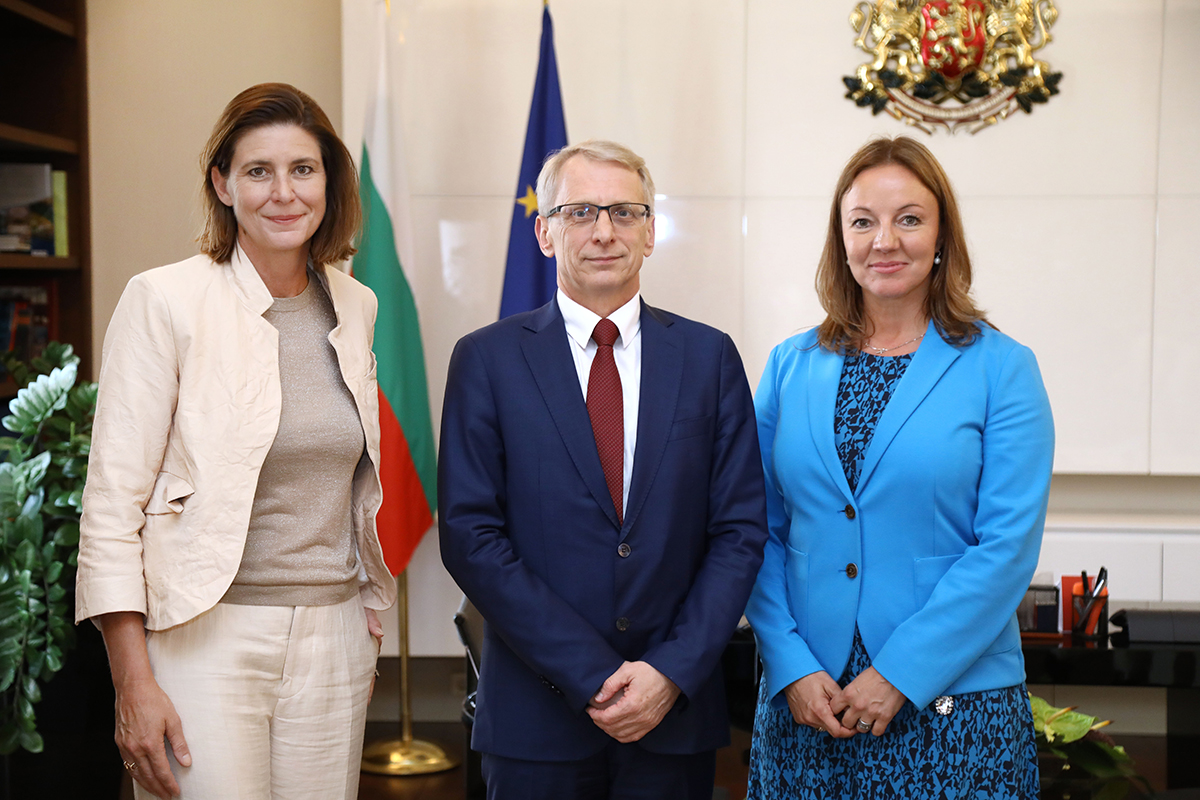 Bulgaria's recent political settlement following five consecutive snap elections ended the political deadlock with the establishment of a government led by two rotating Prime Ministers. Nikolay Denkov of the We Continue the Change-Democratic Bulgaria (PP-DB) coalition will serve as the Prime Minister the first nine months, followed by former European Commissioner for Innovation of the Citizens for European Development of Bulgaria (GERB) Maria Gabriel.
The agreement aims to end years of political impasse and promises to implement much-needed constitutional reforms that guarantee the rule of law in a country known to be plagued by high-level corruption.
Yet keeping a constant focus on fighting corruption is challenging for any government, and certainly no less for a power-sharing government resting on cooperation between political parties that have in the past not always been aligned on the topic.
High-level meetings
During a visit on 14 July 2023, our Managing Director Gretta Fenner met with key government figures and leaders of all main political parties. These included Prime Minister Nikolay Denkov, Minister of Interior Kalin Stoyanov, Minister of Justice Atanas Slavov, Head of the Commission for Personal Data Protection (CPDP) Ventsislav Karadjov, and leaders of the GERB, PP and DB parties.
In these discussions, we were encouraged to see growing alignment on important anti-corruption reforms. This includes on the draft Anti-Corruption Law that targets fundamental reforms within the Anti-Corruption Commission and on the implementation of recent whistleblowing legislation.
The visit took place in the context of our ongoing programme of support to Bulgaria in the fight against corruption, led by Renne Traicova with key support from international experts and senior local legal advisor Mihail Boyadjiev.
Key points of alignment
Among the issues discussed with the various stakeholders, the following points are key in reaching consensus and the smooth passage of effective anti-corruption reforms:
A strong and united stance against corruption sends a vital message about Bulgaria's values and commitment to democracy and the rule of law, amid today's geopolitical turbulence.
Strategic corruption is used as a tool for malign foreign interference that weakens Bulgaria's national security and undermines the country's sovereignty.
The political independence, non-partisanship and professionalism of anti-corruption and accountability institutions, including its leadership, is essential to their effective functioning and to gaining credibility among a sceptical public.
Transparency and unhindered access to information are a pivotal contributing factor to reducing and preventing corrupt practices.  
The new Whistleblower Protection Act is an important step forward to advance corruption prevention and detection in Bulgaria. It now needs solid processes and accessible reporting mechanisms, as well as unambiguous leadership, in order to achieve the intended impact.
International networks and partnerships are there to support Bulgaria in its anti-corruption efforts. These include not only the Basel Institute's advisors but representatives of the European Public Prosecutors Office (EPPO) seconded to the country, the EU Commission and numerous foreign and development cooperation partners.
About our work in Bulgaria
The Basel Institute provides targeted assistance to the Bulgarian Government and key stakeholders under a Memorandum of Understanding signed in May 2022. Funding is provided by the Swiss Agency for Development and Cooperation (SDC) under the Swiss-Bulgarian Cooperation Programme and by the United States Agency for International Development (USAID).
The programme covers capacity building for financial investigations and asset recovery, enhancing Bulgaria's legislative framework, evidence-based communication on anti-corruption, and implementing the country's strategic anti-corruption framework.
---
Gallery