06. July 2021
Keeping up with money laundering risks: updates to this year's Basel AML Index methodology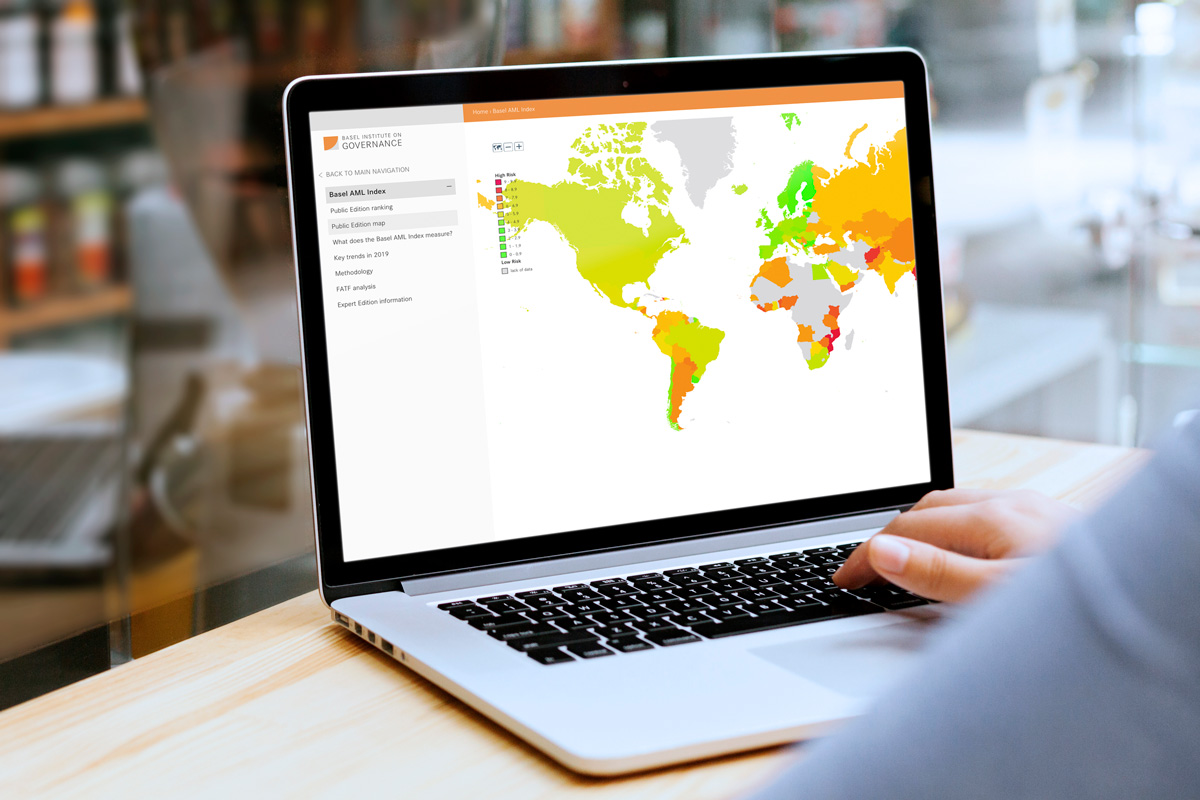 Money laundering risks evolve fast, as do the tools and data available to assess them. That is why the Basel AML Index – the Basel Institute's flagship index of money laundering risks around the world – updates its methodology every year, following an in-depth review with a group of experts from diverse backgrounds.
This year's Basel AML Index will see two methodological changes when the annual Public Edition is released in August. The current methodology and indicators are described here.
Media freedom data from the World Press Freedom Index
First, we are switching our data source on media freedom, an indicator that appears in the category "Political and legal risks".
Until now, we have used the Freedom and the Media report published by Freedom House. From the 10th edition in 2021 onwards, we will use the World Press Freedom Index published by Reporters Without Borders. This is because it offers more regular updates and a more granular assessment, ranging from 1 to 100.
As the indicator makes up less than 1 percent of a country's overall score, this will not have a significant impact or affect comparability with previous editions.
Improving comparability through clearer use of FATF data
Second, we are changing our approach to data from the Financial Action Task Force (FATF) in order to improve comparability between countries in the Public Edition of the Index.
Data from FATF Mutual Evaluation Reports (MERs) make up 35 percent of a country's risk score in the Basel AML Index. They are the largest single factor influencing the overall ranking and appear in the category of "Quality of anti-money laundering and counter-financing of terrorism (AML/CFT) framework".
MERs conducted under the FATF's fourth-round methodology, launched in 2013, are a primary source for assessing the quality of a country's legal and institutional AML/CFT framework both in theory and in practice.
However, some countries still have MERs based on the FATF's third-round (pre-2013) methodology. Not only are these reports seriously outdated, but they assess only technical compliance with FATF Recommendations and not the effectiveness of AML/CFT systems in reality.
As we noted in our 2020 Public Edition release, it is disappointingly common for countries to score highly on technical compliance but poorly – or even zero – in terms of effectiveness. (In other words, countries may have state-of-the-art AML/CFT systems that don't in fact work.)
This poor performance in effectiveness typically causes countries to drop down the Basel AML Index rankings as they undergo FATF fourth-round evaluations, affecting comparability between countries.
For this year only, the Public Edition ranking of the Basel AML Index will therefore include 106 countries that have fourth-round FATF evaluations and also meet the other minimum data requirements. Countries with older evaluations that otherwise meet minimum data requirements will be listed separately.
In total, the Public Edition is expected to cover around 130 countries this year. The Expert Edition coverage will remain the same at 203 countries.
How will the Expert Edition be affected?
The Expert Edition of the Basel AML Index provides a comprehensive list of money laundering risk scores – both overall and for each of the 16 indicators that make up the Index – for 203 countries. It is updated regularly throughout the year and will not be affected by the approach to FATF data described above.
Expert Edition subscribers will however see new information about UK sanctions and Australian sanctions at the country level appearing in the interactive dashboard and downloadable Basel AML Index dataset.
This information will join the other sanction regimes and related lists that appear in the Basel AML Index Expert Edition, namely the US Treasury Department Office of Foreign Assets Control (OFAC), UN Security Council, EU restrictive measures, EU list of non-cooperative jurisdictions for tax purposes, EU high-risk third-countries, FATF "grey list" and FATF "black" list.
A country's appearance on any of these lists does not have an impact on the overall score but is highlighted in the Basel AML Index Expert Edition for informational purposes.
Whilst it is not expected that the UK and Australian sanctions list deviate significantly from the EU or UN sanctions list, they were decided to be included due to the importance of their financial centres.
Expert Edition: do you have access?
The Basel AML Index Expert Edition is soon upgrading to a brand new dashboard with enhanced data visualisation and filtering possibilities. Watch this space.
Subscription to the Basel AML Index Expert Edition or Expert Edition Plus (which contains an extra written and quantitative analysis of FATF data) is free for all public or supervisory institutions, international organisations, non-profit organisations and academic institutions. Private companies can subscribe at very reasonable rates.
2