29. November 2022
Grey-listing for anti-money laundering failings: focus on Sub-Saharan Africa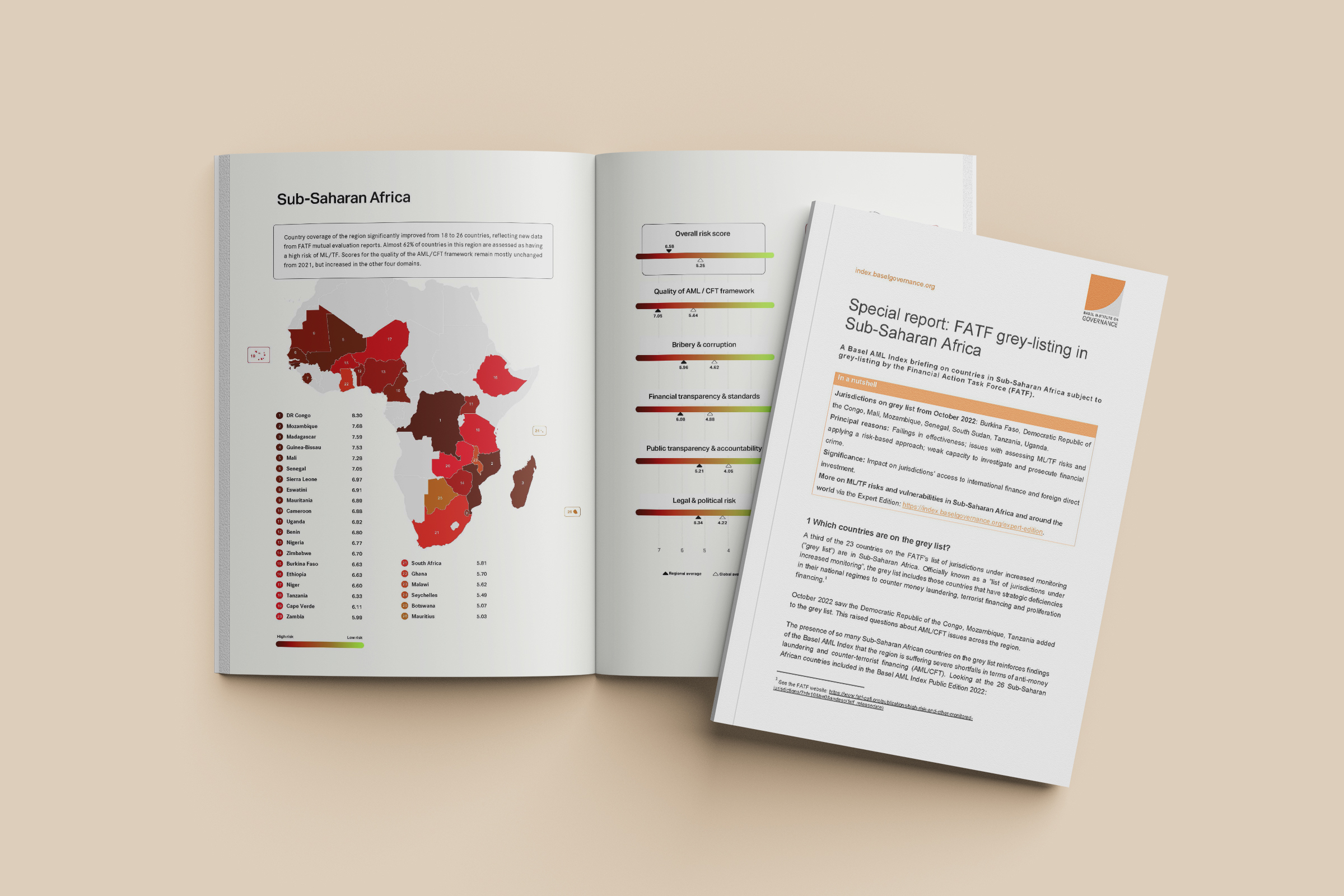 A new special short report for the Basel AML Index analyses why so many Sub-Saharan African countries are on the so-called grey list of the Financial Action Task Force (FATF).
It covers the impacts on their economic development, the process of grey-listing and what governments need to do to be removed from the list. It also touches on specific areas of concern for anti-money laundering and counter-terrorist financing (AML/CFT) in Sub-Saharan Africa.
Eight countries in Sub-Saharan Africa now grey-listed
In October 2022, the Democratic Republic of the Congo, Mozambique and Tanzania were added to the so-called FATF grey list. Officially known as the "list of jurisdictions under increased monitoring", the FATF grey list includes countries that are assessed to have strategic deficiencies in their national regimes to counter money laundering, terrorist financing and proliferation financing.
Sub-Saharan Africa now accounts for a third of countries on the grey list. This aligns with findings of the Basel AML Index, the Basel Institute's ranking and risk assessment tool for money laundering and terrorist financing (ML/TF). In the 2022 Public Edition of the Basel AML Index, the Sub-Saharan Africa region scored poorly for resilience to ML/TF and more than 60 percent of countries fell into the high-risk category.
Although grey-listed countries are not subject to sanctions, being placed on the list does have severe implications for their economies. These include a substantial decline in capital inflows and foreign direct investment.
Entering and leaving the grey list
The short report looks at the FATF's process for grey-listing, which starts with being referred to the special International Co-operation Review Group for one year.
It then looks at what countries need to do to be removed from the list. A high-level political commitment is essential, as is completing an action plan developed to address each's country's specific gaps.
Our analysis shows specific areas where Sub-Saharan African countries display particular weaknesses, and where regional support initiatives may be helpful. Cross-cutting weaknesses at the government level include the fundamental steps of accurately assessing ML/TF risks and developing a risk-based approach to supervision. Enhancing the capacities of law enforcement agencies and financial intelligence units is also a key need.
It takes effort to complete the action plan, but progress is always welcomed. When an on-site visit confirms that all items are satisfactorily achieved, the FATF announces the country's removal from the grey list at its next plenary meeting.
Learn more
Download the special report on FATF grey-listing in Sub-Saharan Africa.
The report complements a new series of short reports on jurisdictions that have been delisted from the FATF grey list. These will publicly available on the Basel AML Index website (Downloads page).
Remember: the Basel AML Index Expert Edition offers a sophisticated tool for analysing geographic ML/TF risk. Subscriptions are free to most organisations outside the private sector, as well as journalists.