01. February 2021
UN Global Compact endorses Collective Action for sustainable and responsible business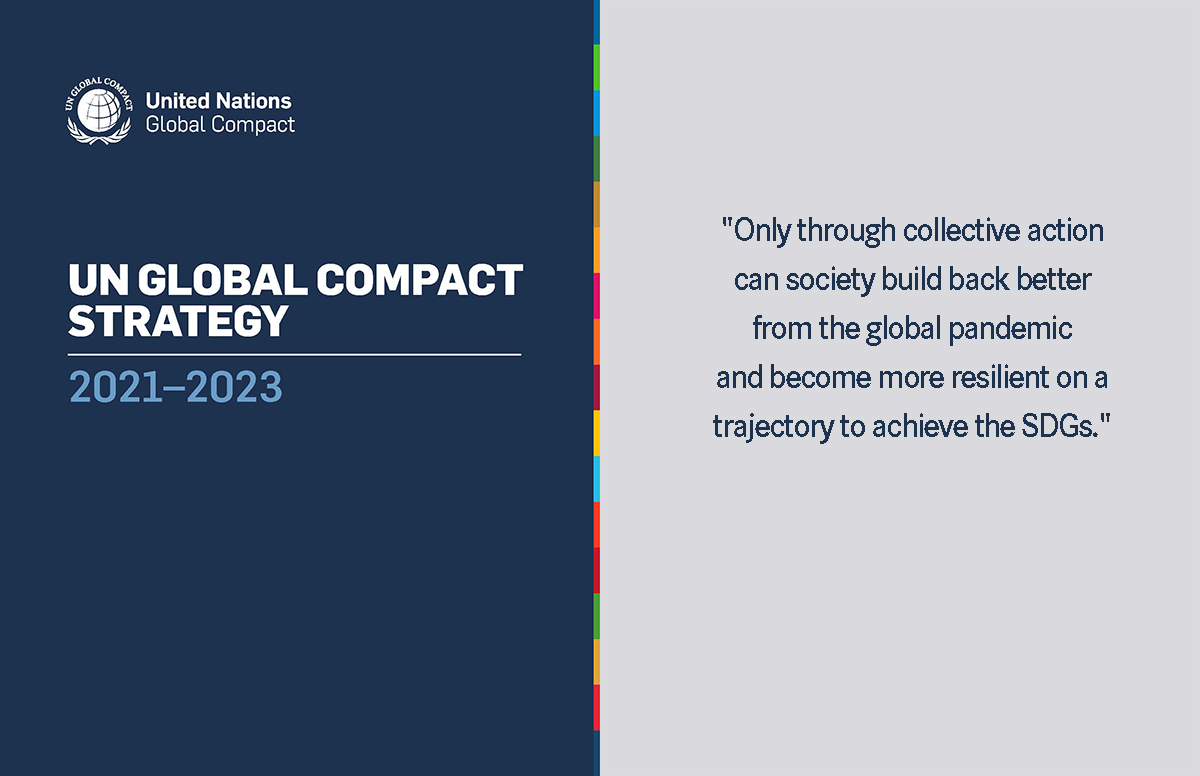 Collective Action is at the heart of the new Strategy 2021–23 of the United Nations Global Compact, an ambitious corporate sustainability initiative that supports companies around the world in achieving sustainable and responsible business operations throughout their supply chains.
The UN Global Compact's 10th Principle on Anti-Corruption has long recommended Collective Action as a way for companies to solve shared corruption challenges and ensure a fair and enabling business environment.
We have worked closely to support the UN Global Compact and its Local Networks for many years in implementing commitments to anti-corruption Collective Action. We are delighted that the approach is now reconfirmed throughout the initiative's new strategic plans.
Growing support for Collective Action
The UN Global Compact's endorsement of Collective Action aligns with wider momentum among standard-setters, international organisations and governments in promoting this approach.
A recent World Economic Forum Agenda article by Siemens Chairman Jim Snabe captures the sentiment, talking of the transformative power of networks held together by a common goal. Collective Action in its wider sense was at the forefront of the OECD's 60th Anniversary celebrations, with a focus on pandemic response and recovery.
The G20 has responded encouragingly to private-sector calls for Collective Action against corruption specifically, as our recent paper on the G20's responsiveness to anti-corruption recommendations of the B20 explores. We hope that as Network Partners in the B20 Italy Integrity and Compliance Task Force we will be able to help achieve greater uptake of Collective Action innovations at the G20 level this year.
There's more. Our paper on Mainstreaming Collective Action lists a range of endorsements of anti-corruption Collective Action by international bodies (including the UNODC, OECD and EU) and standard-setting organisations (including the World Bank in its Integrity Compliance Guidelines, the World Customs Organization and GRI Standards). In addition, nearly 20 countries have specifically endorsed forms of Collective Action in their national anti-corruption strategies, although implementation lags.
The picture is one of positive momentum, but there is still a lot more to be done before Collective Action becomes a global norm.
Collective Action in practice
To understand more about the Collective Action approach to addressing corruption and raising levels of fairness and integrity in business, companies and professionals can explore the B20 Collective Action Hub.
Launched by the Basel Institute following a mandate by the B20 in 2013 and supported by the Siemens Integrity Initiative, the Hub acts as a resource and knowledge centre on anti-corruption Collective Action around the world.
Examples of how Collective Action can bring benefits to business, government and society include the use of High Level Reporting Mechanisms and Integrity Pacts for clean procurement, local certification schemes to ease due diligence for SMEs and their multinational customers, and novel approaches to synergies in human rights and anti-corruption compliance.
The covid-19 pandemic has put the spotlight on inspiring Collective Action initiatives in sectors such as healthcare and pharmaceuticals.
Can Collective Action help meet the UN Global Compact's anti-corruption targets?
The UN Global Compact strategy, referencing SDG 16 on Peace, Justice and Strong Institutions, has set specific targets on anti-corruption. These include strengthening compliance programmes, transparency and reporting systems. Its Action Platform is already hard at work developing and promoting global business standards in these and related areas.
Collective Action is not only a pragmatic way to achieve these targets by pooling private-sector knowledge and developing standards and systems that work for all. As our Private Sector Specialist Vanessa Hans said in a recent opinion article for Trafigura's Sustainability report:
"For the private sector, active participation in Collective Action offers the advantage of tackling challenges pragmatically, such as developing good compliance, sustainability and human rights practices through constructive exchanges with peers and other stakeholders."
Engagement in Collective Action initiatives is also a strong indicator in itself of a company's proactive and collaborative approach to tackling corruption, raising standards of business integrity and levelling the playing field.