21. January 2021
Basel Institute to support B20 Italy Integrity and Compliance Task Force as Network Partner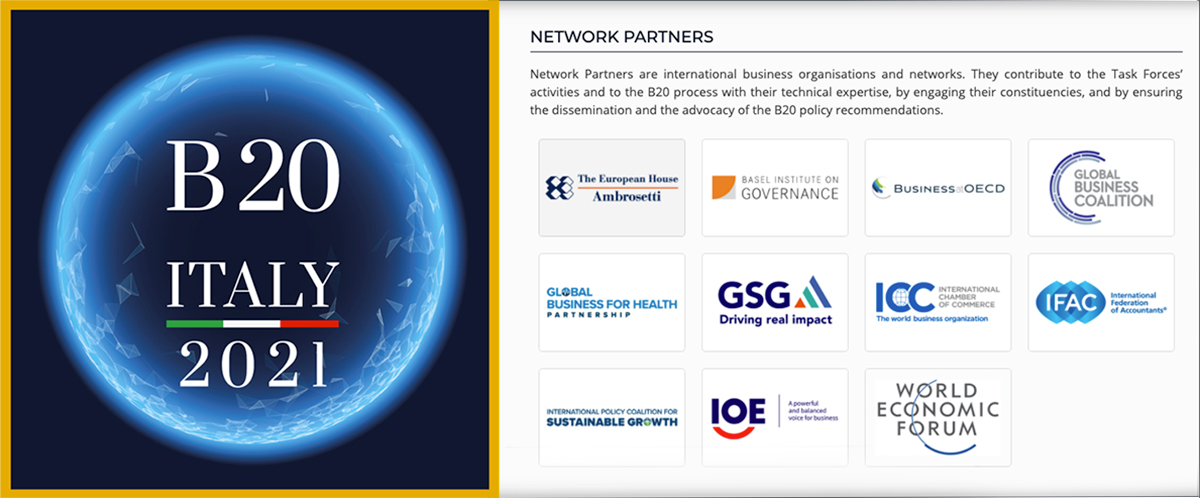 We are delighted to have been selected by the B20 Italy 2021 Integrity and Compliance Task Force as a Network Partner.
This will enable us to bring to the table our many years of expertise in anti-corruption Collective Action and other novel approaches to private-sector integrity and compliance.
As a global go-to centre on anti-corruption Collective Action, the Basel Institute helps to develop and facilitate Collective Action initiatives that bring together businesses and other stakeholders in a variety of industries worldwide. The approach involves collaboration and sustained cooperation between stakeholders in the private and public sectors, civil society and international organisations. The aim is to jointly tackle shared problems of corruption, raise standards of business integrity and level the playing field between competitors.
Collective Action tops the 2020 B20 Recommendations on Integrity and Compliance
The Basel Institute has been strongly engaged in the B20 process for the last 10 years, most recently as Network Partner for the B20 Saudi Arabia Integrity and Compliance Taskforce in 2020.
Collective Action was placed at the top of the B20 Saudi Arabia Integrity and Compliance Policy Paper under Recommendation 1 on pursuing a culture of high integrity in the public and private sectors:
"The G20 should engage with the private sector to implement or improve national anti-corruption plans, and to adopt new Collective Action initiatives."
B20 Collective Action Hub
In 2013, we launched the B20 Collective Action Hub following a mandate from the B20 Russia.
This online resource centre, which is supported by the Siemens Integrity Initiative, offers a range of anti-corruption publications and tools, plus a database of over 260 anti-corruption Collective Action initiatives and projects around the world.
Looking forward
We look forward to constructive discussions with the B20 Italy Task Force members under the leadership of the Chair, Ms Maria Grieco.  
Keep up to date with developments by following #B20Italy as well as our Collective Action team on Twitter (@FightBribery) and LinkedIn (Collective Action at the Basel Institute).
Our team is ready to support companies and other stakeholders who wish to explore potential opportunities for Collective Action in their sector or region. Find out more about our guidance and facilitation here.