Working Paper 38: Cryptocurrencies in Asia and beyond: law, regulation and enforcement
The crypto industry has exploded in recent years, and authorities in different countries have been reacting in very different ways. Some have banned cryptocurrencies, while others are embracing them to varying degrees. Some are working hard to align their anti-money laundering regulations with FATF standards, while others are turning a blind eye. A few countries have confiscated huge quantities of crypto assets linked to crime and money laundering. Others are at square one in terms of enforcement, risking becoming a hub for crypto crime and money laundering and posing a serious vulnerability in the world's financial system.
This Working Paper draws on a detailed analysis of how selected countries are addressing legal, regulatory and enforcement issues around cryptocurrencies and other virtual assets. The analysis is focused on Asia, but set in the context of global trends in crypto law, regulation and enforcement. It explores critical questions that will shape policies around virtual assets at the corporate, national and international levels:
What is working in terms of crypto regulation and enforcement?
What are the implications of different policy choices on crypto assets – for the industry, for the countries themselves and for global financial integrity as a whole?
What would the crypto wave possibly bring next?
The Paper also highlights broader developments needed to bring light and clarity to laws, policies and practices around the crypto industry, such as collaboration between both market players and governments.
Jurisdictions touched upon in this Working Paper alphabetically include Bhutan, Central African Republic, El Salvador, Hong Kong SAR, India, Indonesia, Japan, Kazakhstan, Malaysia, Myanmar, Russia, Singapore, South Korea, the Philippines, the People's Republic of China, Thailand, Ukraine and Vietnam.
A list of key terms and abbreviations have been prepared in the Annex to this Working Paper for the readers' easy reference.
About this Working Paper
This Working Paper is a collaboration between Dorothy Siron, Co-Managing Partner, Zhong Lun Law Firm LLP and Federico Paesano, Senior Financial Investigation Specialist, Basel Institute on Governance.
Dorothy Siron provided the bulk of the analysis and discussion, while Federico Paesano provided a selection of case studies and was co-author of the seven recommendations contained in section 4. The collaboration was facilitated by the International Academy of Financial Crime Litigators, an independent, non-partisan global centre that shapes and advances financial crime litigation practices for the future.
The publication is part of the Basel Institute on Governance Working Paper Series, ISSN: 2624-9650. It is licensed under a Creative Commons Attribution-NonCommercial-NoDerivatives 4.0 International License (CC BY-NC-ND 4.0).
Suggested citation: Siron, Dorothy, and Federico Paesano. 2022. "Cryptocurrencies in Asia and beyond: law, regulation and enforcement." Working Paper 38, Basel Institute on Governance. Available at: https://baselgovernance.org/publications/wp-38
Disclaimer: This Working Paper does not, and is not intended to, constitute and/or substitute legal or other professional advice. The content of this Working Paper is updated as of 4 May 2022 and is intended for general informational purposes only. No representations have been made as to its accuracy and completeness. You should seek independent legal or other professional advice before acting or relying on any of the information contained herein.
Links and other languages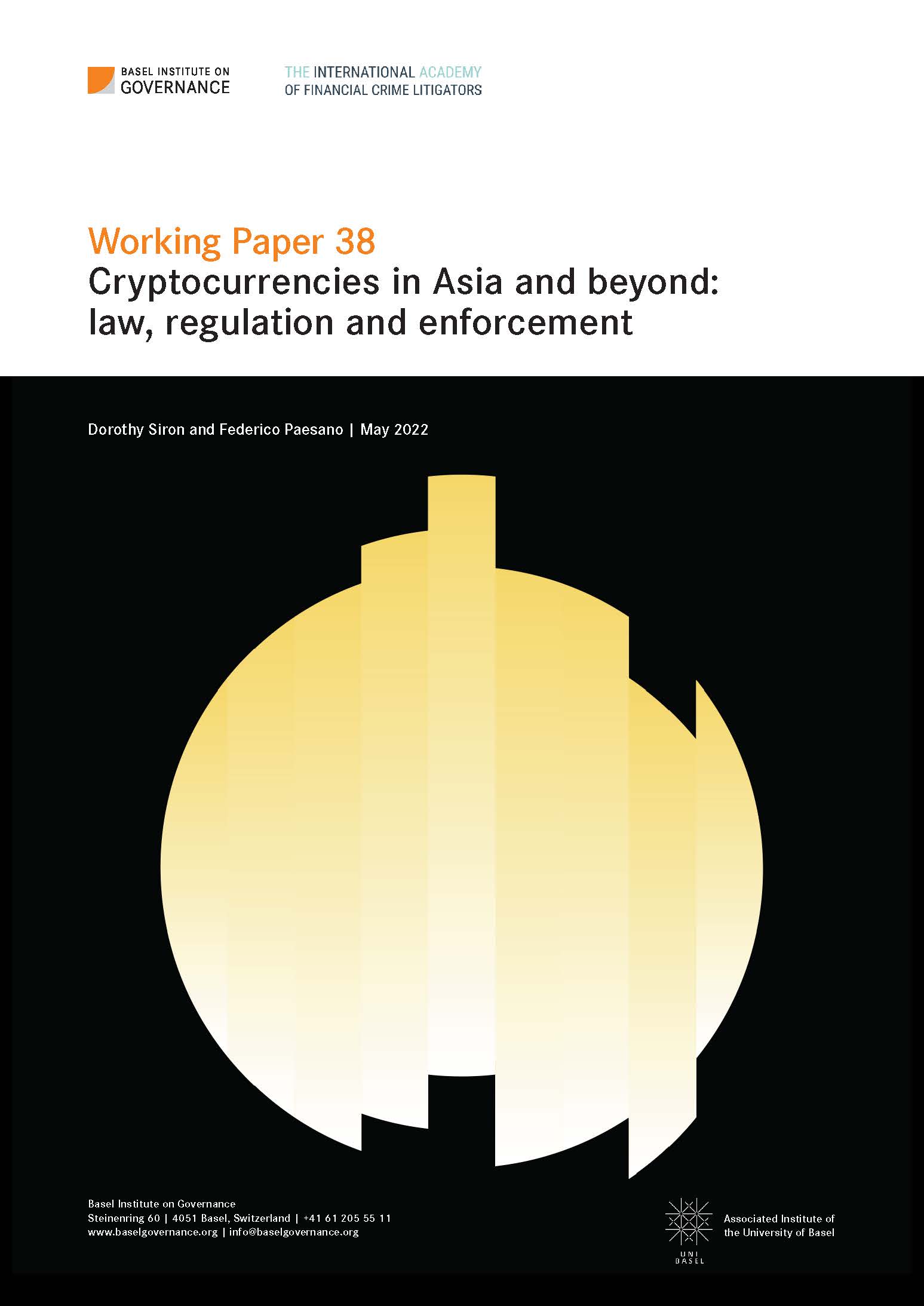 Publisher
Basel Institute on Governance; The Academy of Financial Crime Litigators
Author(s)