Case Study 7: Upholding an unexplained wealth judgement in Kenya's Anglo Leasing affair
This case study describes how Kenya's civil illicit enrichment legislation enabled the recovery of corruptly acquired assets from a former Chief Accountant at the Treasury.
It examines a 2021 unexplained wealth (illicit enrichment) case in Kenya involving the former Chief Accountant Patrick Ochieno Abachi. The case is related to Kenya's so-called Anglo Leasing scandal, in which 18 high-value government security contracts were allegedly awarded to fictitious companies in the early 2000s.
It illustrates one set of circumstances in which civil unexplained wealth (or civil illicit enrichment) legislation can be an extremely useful tool to target assets stolen through corruption.
The series of judgments has provided some valuable insights into Kenya's law targeting unexplained assets, specifically:
its key features and how they are applied;
the evidentiary importance of asset declaration forms;
how to prove assets are "unexplained" through financial analysis of a suspect's income and assets;
common legal challenges to illicit enrichment.
For this case study, Phillip Kagucia of Kenya's Ethics and Anti-Corruption Commission (EACC) spoke to Andrew Dornbierer, Senior Asset Recovery Specialist and author of the Basel Institute's open-access book Illicit Enrichment: A Guide to Laws Targeting Unexplained Wealth.
Open-access licence and acknowledgements
This publication is part of the Basel Institute on Governance Case Study series, ISSN 2813-3900. It is licensed for sharing under a Creative Commons BY-NC-ND 4.0 licence.
The Case Study series offers practitioners insights into interesting and precedent-setting cases involving corruption and asset recovery. Many such cases are drawn from partner countries of the Basel Institute's International Centre for Asset Recovery.
Suggested citation: Kagucia, Phillip, and Andrew Dornbierer. 2021. "Upholding an unexplained wealth judgement in Kenya's Anglo Leasing affair." Case Study 7, Basel Institute on Governance. Available at: baselgovernance.org/case-studies.
Links and other languages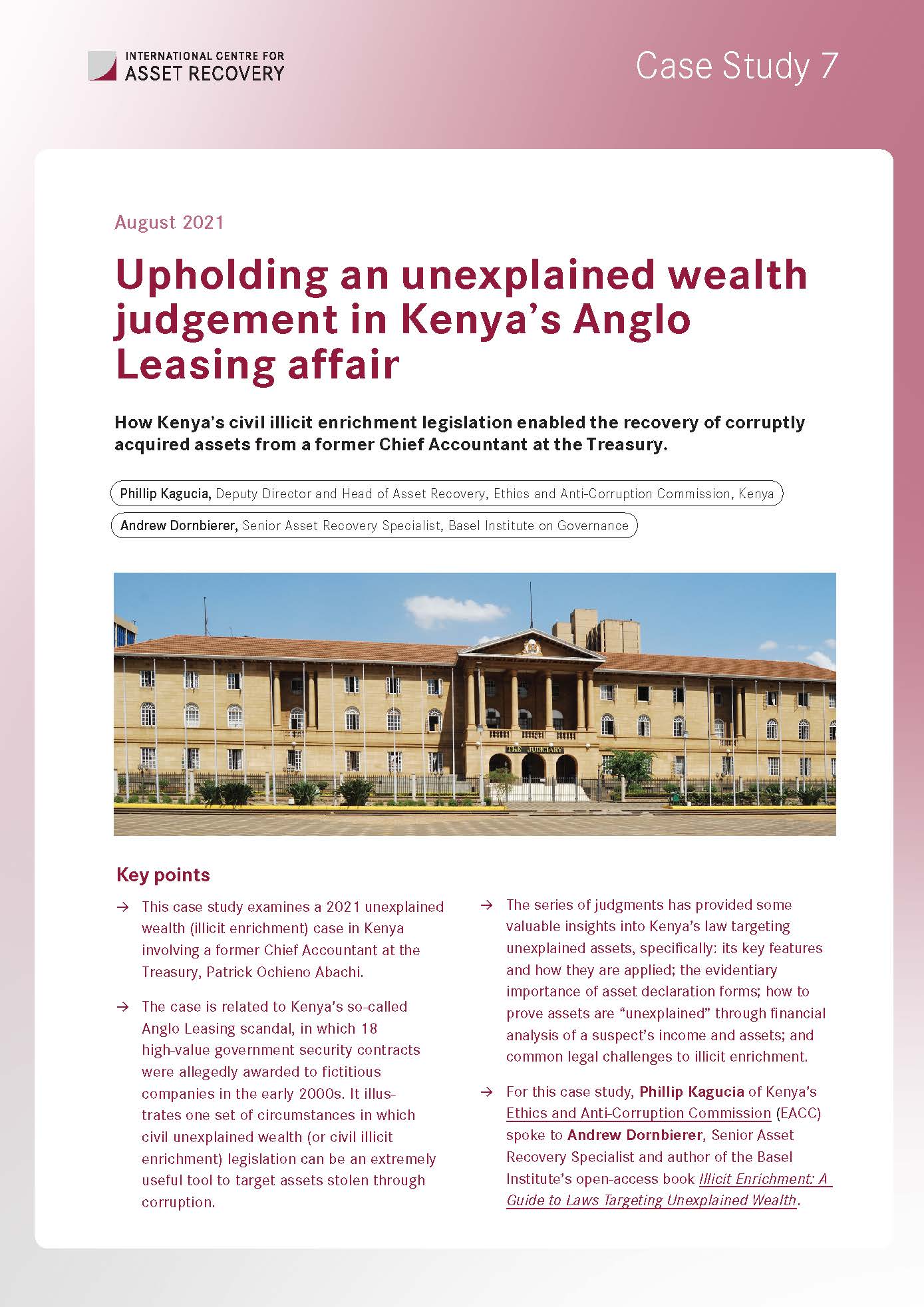 Publisher
Basel Institute on Governance
Author(s)