31. March 2023
Q&A: Monitoring corruption cases in Kenyan courts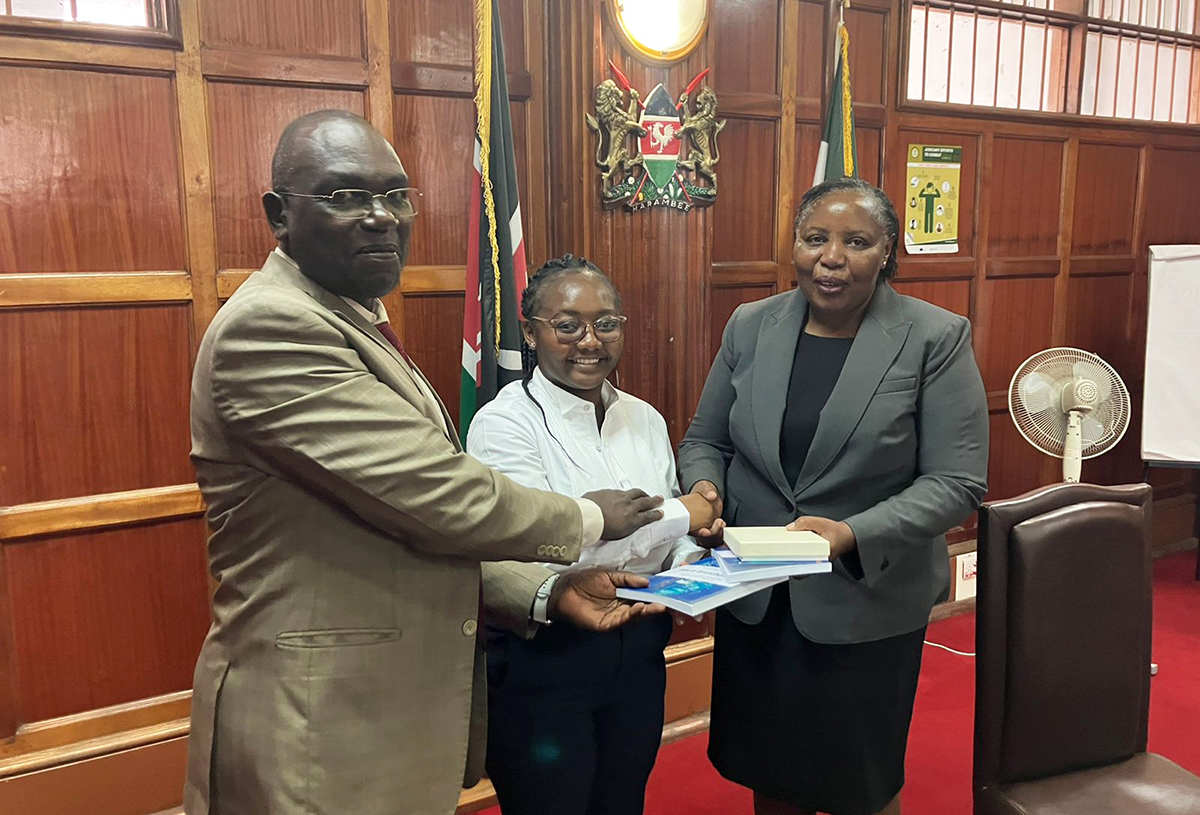 A Q&A with Mary Muthoni, who led a novel court monitoring project of our International Centre for Asset Recovery (ICAR) in Kenya during 2022. The aim was to identify reasons for delays in major corruption trials, as a basis for developing reforms to streamline and speed up the court process. The Court Users Committee has been highly receptive to the findings, which the team presented in March 2023.
Why monitor corruption cases in court – in Kenya or elsewhere?
Corruption is a crime with a huge negative impact on society. Those who abuse public office and steal public funds should feel the full force of the justice system. Yet all too often, the adjudication processes drag on for years.
Court monitoring can be a powerful tool to stimulate improvements in the justice system and help bring an end to impunity for the corrupt.
Court monitoring for corruption cases can identify systemic challenges in adjudicating such cases and provide targeted recommendations to address them. In the longer term, court monitoring can also be the basis for bringing stakeholders together to jointly develop important legislative and procedural reforms.
How did you approach the court monitoring project?
The purpose of a court monitoring activity depends on the specific issue one wants to address. In this instance, our objective was to understand what causes delays in adjudicating corruption cases.
Open-source materials already indicated challenges in concluding corruption cases. But there was no specific data to back this up. When designing our project, we took into account realities on the ground that could lead to these delays, like IT hitches and inadequate case or diary management procedures. Some cases are also just really complex, involving multiple proceedings both at the lower court and high court.
With limited resources and time, we sampled a variety of cases based on points like the amount of funds involved, the number of accused persons and their profiles, the specific charges and the use of plea bargaining. To measure delays, we looked not only at adjournments but also at the length of time needed for different phases of a case, the number of witnesses and the number of accused individuals.
We also kept in mind the Judiciary's performance indicators, policies and frameworks, so that our final recommendations would fit those frameworks.
What role did the multi-stakeholder Court Users Committee play?
Members of the Court Users Committee were our main stakeholders in this activity. The Court Users Committee is a forum to improve stakeholder engagement and promote effective and coordinated justice sector partnerships. Similar models exist in other jurisdictions including the UK, Uganda and Somalia.
In the Kenyan context, the anti-corruption Court Users Committee brings different actors together to share concerns, best practices, activities and actions required for a smoother adjudication process for corruption cases. Among others, the Committee includes representatives from the Anti-Corruption Courts, the Office of the Director of Public Prosecutions, the Ethics and Anti-Corruption Commission and the Law Society of Kenya.
The Court Users Committee members were highly receptive of our findings. The report has given them a solid basis to discuss their concerns about delays in corruption cases in depth and try to implement recommendations that are within their powers.
What kind of data and statistics did you seek to capture, and how?
As I explained in my quick guide to court monitoring, before capturing data you need to be clear about what your objective is and what type of court monitoring you are doing.
In our case, looking at delays meant looking at what factors play a role in promoting these delays.
Some factors can be inferred from open-access reports published by the Judiciary or other government institutions.
Case files indicate the number of times a case did not proceed, alongside variables like the type of documentation filed and whether it is relevant to the case or not. These variables are harder to quantify but are important to record as they contribute significantly to delays.
Attending court proceedings provides valuable additional insights that you can't get from paperwork.
What best practices and recommendations did the court monitoring highlight?
Among the best practices we noted was the Judiciary providing directions on how the case will progress. For example, the court may provide timelines for serving documents, or directions on whether an application will be heard orally or through written submissions. We also highlighted the use of sanctions in cases where a litigant continuously delays the process, and prompt rulings on each objection raised.
Our recommendations included a significant focus on case management – especially on the type of documentation and witnesses, and more generally the discovery and pre-trial processes. For example, we encourage dealing swiftly with matters on which parties agree in order to focus more efficiently on contentious (disputed) issues.
Better coordination with the judiciary's planning department could reduce the number of vacated trials and therefore overall timelines.
The court monitoring also provided evidence to support investments in technology and in training for younger lawyers, to reduce the number of ineffective trials.
The bottom line?
Court delays cost time and money, and can give the impression that justice is not being done. Kenya has the foundations in place for an efficient adjudication process of corruption cases and many dedicated prosecutors, judges and court staff.
Efficient coordination among the relevant agencies and the Bar will be crucial in applying the recommendations to reduce unnecessary delays. Ideally, this will be a process of continuous improvement – monitoring the effectiveness of measures and finding new opportunities to speed up the process and bring the corrupt more quickly to justice.
Learn more