Policy Brief 11: Fighting corruption in West African coastal states: how Collective Action can help
Africa is estimated to lose an unbelievable USD 88.6 billion (3.7% of Africa's GDP) each year to illicit financial flows, of which corruption is a major component. Rooting out corruption is a collective effort, and the private sector has a major role to play in laying down the foundations for clean business environments and sustainable development.
That is why anti-corruption Collective Action  has got so much to offer Africa, and in particular West African coastal states keen to maximise their clear economic potential. As the spectrum of Collective Action initiatives is quite large, it allows for innovative measures where governments, companies and civil society organisations (CSOs) can join forces toward a common objective, despite their different perspectives. This collaborative approach therefore provides a fertile ground for constructive dialogue between like-minded stakeholders, as well as an opportunity to understand the private sector's language and reality. 
CSOs have an important part to play in bringing Collective Action to the fight against corruption in West Africa. They must continue to initiate, facilitate and engage in Collective Action initiatives to help raise awareness and build bridges. Their presence can bring credibility, independent oversight and accountability to the initiatives.
This Policy Brief is based on conversations held with CSOs based in Benin (Social Watch Benin), Ghana (Ghana Integrity Initiative), Ivory Coast (Ivorian Youth Leaders' Network) and Togo (The Togolese National Agency for Consumers and the Environment). It aims to capture their experiences, challenges and outlook on what the future for Collective Action could hold in the region.
Despite their different backgrounds, they are united on one point: fighting corruption collectively by raising the voice of the private sector is an important step to pave the way for sustainable economic growth.
About this Policy Brief
This publication is part of the Basel Institute on Governance Policy Brief series, ISSN 2624-9669, and supports the Basel Institute's work on anti-corruption Collective Action with funding from the Siemens Integrity Initiative.
It is licensed under a Creative Commons Attribution-NonCommercial-NoDerivatives 4.0 International License (CC BY-NC-ND 4.0). Suggested citation: Young, Liza. 2022. "Fighting corruption in West African coastal states: how Collective Action can help." Policy Brief 11, Basel Institute on Governance. Available at: baselgovernance.org/pb-11.
Links and other languages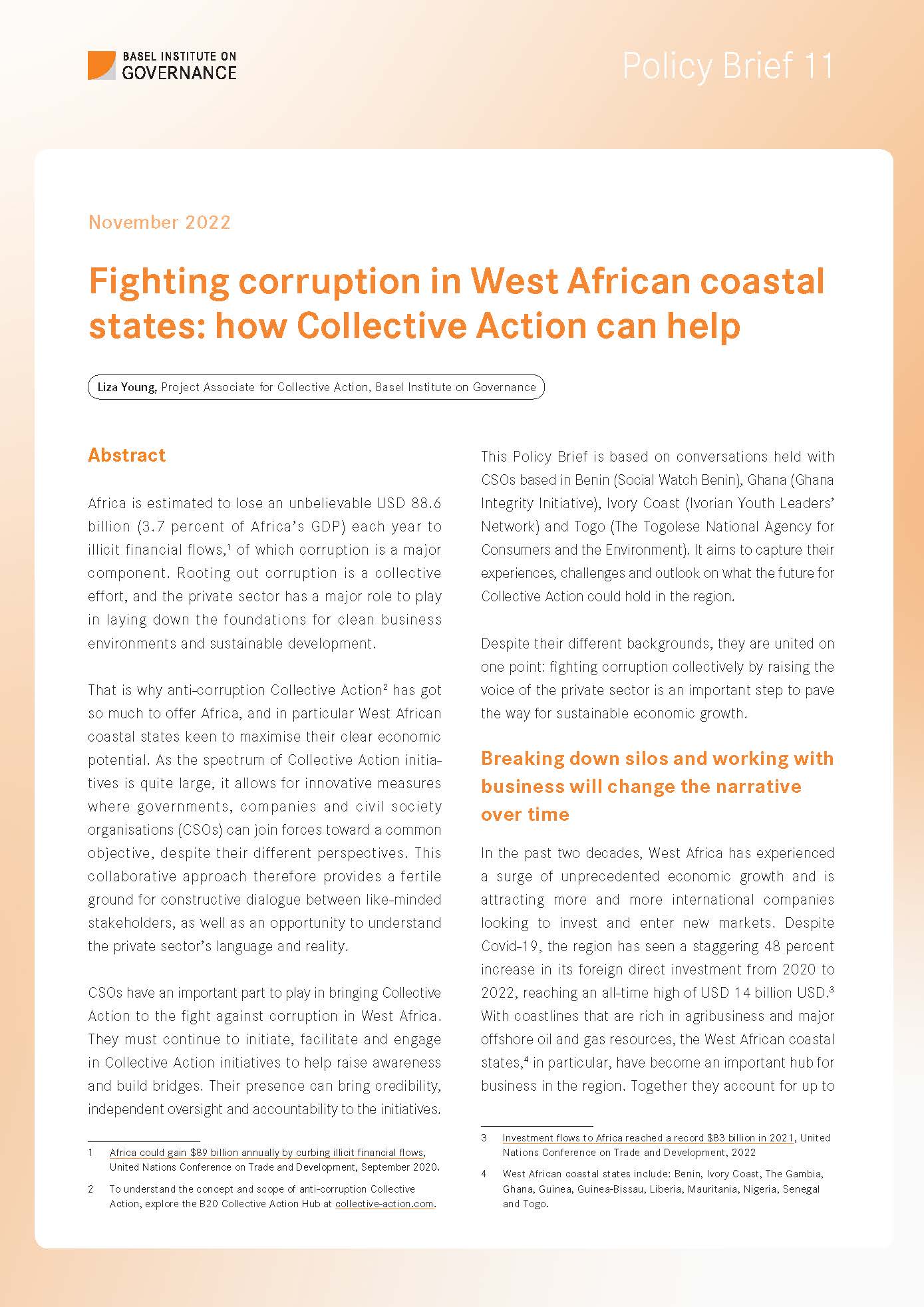 Publisher
Basel Institute on Governance
Author(s)