Event
Strengthening transparency and governance through Collective Action in Bulgaria
A high-level forum in the Bulgarian capital Sofia will focus on Bulgaria's efforts to strengthen integrity, transparency, accountability and open government through Collective Action and the active participation of the business sector.
The in-person event (with live streaming) is aimed primarily at government agencies contributing to the anti-corruption agenda, as well as private-sector participants including business and industry associations. Civil society organisations and the media will also be invited.
The event is a chance to shape private-sector engagement in anti-corruption and good governance efforts in Bulgaria.
The forum is a joint initiative of the Basel Institute on Governance and the Ministry of Finance of Bulgaria, in collaboration with the American Chamber of Commerce, the Bulgarian-Swiss Chamber of Commerce and Transparency International Bulgaria. Attendance is free and lunch will be provided.
Agenda and speakers
Participants will hear from and have the chance to discuss the issues with speakers including the Bulgarian Minister of Finance, the CEOs of the Swiss and American Chambers of Commerce, the Executive Director of Transparency International Bulgaria, and high-level representatives from major businesses and investors in Bulgaria.
Panel discussions will explore:
Collective Action as a tool to advance the anti-corruption agenda
Models for Collective Action in Europe: best practices and lessons learned
Private sector as a driver for Collective Action 
Nicola Bonucci, Member of the Board, Basel Institute on Governance and former Director of Legal Affairs, OECD, and François Valerian, Member of the Board, Transparency International, will give keynote speeches. 
H.E. Assen Vassilev, Bulgaria's Minister of Finance, will make closing remarks.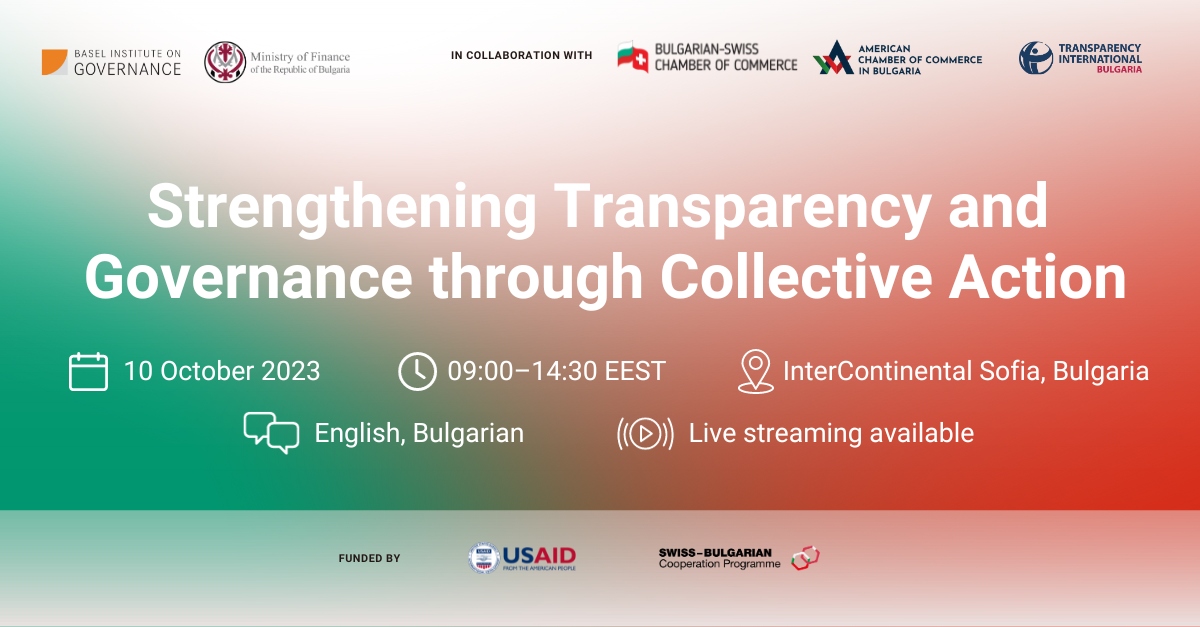 Start date
10 October 2023
Organiser
Basel Institute on Governance; Ministry of Finance of Bulgaria