13. October 2023
360-degree support for Collective Action against corruption in Bulgaria – what's next?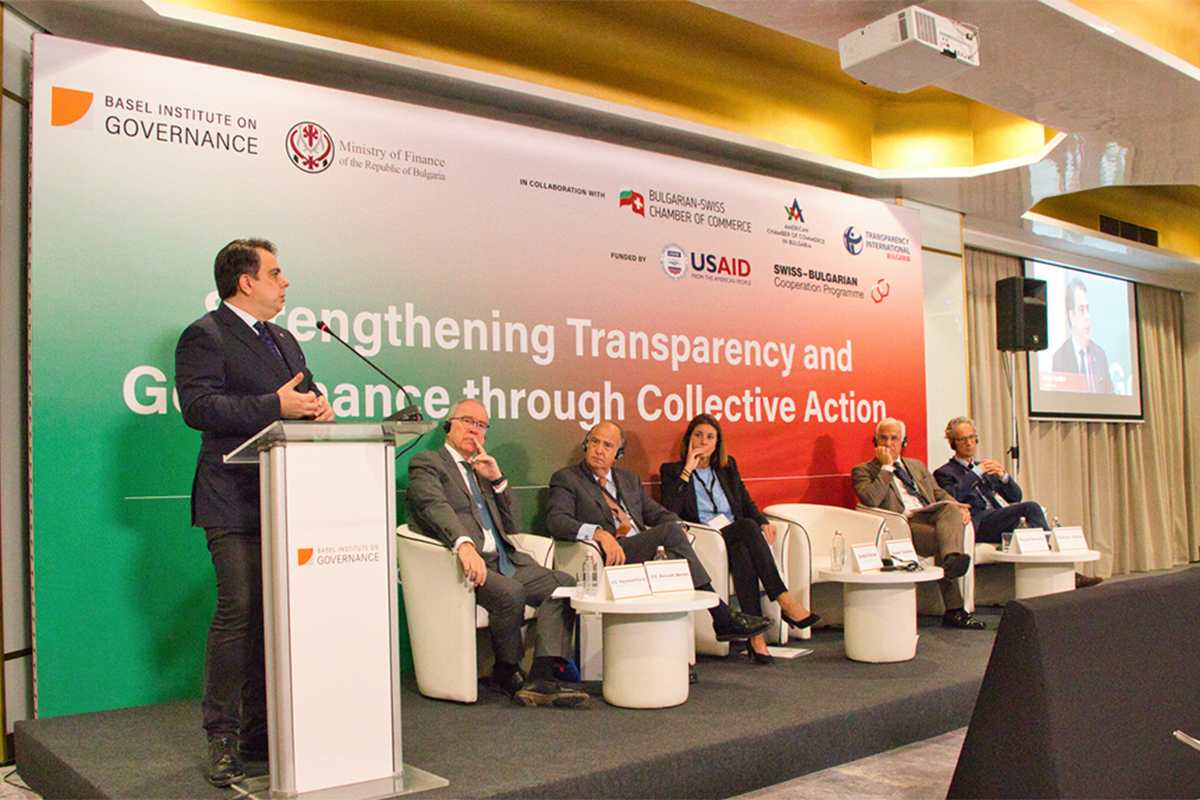 "Fighting corruption has to be a collective effort. No single stakeholder can do it alone. Government cannot do it alone, or the public administration. If only citizens are left to fight corruption, they will struggle. And the private sector likewise."
– Gretta Fenner, Managing Director, Basel Institute on Governance
Effectively combating pervasive corruption in Bulgaria requires sustained, collective efforts by the government, the business sector, civil society and individual citizens. And there is a lot of appetite across all those sectors for concrete Collective Action to build trust and achieve change.
That was the overwhelming message of a high-level forum on 10 October 2023 on strengthening transparency and governance through Collective Action in Bulgaria.
A joint initiative of the Basel Institute on Governance and the Ministry of Finance of Bulgaria, the event was a chance to shape private-sector engagement in anti-corruption and good governance efforts in Bulgaria.
It was organised in collaboration with the American Chamber of Commerce, the Bulgarian-Swiss Chamber of Commerce and Transparency International Bulgaria, with funding from the Swiss Agency for Development and Cooperation and from USAID.
View the YouTube playlist here.
Curing the cancer of corruption
A zero-tolerance approach to corruption is essential in both the public and private sectors, agreed participants, to turn the page on Bulgaria's deeply rooted corruption. Minister of Finance Assen Vassilev put it bluntly, saying:
"Corruption is a cancer. It suffocates society…. It has infiltrated trade unions, employer organisations, almost all sectors of the economy, and nearly the entire state administration. The fight against such a significant cancer in Bulgarian society will be neither quick nor easy. It will require… to use a quote of [former Prime Minister] Stefan Stambolov, "grasping at the devil's tail to pull the country out of the swamp".
Minister of Regional Development Andrey Tsekov agreed, calling corruption in public procurement a "disease". More than a third of public contracts are awarded with only one company bidding, he said. That raises red flags. Transparently publishing tenders and technical certifications online will help, he said, but more than that:
"Only by uniting together – the government and the private sector – can we tackle the causes of corruption in public procurement."
Complementing regulations
The government's role is not limited to introducing and enforcing regulations. With the help of businesses and civil society, it can also introduce collectively developed measures that promote transparency and fairness for all.
As Nicola Bonucci, Member of the Board of the Basel Institute on Governance, said:
"The law is a necessary but not sufficient condition for ensuring transparency and governance. That is where Collective Action plays a role."
High-level business representatives echoed this. In the words of Boni Bonev, Chair of the Bulgarian-Swiss Chamber of Commerce:
"It is only through Collective Action that we can create and sustain a culture of integrity at all levels of political, business and social life in Bulgaria. Where there is integrity, there is no corruption."
Ivan Mihaylov, CEO of the American Chamber of Commerce in Bulgaria, added that:
"The collective efforts of government and business in the fight against corruption would be more effective if, in vulnerable sectors like public procurement, recurring patterns of violations were identified and effectively eradicated."
A platform for dialogue
How to turn from abstract agreement to real action on the ground? Deputy Prime Minister Mariya Gabriel's speech emphasised the need to establish a robust platform for dialogue between the public and private sectors:
"In finding solutions to a common problem like corruption, it is essential to share experiences, good ideas and practices – national and international, from the perspective of institutions, companies, NGOs and civil society. Different sectors have different perspectives and each one is useful and welcome in this process."
Such a platform could significantly improve transparency and integrity, support the liberalisation of key sectors prone to corruption (like the energy sector), and encourage more openness and accountability in major infrastructure projects.
Swiss Ambassador Raymund Furrer noted the flexibility of the Collective Action approach, noting that initiatives could seek to:
raise standards of integrity in an industry or market;
develop self-regulatory standards for specific sectors;
solve systemic issues related to corporate bribery and corruption; and/or
enhance fair competition and level the playing field between competitors
International implications
The stakes are high, both within Bulgaria and with regard to its international reputation, investment and trade. Within Bulgaria, as Furrer said,
"Governance, accountability, transparency are essential for economic, social and political systems to work effectively, efficiently and justly."
François Valérian, Member of the Board of Transparency International, warned of the wider "global economy of corruption", saying:
"The economy of corruption harms common good by delivering a global economic output which is much lower than the one that can be obtained through the licit economy."
U.S. Ambassador Kenneth Merten highlighted how Collective Action could support foreign investment in Bulgaria, saying that:
"Close coordination with the business community and civil society is considered critical in the implementation of investment screening. This partnership can help attract constructive foreign capital while preventing the entry of corrosive capital."
That is why it is vital for Bulgaria's key political and business representatives to look beyond its borders and collaborate internationally.
Collective efforts and knowledge sharing among peers from different countries can provide valuable insights into effective anti-corruption strategies and efforts to eradicate corruption.
What's next?
We are heartened by the strong appetite for change in Bulgaria. Motivation spans from political, business, diplomatic and civil society representatives at the highest levels to those on the front lines of fighting corruption every day.
That is already a huge step forward in fostering the trust that is needed to collaborate effectively across sectors.
We stand ready to assist the Government of Bulgaria and all relevant stakeholders to launch develop innovative Collective Action initiatives to support the fight against corruption. Learn more about the Basel Institute's leading role in fostering Collective Action against corruption on our online resource centre, the B20 Collective Action Hub.
---
Gallery