21. June 2023
Zambian anti-corruption officers build skills to recover stolen assets from abroad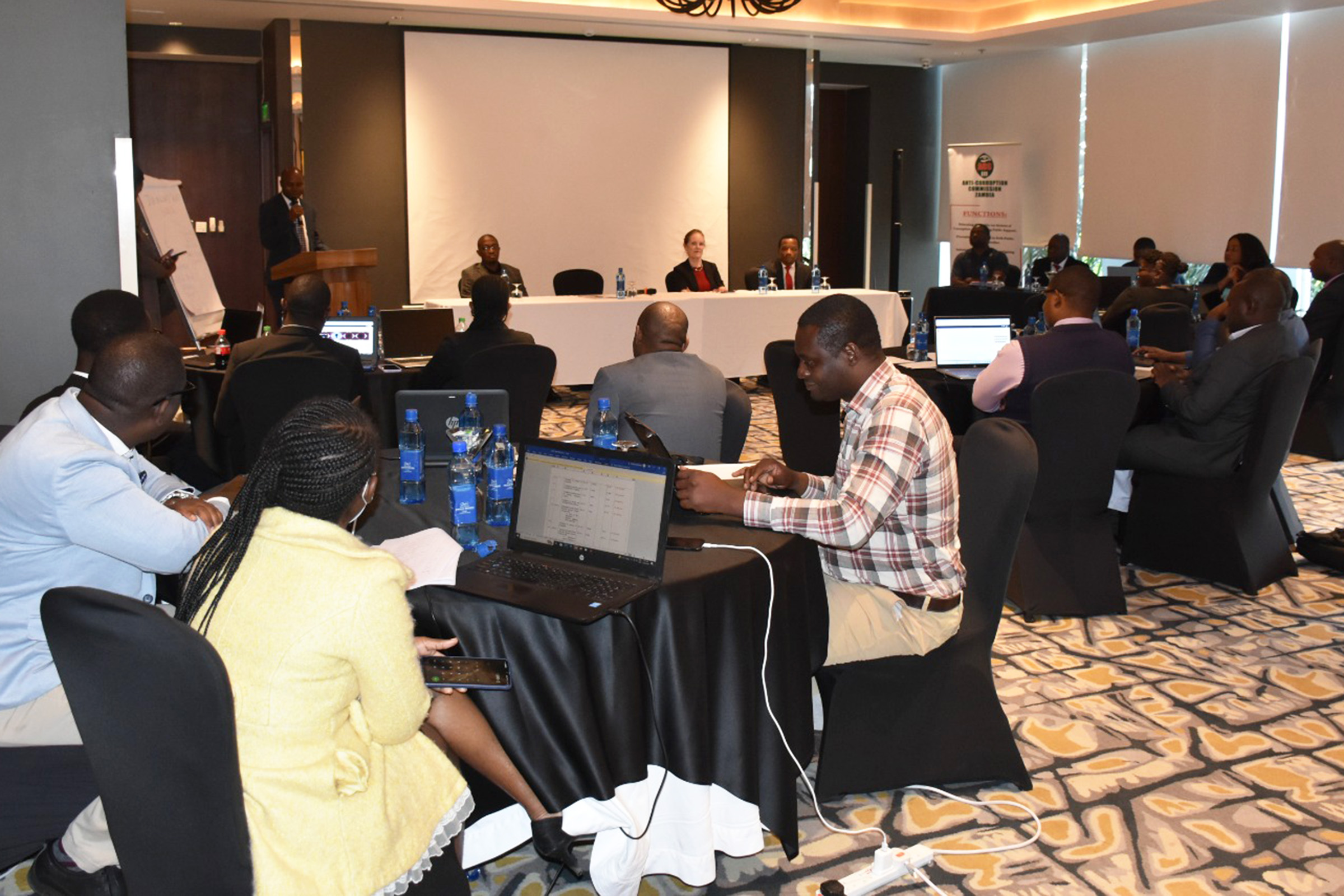 Shell companies, trusts and other corporate structures allow criminals to hide their illicit money abroad, often in offshore financial centres with poor beneficial ownership transparency. Officers seeking to investigate and prosecute transnational corruption cases need to understand these structures and how to cooperate with foreign jurisdictions.
That is what 20 Zambian officers from law enforcement and related public authorities learned in an intensive training workshop by our International Centre for Asset Recovery (ICAR) training team on 12–16 June 2023.
The hands-on workshop in Zambia's capital Lusaka gathered participants from the Anti-Corruption Commission, Financial Intelligence Commission, Attorney General's Chambers, National Prosecution Service, Zambia Police, Zambia Revenue Authority and Drugs Enforcement Commission. Of the 20 participants, eight were female.
The training was part of a wider programme in Zambia funded by the UK's Foreign, Commonwealth & Development Office (FCDO). The programme includes training and technical assistance to combat corruption, money laundering and other transnational organised crimes, including through an embedded advisor and mentor.
Exploring offshore structures and mutual legal assistance
Our Africa-based ICAR trainers, Phyllis Atkinson, Tom Walugembe and Emmanuel Mringo, took participants through the principles of international cooperation and offshore structures before helping them to apply their knowledge in a simulated corruption and money laundering case.
The participants worked in small groups of five to solve the case, which was tailored to Zambia's specific legal and institutional context. The case required investigative efforts beyond Zambia's borders to identify and trace evidence and properties in the foreign jurisdiction.
International cooperation was also needed to obtain evidence and execute requests to freeze and confiscate the illicit assets.
An indispensable and practical tool
The Director General of the Drugs Enforcement Commission, Mr Nason Banda, summed up the importance of understanding mutual legal assistance and other international cooperation channels in his opening remarks:
"Mutual legal assistance is an indispensable tool and an essential component of the international legal framework established to combat economic crimes… Whenever I think about MLA as an instrument to be used in investigations, I always feel we should be as practical as possible.

"Without understanding MLA very well, we won't succeed in our investigations. Today's criminals operate transnationally … for you to catch up with them, you must have a way of relating with other authorities in the different countries that the crimes touch."
Endorsing the practicality and relevance of the workshop, participants indicated that the skills they had acquired would be important in their work in the future, with one indicating that:
"The training was very insightful. The facilitators were engaging and gave examples that related to Zambian laws. This is great: it helped in appreciating and relating to the Zambian scenario."
Another stated:
"The course was eye-opening and highly instructive. It showed creative ways to track down money laundering offences in other jurisdictions."
Learn more
---
Gallery