01. April 2019
Ukrainian anti-corruption practitioners trained in MLA requests and offshore structures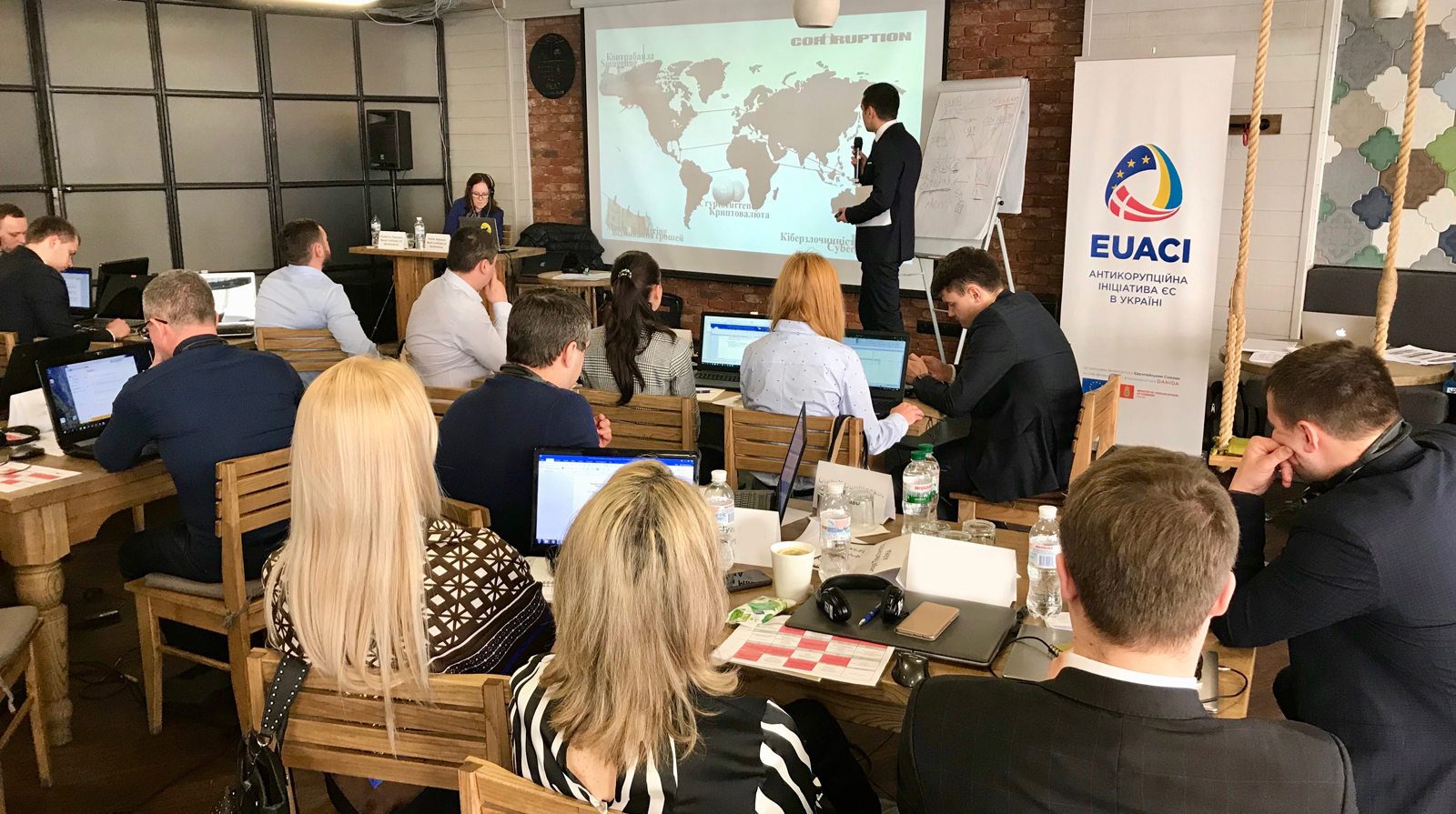 Experts from the Basel Institute's International Centre for Asset Recovery (ICAR) have conducted an intensive five-day training workshop in Kyiv, Ukraine for Ukrainian prosecutors, investigators and other anti-corruption practitioners. The participants learned to:
formulate proper Mutual Legal Assistance (MLA) requests in order to obtain critical foreign evidence for use in criminal investigations;
unravel corporate and trust entities. 
The workshop brought together representatives from the National Anti-Corruption Bureau (NABU), Specialised Anti-Corruption Prosecutor's Office (SAPO), Asset Recovery and Management Agency (ARMA) and State Financial Monitoring Service (SFMS). 
It was conducted from 25–29 March 2019 in conjunction with the programme EU Anti-Corruption Initiative in Ukraine (EUACI) 2017-2019.
About the training workshop
In addition to drafting MLA requests, the workshop covered offshore corporations, trusts, ease of incorporation, secrecy, layering of trust and shell companies, ability to identify beneficial ownership and offshore banking.  
Shell companies, when used illicitly, are generally used in combination with additional mechanisms to obscure beneficial ownership. By adding layers of corporate vehicles, hiding behind bearer shares, and ensuring that the beneficial owners are located (or the identifying information is stored) in another jurisdiction, criminals can thwart attempts to uncover illegal activity and trace stolen assets.
By understanding corporate vehicles and structures, particularly in the context of offshore jurisdictions, investigators and prosecutors can more easily tackle criminal investigations involving such structures. During the training, they enhanced their knowledge of the different kinds of corporate vehicles available in foreign countries and their licit and illicit uses. This increases their ability to follow the money trail in major corruption and money laundering cases.
Why capacity building for Ukrainian investigators and prosecutors is important
Recovering the proceeds of crime is a major challenge facing Ukraine in its struggle against corruption and money laundering. Ever mindful of the critical role played by international co-operation in transnational corruption and money laundering investigations, prosecutors and investigators must enhance their capacity to secure evidence stashed abroad. This is of particular importance where complex offshore structures are used to obscure the money trail and conceal the beneficial ownership of illicit assets. 
The European Union's Fifth Anti-Money Laundering Directive further toughens EU rules around information on the beneficial ownership of trusts and companies. Although Ukraine is not yet an EU member, these rules nevertheless impact the way in which investigations are conducted worldwide.
About the EUACI
The EUACI, a three-year programme implemented by the Danish Ministry of Foreign Affairs, aims to improve the implementation of anti-corruption policy in Ukraine and thereby help to reduce corruption. The programme supports all key institutions in the flow of anti-corruption justice in Ukraine in line with international norms and European best practice. 
ICAR support to this project began with a five-day training workshop in June 2018, covering financial investigations, asset tracing/forfeiture, MLA and new payment methods.