28. May 2021
New eLearning course: International Cooperation and Mutual Legal Assistance in Criminal Matters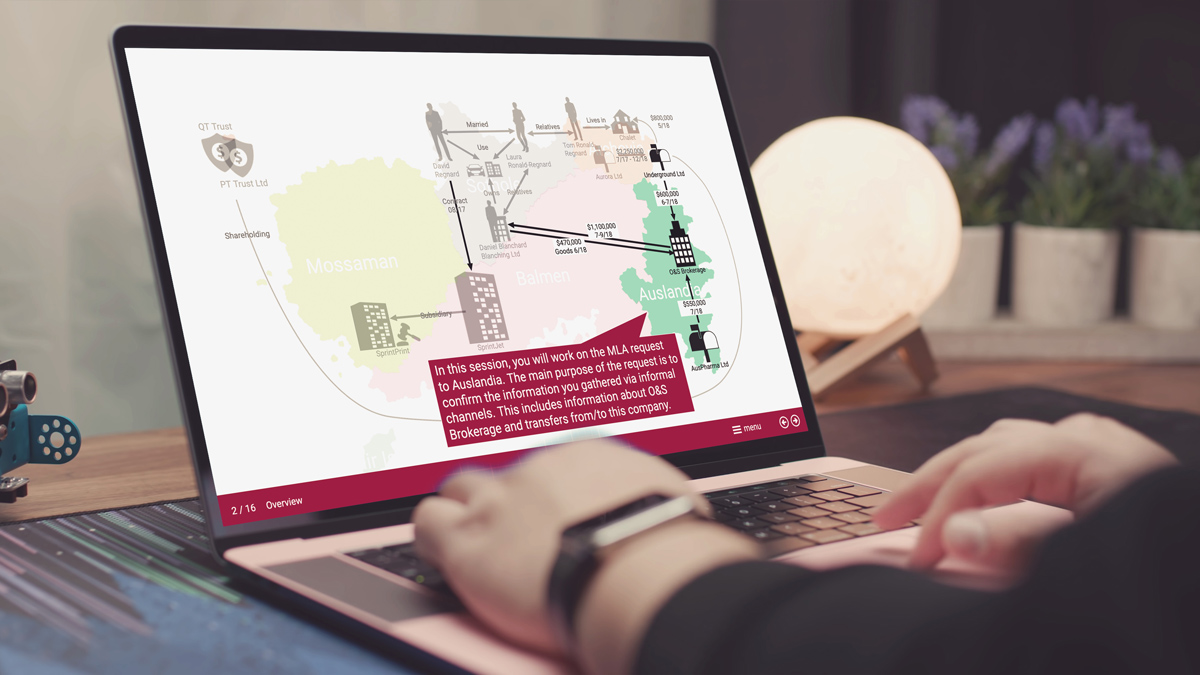 A new free eLearning course on the Basel Institute's virtual learning platform addresses a common barrier to successful corruption and money laundering cases and attempts to recover stolen assets from abroad.
Major corruption and money laundering cases often have an international dimension and almost always require law enforcement practitioners to request information and cooperation from their counterparts abroad.
We often see, through the mentoring and capacity building work of our International Centre for Asset Recovery (ICAR), that practitioners do not always maximise the potential of informal information-sharing channels before moving to the formal process of mutual legal assistance (MLA). Then, at the MLA stage, there are several key elements that could greatly facilitate the drafting of the request and improve the chances of obtaining a positive response.
Weak capacity in these two areas is not uncommon in any jurisdiction. Yet it severely impacts the chances of achieving a successful conviction in transnational crime and corruption cases, or freezing and recovering assets that have been stashed in foreign jurisdictions.
Authoritative guidelines and manuals exist, and are included in the course as both base and reference material. But it is only by going through the process of reaching out to foreign counterparts and preparing MLA requests themselves that practitioners can understand the concepts of international informal and formal cooperation and how they may be applied in real cases in their own legal and institutional contexts.
Turning theory into practice
The interactive and self-paced course on International Cooperation and Mutual Legal Assistance in Criminal Matters takes participants step by step through a fictional investigation into a corrupt e-passport procurement deal, covering:
Seeking information on the internet and in databases
Using mutual administrative assistance (MAA), often described as "informal" channels, to obtain information and prepare formal MLA requests
Combining domestic and international information and leads
Planning and writing effective MLA requests that have a good chance of receiving a rapid and positive response
Anticipating and dealing with reasons for refusal of MLA
On average, it takes three hours to complete the 10 sessions. At the end, the participants can download a personal certificate.
More importantly, they will have internalised the fundamental skills needed to collect and request information and evidence from international sources.
For whom is it useful?
Investigators, prosecutors, financial intelligence analysts, investigating judges and other criminal justice operators involved in any transnational criminal investigation – not only corruption and money laundering – will find the course relevant and useful to their work.
In particular, we encourage those who have completed onsite or virtual ICAR training programmes in Financial Investigations and Asset Recovery, Advanced Operational Analysis or Corruption in Infrastructure Projects and Procurement to take the course as a follow-up. It will also help to build foundational knowledge before attending ICAR's instructor-led training programme on Offshore Structures and Mutual Legal Assistance.
Get started
The course is freely open to all. Simply register or log into our LEARN platform and start on session 1!