30. March 2023
Multi-agency financial investigations training in Ecuador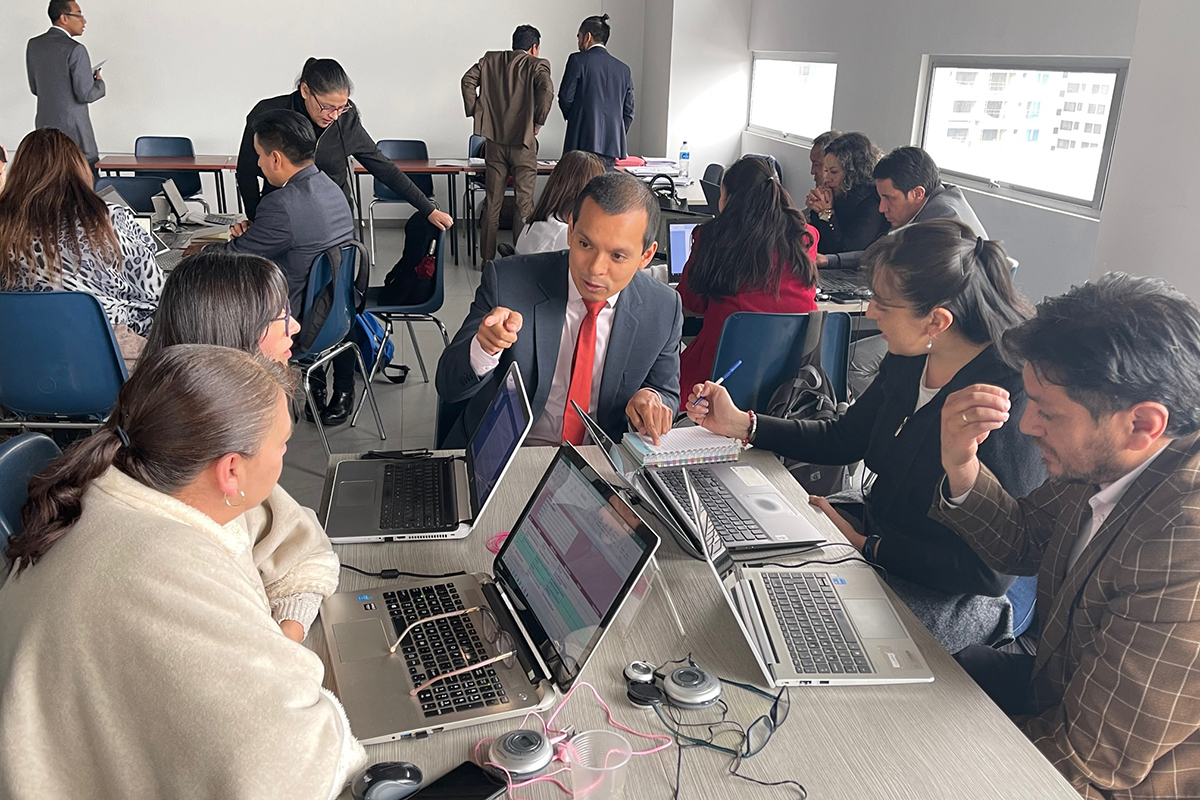 Fifty-eight members of Ecuador's criminal justice agencies have undergone intensive training on financial investigations and asset recovery over the last two weeks.
The training team of our International Centre for Asset Recovery (ICAR) held the two back-to-back workshops in Quito in conjunction with the Prosecutor General's Office of Ecuador (Fiscalía General del Estado or FGE). They are part of ICAR's ongoing support to the FGE in building capacity to investigate and prosecute corruption and money laundering cases and recover illicit assets.
Participants from Ecuador's Financial Intelligence Unit (Unidad de Análisis Financiera y Económico or UAFE), National Police, Procuraduria General del Estado and Judiciary also attended. The presence of multiple agencies gave officers with different backgrounds and responsibilities the chance to work together to solve a complex simulated corruption and money laundering case customised to the Ecuadorian context.
Group work and discussions
Praising the methodology as "beyond my expectations", participants commented that "the group work was excellent – dynamics were the best" and "we gained knowledge not only in theory, but through practice". The course is "very useful for our job performance".
Both workshops were an opportunity to discuss recent changes in the Ecuadorian anti-money laundering and asset forfeiture legal framework. This notably includes a new non-conviction based forfeiture law, Extinción de dominio, which will hopefully help officers to recover stolen assets even in cases where a criminal conviction is not possible.
As a multi-agency forum, participants also found it useful to discuss the practical challenges they face in applying relevant laws.
Train-the-trainer – Latin America
The sessions were a chance to train five Latin America-based members of ICAR and our Green Corruption programme to deliver courses in the region according to ICAR's unique training methodology.
After successfully completing the five-part train-the-trainer programme, they will able to deliver ICAR's flagship financial investigations and asset recovery training programme to partner agencies across the continent. Notably, our Green Corruption colleagues will be better equipped to train Ecuadorian officers to "follow the money" in the context of environmental crimes.
The workshop on 13–17 March was partially financed by the UK's Conflict, Stability and Security Fund as part of an ongoing Green Corruption project in Peru. The workshop on 20–24 March 2023 was partially financed by the Bureau of International Narcotics and Law Enforcement Affairs of the U.S. Department of State, again through a grant to the Green Corruption programme.
---
Gallery