01. October 2021
Latin America's model law on non-conviction based forfeiture of illicit assets turns 10 – what now?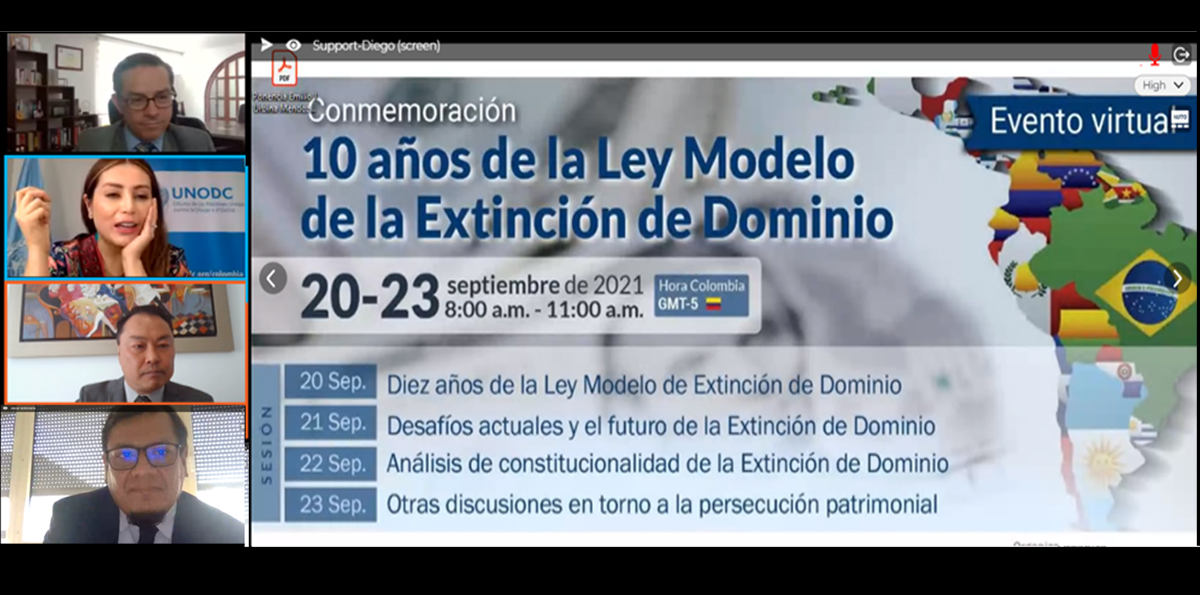 A model law on non-conviction based forfeiture (NCBF), drafted 10 years ago by UNODC to support countries in Latin America in their efforts to recover stolen assets, will be updated following four days of intense discussions among practitioners and asset recovery experts from across the continent.
Specialists from our International Centre for Asset Recovery (ICAR) team in Latin America were among those contributing to the discussions of the NCBF Model Law (Ley Modelo de Extinción de Dominio).
Extinción de Dominio is the dominant form of NCBF mechanism in Latin America, including in Peru, where ICAR is assisting the authorities in rolling out a national system for NCBF and has seen some encouraging successes.
A model for NCBF laws across Latin America
Central to the participatory review process of the NCBF Model Law, the meetings sought to illuminate its contribution to efforts to recover stolen assets in countries that have implemented such an NCBF mechanism.
Speakers highlighted that the Model Law has served as a reference document for many countries in drafting NCBF legislation that fits their domestic legal systems and contexts. These laws have since helped to recover assets arising from organised crime and corruption.
The discussions also highlighted good practices and aspects that require updating in line with the fast-evolving field of asset recovery, such as how to recover assets held in the form of cryptocurrencies, and evolutions in international judicial cooperation.
Other key points included issues the possibility of extending international instruments, such as the Inter-American Convention on Mutual Assistance in Criminal Matters, to specifically include forms of NBCF. Participants called for more guidance on developing suitable mechanisms to manage seized and confiscated assets, as well as on procedural aspects specific to this type of law. These are areas in which countries that are further ahead in the implementation of Extinción de Dominio mechanisms can usefully take the lead.
Sharing on-the-ground experiences with NCBF laws
Oscar Solórzano, the Basel Institute's Head of Latin America and Senior Asset Recovery Specialist, presented some practical case studies that demonstrate the challenges of international judicial cooperation in asset recovery. On the other hand, he pointed to encouraging experiences of such international cooperation from Peru, which has succeeded in recovering assets from abroad using its 2019 Extinción de Domino law (see case links below).
Oscar also remarked positively on the progress made by some European jurisdictions in recognising the validity of this model of NCBF legislation. Dennis Cheng, Senior Asset Recovery Specialist, moderated a panel reflecting on the significant advances made in Latin America in respect of NCBF over the last 10 years and participated in the closing session.
Promoting innovation in asset recovery
Participants in the four-day meeting included prosecutors, judges, academics and policymakers from Argentina, Bolivia, Brazil, Chile, Colombia, Dominican Republic, Ecuador, El Salvador, Guatemala, Honduras, Mexico, Panama, Paraguay and Peru.
Many of these are leading voices in the asset recovery field who are also involved in the Asset Recovery Knowledge Community established by ICAR earlier this year.
It is hoped that the reflections and knowledge products emerging from the Asset Recovery Knowledge Community will support the legal foundations of the NCBF Model Law as it is revised over the coming months, as well as its application in practice.
Learn more