02. October 2023
High-level forum: Strengthening transparency and governance through Collective Action in Bulgaria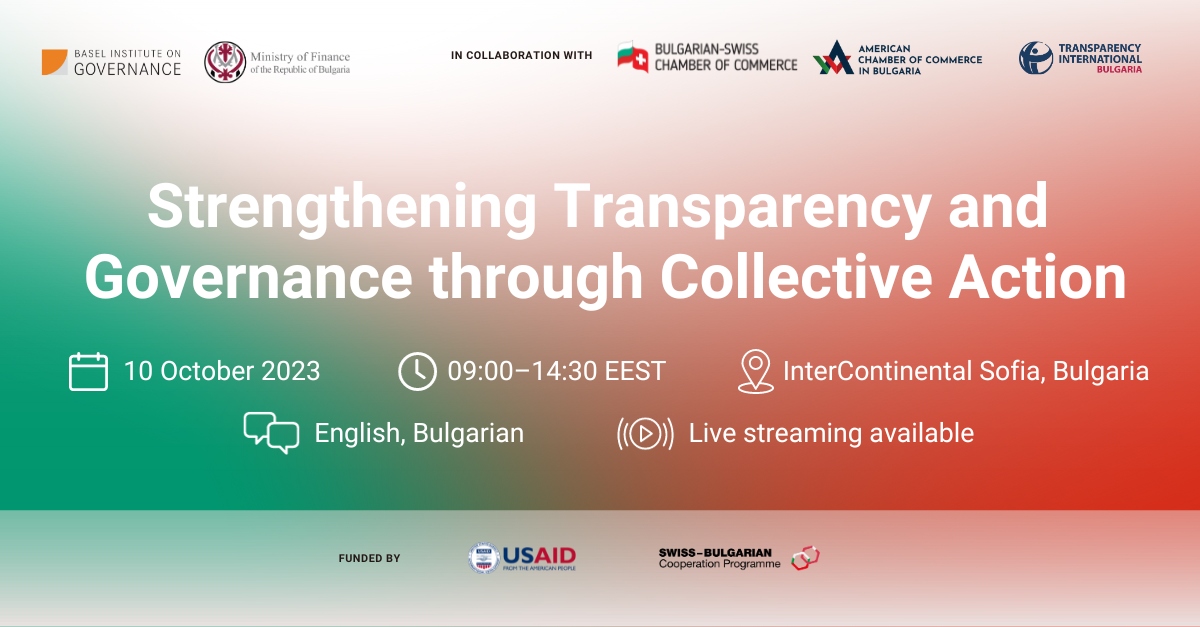 This event has now passed. See short takeaways and quotes.
A high-level forum in the Bulgarian capital Sofia on 10 October 2023 will focus on Bulgaria's efforts to strengthen integrity, transparency, accountability and open government through Collective Action and the active participation of the business sector.
The in-person event (with live streaming) is aimed primarily at government agencies contributing to the anti-corruption agenda, as well as private-sector participants including business and industry associations. Civil society organisations and the media will also be invited.
The event is a chance to shape private-sector engagement in anti-corruption and good governance efforts in Bulgaria.
The forum is a joint initiative of the Basel Institute on Governance and the Ministry of Finance of Bulgaria, in collaboration with the American Chamber of Commerce, the Bulgarian-Swiss Chamber of Commerce and Transparency International Bulgaria. Attendance is free and lunch will be provided.
Agenda and speakers
Participants will hear from and have the chance to discuss the issues with high-level speakers from the Bulgarian Government and business sector, as well as international voices on business integrity and transparency.
Making opening remarks are:
Gretta Fenner, Managing Director, Basel Institute on Governance 
H.E. Mariya Gabriel, Deputy Prime Minister of Bulgaria 
H.E. Assen Vassilev, Minister of Finance of Bulgaria
H.E. Raymund Furrer, Ambassador of Switzerland to Bulgaria  
H.E. Kenneth Merten, Ambassador of United States to Bulgaria  
Nicola Bonucci, Member of the Board, Basel Institute on Governance and former Director of Legal Affairs, OECD, and François Valerian, Member of the Board, Transparency International, will give keynote speeches. 
Panel discussions will then explore:
Collective Action as a tool to advance the anti-corruption agenda
Models for Collective Action in Europe: best practices and lessons learned
Private sector as a driver for Collective Action
We thank USAID and the Swiss Agency for Development and Cooperation through the Swiss-Bulgarian Cooperation Programme for their support to this event and more.
How can Collective Action boost transparency and fair business in Bulgaria?
Collective Action brings together companies with other parties, such as government and/or civil society, to increase business integrity, transparency and fairness. Anti-corruption Collective Action initiatives can take many forms, such as anti-corruption statements, integrity pacts, initiatives to develop common standards and principles, and certifying business coalitions.
At its heart, it is about bringing businesses and other stakeholders together to tackle shared problems of corruption.
Collective Action initiatives and tools can help to:
raise standards of integrity in an industry or market;
develop self-regulatory standards for specific sectors;
solve systemic issues related to corporate bribery and corruption;
enhance fair competition and level the playing field between competitors.
The potential of Collective Action to strengthen business integrity and enhance conditions for fair competition is increasingly recognised by leading international organisations and standards such as the 2021 OECD Anti-Bribery Recommendation and the 2022 B20 Indonesia Policy Paper on Integrity and Compliance as well as in several National Anti-Corruption Strategies and Action Plans.
By bringing together stakeholders from the public sector and private sectors, this event aims to foster the peer learning and collaboration that is at the heart of Collective Action.
This will support the current commitments and anti-corruption agenda of the Government of Bulgaria, including Bulgaria's 2021-2027 Anti-Corruption Strategy, the Summit for Democracy Action Agenda and the principles of the Open Government Partnership.
Learn more