20. November 2020
Global Conference on Criminal Finances and Cryptocurrencies closes with 7 key recommendations for fighting crypto-enabled crime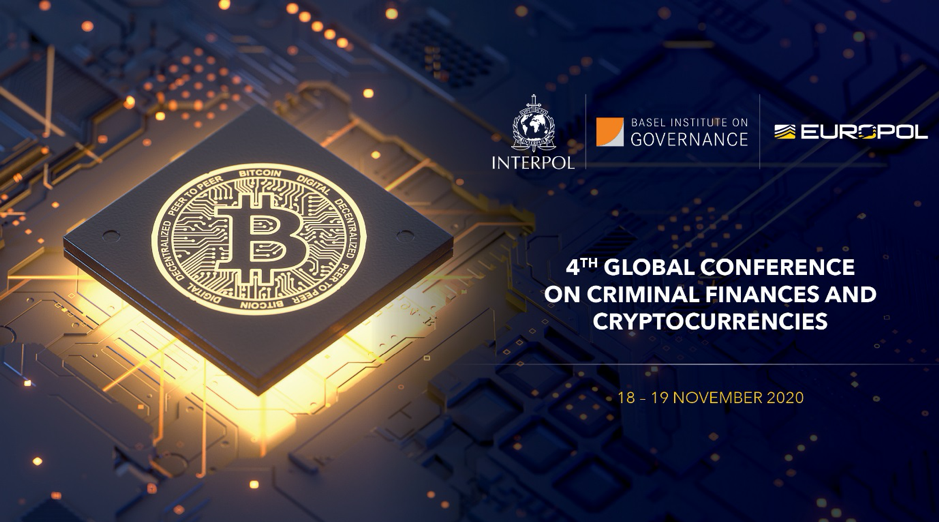 The 4th Global Conference on Criminal Finances and Cryptocurrencies, co-organised by the Basel Institute on Governance, INTERPOL and Europol and hosted this year by INTERPOL, closed yesterday with a convergence around seven key recommendations for strengthening the global response to new financial crime threats relating to cryptocurrencies.
Due to be published in a forthcoming report, the recommendations span new technologies and strategies for financial investigations of virtual assets, regulations on virtual asset service providers, follow-the-money approaches adapted to the virtual space and stronger international cooperation on cryptocurrency-facilitated crimes.
About the conference
Almost 2,000 participants from 132 countries took part in the conference, which took place virtually on 18-19 November 2020. Leading cryptocurrency experts, money laundering investigators and other law enforcement representatives explored trends in cryptocurrency-facilitated crimes, dark markets, ransomware attacks, and anti-money laundering investigations and compliance.
The second day of the conference was a closed session for representatives from national authorities, who presented recent case examples to exchange knowledge and best practices on investigations related to cryptocurrency-facilitated crime and subsequent money-laundering activities.
"Closing the gap"
In his closing remarks, Federico Paesano, Senior Asset Recovery Specialist at the Basel Institute on Governance highlighted the exponential growth in both interest and investigations into cryptocurrencies and criminal finances. "Law enforcement is closing the gap," he said. The case studies and advanced legal discussions at the conference show that "investigations and investigative techniques are becoming more and more sophisticated."
He also pointed to the remarkable sense of unity and joint purpose among the nearly 2,000 participants, despite their diverse backgrounds and jurisdictions. "We can all be proud of our contributions to making this amazing technology a safe tool for everybody, especially those in need of such a tool, rather than a safe haven for criminals."
Next conference: Basel 2021
Federico Paesano co-founded the Working Group on Cryptocurrencies and Criminal Finances together with counterparts from Europol and INTERPOL in 2016. Previous in-person conferences have taken place in Doha, Basel and The Hague.
The Basel Institute on Governance looks forward to hosting the 5th Global Conference on Criminal Finances and Cryptocurrencies in 2021.
More information