24. May 2023
Empowering Bulgarian practitioners with new skills and tools to trace and recover criminal assets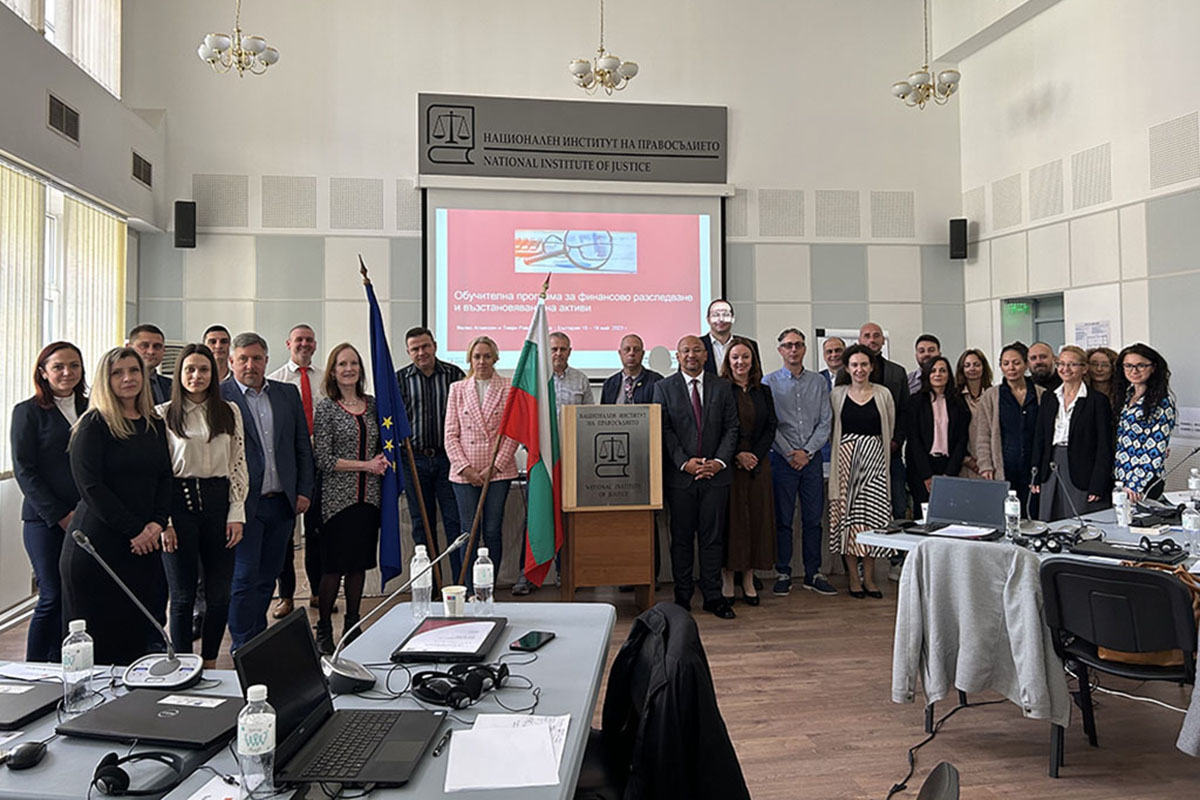 From 15–19 May 2023, our International Centre for Asset Recovery (ICAR) training team was at the National Institute of Justice in Sofia, Bulgaria to deliver our flagship training on Financial Investigations and Asset Recovery. The training is a crucial element of our collaboration with the Bulgarian government to assist in combatting corruption and recovering stolen public funds. It was funded by the Swiss Agency for Development and Cooperation under the Swiss-Bulgarian Cooperation Programme.
The 22 course participants included judges, prosecutors, police and organised crime investigators as well as representatives from state anti-corruption, revenue and security departments. Nine of the participants were women. NIJ Deputy Director Silvia Dimitrova and ICAR's Team Lead in Bulgaria Renne Traicova delivered opening remarks. Mira Ivanova from the Ministry of Justice delivered closing remarks and the final certificates to participants who completed the training successfully. 
ICAR training programmes aim to encourage officers from various parts of the criminal justice system to work together in a way that builds cross-agency cooperation and capacity. The participants were divided into five-person investigative teams and worked as independent task forces for the duration of the programme.
A Bulgarian simulated investigation
ICAR training emphasises hands-on learning through simulated investigations, in this instance a case featuring a complex corruption and money laundering scheme that required participants to "follow the money" in the Bulgarian context. Relevant Bulgarian criminal statutes, provisions and enforcement procedures were incorporated into the case and international and Bulgarian standards were compared.
The simulated case involved the analysis of large volumes of data, gathering and assembling evidence in a manner ready for presentation at trial and establishing a basis for the confiscation of assets.
The practical learning was a positive experience for participants – one commented that:
"The training was extremely useful, especially the practical exercise and the way in which the investigation was actually carried out, with separate steps and the provision of information in chunks."
Using the Basel LEARN platform
Each participant used a computer and had access to our virtual learning platform Basel LEARN, where all training materials were made available. The work was conducted in an automated environment using computer applications to perform much of the financial analysis.
This provided participants with the opportunity to gain new skills in real time. Participants reported that the training improved their skills in "computer literacy for analysing banking information" and "analytical thinking" as well as Excel.
This technical work was enhanced by facilitated group discussions which identified problems that have occurred in actual cases and developed potential solutions.
Preparing for a money laundering trial
As a special feature, Judge Denitsa Valkova from the Supreme Court of Cassation presented an overview of recent jurisprudence in Bulgaria related to money laundering and provided practical recommendations on the gathering of evidence and its proper presentation in court. The discussions which followed focussed particularly on proof – of both the illegal origin of the property subject to laundering and of the predicate offence.
This conversation was particularly useful for participants with one prosecutor commenting:
"It was very helpful to explain how to differentiate between the stages in criminal activity – where and with which transactions the predicate offence ends and where money laundering begins."
---
Gallery