24. January 2023
Basel Institute to support B20 India as Network and Knowledge Partner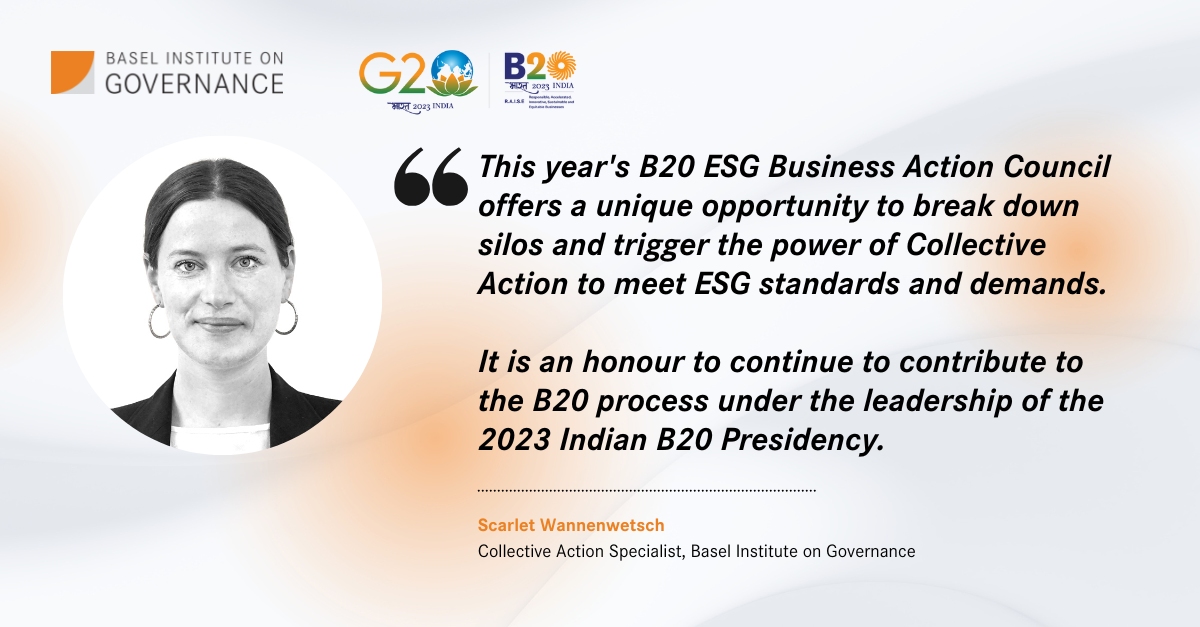 The Basel Institute on Governance is delighted to have been selected by the B20 India as a Network and Knowledge Partner.
For the 12th consecutive year, the Basel Institute on Governance will bring its expertise in Collective Action, integrity and anti-corruption compliance to support the B20 process in shaping an impactful and business-oriented response.
This year, in view of the growing significance for the private sector to adhere to Environment, Social and Governance (ESG) standards, the topic of integrity and compliance will be integrated into the Action Council ESG in Business.
"This year's B20 ESG Business Action Council offers a unique opportunity to break down silos and trigger the power of Collective Action to meet ESG standards and demands.

It is an honour to continue to contribute to the B20 process under the leadership of the 2023 Indian B20 Presidency."

– Scarlet Wannenwetsch, Collective Action Specialist
To address corruption challenges and raise standards of integrity, compliance and fair competition in business, the Basel Institute on Governance has been promoting Collective Action as an effective tool since its foundation in 2003. Collective Action brings together the business sector, policymakers, civil society, and anti-corruption experts to shape the discussion and support the development of informed and practical recommendations.
The B20 and Collective Action
The B20 has consistently recognised the practicality and adaptability of Collective Action as a means of involving the private sector combating corruption. Already 10 years ago, following a mandate from the B20, the Basel Institute launched the B20 Collective Action Hub.
This hub is an online resource centre which offers a range of anti-corruption publications and tools, plus a database of anti-corruption Collective Action initiatives and projects around the world. It is supported by the Siemens Integrity Initiative.
More recently, at last year's B20 Indonesia, Collective Action was selected as one of the four recommendations to alleviate integrity risks in the Policy Paper of the B20 Indonesia Integrity and Compliance Task Force. Gemma Aiolfi and Scarlet Wannenwetsch represented the Basel Institute as Co-Chair and Deputy Co-Chair of the Task Force.
Learn more
This year, we look forward to continuing to support the B20 anti-corruption work and the translation of its recommendations into action.
Learn more about the B20 process in relation to integrity and anti-corruption.
Keep up to date with developments by following #B20India as well as our Collective Action team on Twitter (@FightBribery), LinkedIn (Collective Action at the Basel Institute), and by subscribing to our Collective Action Quarterly Update.