28. June 2022
Applying behaviour change approaches to fight corruption and illegal wildlife trade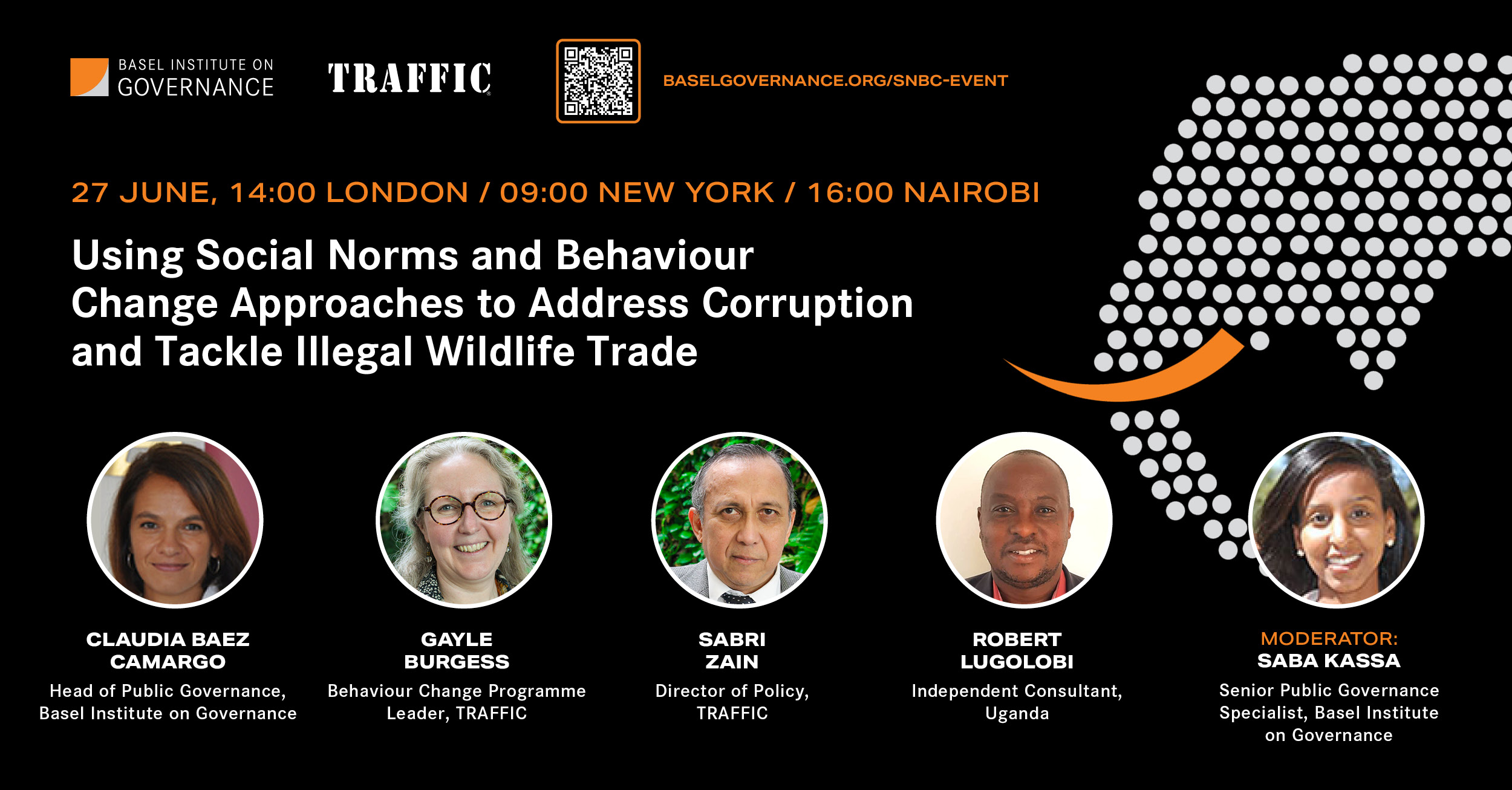 Can social norm and behaviour change approaches help to reduce corruption related to illegal wildlife trade (IWT)?
Very possibly. SNBC initiatives have been shown to help combat diverse corruption problems, although for those related to IWT and other areas of conservation and natural resource management, the evidence for doing so is sparse.
At a practitioner-focused webinar on 27 June 2022, Claudia Baez Camargo, Head of Public Governance at the Basel Institute on Governance, and Gayle Burgess, Behaviour Change Programme Leader at TRAFFIC, presented the key findings of their recently published Working Paper on the topic, including:
what social norm and behaviour change (SNBC) approaches are;
their use in fighting corruption;
the framework they jointly developed to assess entry points for behavioural interventions;
how practitioners can apply these insights to effectively reduce corruption related to IWT.
Sabri Zain, Director of Policy at TRAFFIC, and Robert Lugolobi, Independent Consultant, Uganda, gave their insights into how SNBC approaches can be applied in real life in programmes targeting the corruption that facilitates IWT. Saba Kassa, Senior Public Governance Specialist at the Basel Institute on Governance, moderated the panel.
The Working Paper – "Behavioural drivers of corruption facilitating illegal wildlife trade – Problem analysis and state of the field review" – has been produced in association with the Targeting Natural Resource Corruption (TNRC) project. The TNRC project is working to improve biodiversity outcomes by helping practitioners to address the threats posed by corruption to wildlife, fisheries and forests. TNRC harnesses existing knowledge, generates new evidence, and supports innovative policy and practice for more effective anti-corruption programming. Learn more at tnrcproject.org.
Learn more
The research and webinar were made possible by the generous support of the American people through the United States Agency for International Development (USAID). The contents are the responsibility of the authors and do not necessarily reflect the views of USAID, the United States Government, or individual TNRC consortium members.