21. July 2019
Reflections on 2018: International Centre for Asset Recovery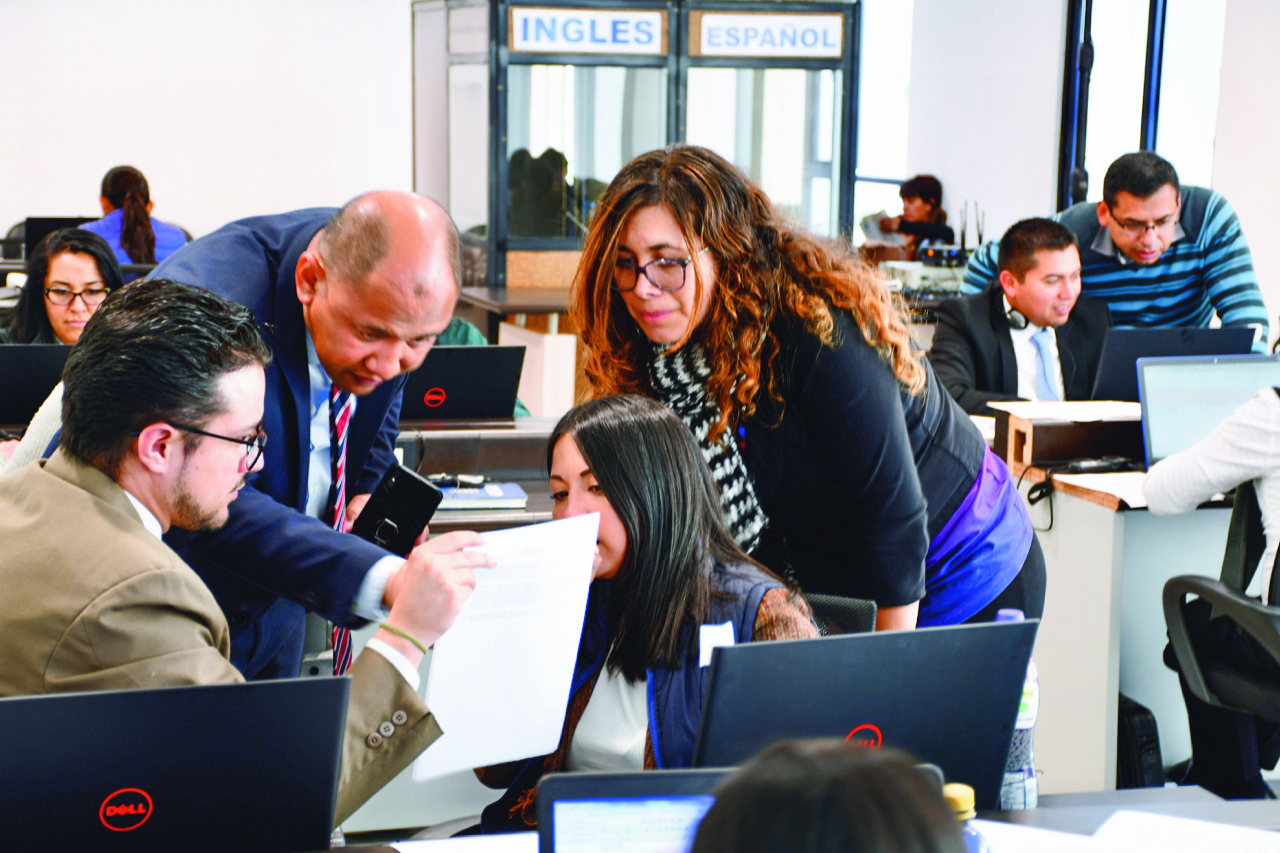 The activities of the International Centre for Asset Recovery (ICAR) in 2018 continued to have impact across all aspects of our core mission: to enable partner countries to investigate complex cases of corruption and money laundering, send criminals to jail and recover stolen assets stashed abroad.
However, the amount of hard assets recovered – notably in 2018, the USD 16.5 million recovered with the assistance of our embedded experts in Peru – is just one part of a much wider picture. In line with our Operational Strategy 2017–20 and the ICAR Theory of Change, we believe the lasting impact of ICAR's work also lies in the softer assets gained along the way.
Building long-term capacity – the ripple effect
These softer assets include greater capacity among key anti-corruption officials and institutions, leading to stronger rule of law. In 2018, we trained over 500 officials in 10 countries on financial investigation and asset recovery, as well as new topics such as money laundering using Bitcoin. According to interviews in the context of our training impact assessment, participants have not only learned a lot but changed their practices at work as a result of our input. Staying in touch with them and supporting them with ad hoc advice is part and parcel of ensuring that training leads to sustainable results.
A highlight of the year was our team of local ICAR-certified trainers in Tanzania, who have started rolling out our training programme to their colleagues across the country.
Smoother inter-agency cooperation both domestically and internationally is another key goal of ICAR's work, since complex financial crimes can only be tackled with a collective effort. Nearly half of the over 100 ongoing cases supported by ICAR experts advanced in 2018 thanks to inter-agency or international cooperation. This has already led to new initiatives to create inter-agency taskforces and international teams, which we will continue to support through 2019 and beyond.
Creating stronger systems for sustainable development
A typical side effect of ICAR's in-country case work – particularly where our experts are embedded in partner agencies working side by side with anti-corruption officials – is coming across procedural or policy gaps that make the lives of investigators and prosecutors difficult. When this leads to internal or government-wide reform, our practical insights can help ensure that policymaking is not just a copy-paste of international good practice but locally anchored and contextualised. 
One example is Tanzania's new international cooperation team within its Prevention and Combating of Corruption Bureau, set up during 2018 with ongoing advice and mentoring from ICAR experts to build on progress in intelligence-gathering from foreign jurisdictions.
In this way, we believe ICAR's work in 2018 continues to impact our partner countries' efforts far beyond recovering assets – as important as that is. It helps strengthen systems and leave a sustainable legacy to deter criminal activity, protect public funds and support the achievement of the Sustainable Development Goals.
A multidisciplinary approach to tackle complex financial crimes
Complementing our law enforcement and asset recovery-focused assistance, our country programmes are increasingly asked to respond to a growing trend – and need – to become more multidisciplinary in fighting crime. This means more practically connecting asset recovery with countries' broader anti-corruption and governance agendas.
An example of that is our programme of work in Malawi, which benefits from additional funding from the UK Department for International Development. The scope has now expanded to include support to the review of the National Anti-Corruption Strategy, fresh engagements with the private sector and assistance with developing innovative research tools and corruption risk assessment strategies. Experts from the Basel Institute's divisions for Collective Action, Compliance and Public Governance will join ICAR in driving this integrated, multi-faceted approach to combating corruption and building capacity to recover stolen assets.
Driving innovation in asset recovery techniques
ICAR's flexibility and global network of experts, spanning former prosecutors, lawyers and financial investigators, has been instrumental in helping to introduce new and context-sensitive legislative and technical innovations to support our partner countries' asset recovery efforts. 2018 saw the first successful use of plea bargaining in a high-profile case in Malawi, the introduction of a structured approach to unexplained wealth cases in Tanzania and the first use of international video evidence and intelligence from hawala transactions in Kenya. In Peru, ICAR experts have contributed significantly to the elaboration of improved non-conviction-based forfeiture legislation introduced in 2018.
This creative approach to maximising the potential of partner countries' legislative systems aligns with research by the Basel Institute's Public Governance team, which emphasises the importance of context in both understanding criminal behaviour and countering it.
2018 at a glance
General
In Peru, participation in the recovery of USD 16.5 million in stolen assets from accounts in Switzerland and Luxembourg belonging to individuals linked to former Peruvian presidential advisor Vladimiro Montesinos. Learn more about ICAR's work out of our Peru country office in 2018.
Technical assistance and strategic advice on over 100 ongoing cases in 10 partner countries.
Introduction in our partner countries of new legal practices including plea bargaining, non-conviction-based forfeiture and prosecuting for unexplained wealth, setup of new dedicated teams on intelligence and international cooperation, and establishment of multi-disciplinary asset recovery offices.
Training and eLearning
Training of over 500 investigators, prosecutors and judges in Financial Investigation and Asset Recovery, Offshore Structures and Mutual Legal Assistance, Corruption in Infrastructure Projects and Procurement, Financial Interviewing Skills and a new course on Money Laundering using Bitcoin.
Training programmes delivered in 10 countries: Azerbaijan, Indonesia, Malawi, Namibia, Tanzania, Peru, Romania, Serbia, Uganda and Ukraine.
Supervision of training programmes delivered by ICAR-certified local trainers.
Support to training initiatives led by partner organisations, including with Swiss law firm MME on FinTech AML Compliance Training, and with the Romanian Journalism Development Network on financial investigation for journalists as well as public and private sector investigators.
Blended learning concept applied in Namibia, with an on-site training workshop based on the Operational Analysis eLearning course.
Continued partnership with the Egmont Group on developing eLearning modules for Financial Intelligence Units.
Digital tools
Publication of seventh edition of the Basel AML Index, an independent ranking that assesses countries' risk exposure to money laundering, with a record 11,500+ visitors to the Index website in the month of release.
Development of the Basel Open Intelligence tool for financial investigation, ready for launch in 2019.
Global policy dialogue
Looking ahead – planned activities in 2019
Seek to respond to demands for expanding institutional scope of ICAR in-country programmes to support a chain-linked approach to asset recovery.
Continue to strengthen exchange of knowledge and practices among ICAR partner countries and beyond to promote continued innovation in asset recovery.
Explore opportunities to use training programmes and case-based advice to strengthen inter-agency cooperation.
Promote the dissemination of innovative legal practices from ICAR partner countries in international forums.
More info
This text appears in the Basel Institute's Annual Report 2018.
For a deeper discussion of the link between asset recovery and sustainable development, see the Basel Institute on Governance Working Paper 29: Recovering assets in support of the SDGs – from soft to hard assets for development.