24. September 2020
New OECD study on how to implement a HLRM for clean, transparent public procurement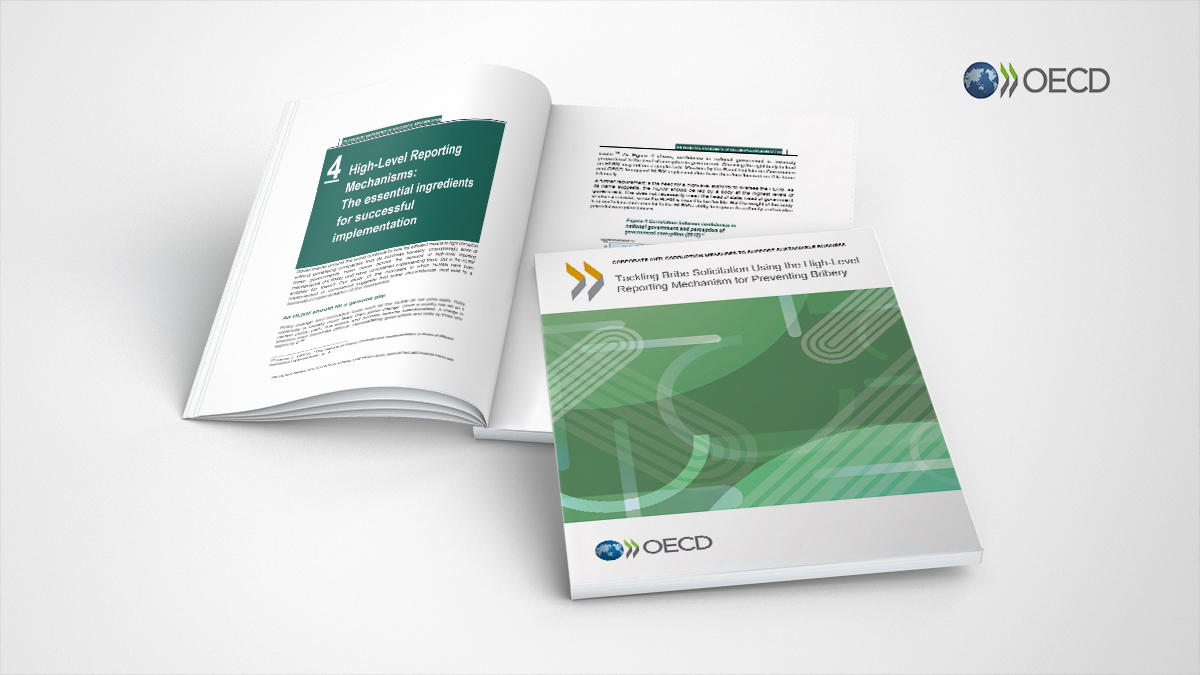 A guest blog by William Loo, Senior Legal Analyst and Deputy Head of the OECD Anti-Corruption Division and Elisabeth Danon, Legal Analyst at the OECD Anti-Corruption Division.
The OECD has released a new study on the ingredients for a successful High-Level Reporting Mechanism (HLRM).
HLRMs were designed in 2012 by the Basel Institute on Governance, Transparency International and the OECD as a pragmatic instrument to resolve allegations of misconduct in government-funded projects. This flexible, non-legal tool allows the private sector to report issues to a high-level office that is external to the public entity where the problem has occurred. To date, HLRMs have been successfully deployed in Argentina and Colombia, with several other governments expressing interest.
The concept is simple, but has enormous potential to help fight corruption in many contexts. As companies have been increasingly vocal in seeking government support to address the demand for bribes by public officials, HLRMs can be particularly useful in regions and industries where corruption in public tendering is pervasive. For this reason, the OECD endeavoured to look into existing HLRMs to identify good practices, with a view to providing insights useful to countries that are considering developing their own version of this mechanism or, more generally, developing Collective Action to fight corruption.
The study is based on analyses and papers produced by the OECD and Basel Institute on Governance, publicly available information from the authorities that have implemented HLRMs in Colombia and Argentina, as well as personal interviews with relevant stakeholders. These included government representatives, HLRM committee experts, companies that participated in tenders in which HLRMs were deployed, representatives of civil society, academics, law firms and compliance organisations that were or could potentially be involved in HLRMs, representatives of multilateral development banks and representatives of international organisations.
Detailed case studies of the mechanisms deployed in Argentina and Colombia, as well as feedback from stakeholders in Peru and Ukraine, are provided in the study, which found that:
In order to be effective, an HLRM must fill an empirical gap in a country's existing anti‑corruption framework and measures. Officials must wholeheartedly feel that an HLRM is needed to fill this gap, if they are to make the full commitment that is necessary for the mechanism to be successful.
The authorities also need to believe that the HLRM is sufficiently effective to justify the investment in time, resources and energy in the implementation of the mechanism. Time and effort must therefore be devoted to convincing the officials implementing the mechanism of the HLRM's effectiveness.
A reporting mechanism must be truly high-level. The authority that will lead and guide the project must be carefully selected to ensure that a high-level authority oversees the HLRM. This feature is critical to ensure that the authority has enough power to compel the procuring entity to implement or even respond to the recommended measure. Evidence also suggests that without the involvement of a high-level official, an HLRM may not be used frequently.
To ensure its credibility, the mechanism must be characterised by objectivity, fairness and integrity, and be perceived as such. An HLRM operated by an authority that is viewed as politically biased risks being seen as a self-serving instrument that purposefully fails to address complaints against officials or companies associated with the government.
Sufficient expertise to assess reports and resolve the issues that may emerge is also critical for the mechanism to be relevant and efficient. This requires early identification of the types of reports that the HLRM may accept, as well as determining where adequate expertise may be found and its cost.
Confidentiality at a minimum, if not also anonymity, is essential to protect the reporting person from reprisal. Anonymity encourages individuals to report, especially where whistleblowing is considered culturally unsuitable, or where the institutional safeguards to provide adequate protection to whistleblowers are non-existent or too weak.
Raising the profile of an HLRM is vital for stakeholders to know that the mechanism is available, how it functions, and the issues that the mechanism is meant to solve. Without sufficient transparency and publicity, disgruntled companies are unlikely to know that the mechanism exists and thus turn to it to resolve corruption-related problems. In addition to practical information, communication should include information on how the reports are assessed under the mechanism. Finally, it is important to publicise the work and outcomes of the HLRM in order to create confidence and trust in the mechanism.
Given the cost incurred by the deployment of an HLRM, adequate resources should be allocated to the mechanism, while still maintaining cost-effectiveness from the initial planning stages.
In addition to these elements, some participants suggested that the range of entities eligible to submit reports to an HLRM should be extended, for instance to include NGOs. Others opined that the HLRM should not be restricted to the tendering phase but continue through the implementation phase. Finally, some participants would consider it worthwhile to devote more effort to laying an explicit legal foundation for the HLRM when it is initially established to ensure that it cannot be torn down too easily.
The study concludes that as the Mechanism continues to be deployed in more projects and countries, it will be further tested in new contexts. New challenges will come up and new lessons will be learned that should shed more light on the essential ingredients for a successful HLRM, thus contributing to further refining the mechanism and deploying it in a larger number of countries.
Learn more