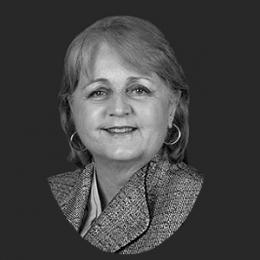 Rebecca Anne Batts
Consultant – Internal Controls and Corruption, Green Corruption programme at the Basel Institute on Governance

Rebecca Anne (Becky) Batts serves as lead consultant for ongoing research on the role of internal controls in addressing corruption risks related to the trafficking of wildlife and timber. She began working with the Basel Institute in January 2022.
In the years since her retirement from federal service, she served as team leader for performance evaluations of USAID programs conducted as part of the E3 Analytics and Evaluation Project and the Middle East & North Africa Monitoring, Evaluation, & Learning Services (MENA MELS) Activity. As an expert advisor, she provided technical assistance in Ukraine to help in the identification of corruption risks, develop and implement corruption standards, and enhance compliance with anti-corruption policies and standards. In Jakarta and Washington, DC, she supported efforts of the Indonesian accountability community to establish and strengthen that government's internal monitoring system and to assist in addressing Indonesia's reform priorities. She also provided consultant and advisory services to a variety of Offices of Inspector General and private industry clients on topics including strategic planning, quality assurance, internal controls, and overall operations.
As Inspector General, Becky led the Pension Benefit Guaranty Corporation Office of Inspector General in the execution of a program of independent audits, evaluations, and civil, criminal, and administrative investigations. Over the course of her federal career, she had extensive experience in promoting accountability within numerous natural resource, rural development, and infrastructure agencies. 
Becky holds a doctorate in Public Administration for Valdosta State University in Valdosta GA, a master's degree from the American University in Washington DC, and a bachelor's degree from Georgia State University in Atlanta GA. She is a certified public accountant.