Internal controls and illegal wildlife trade: A systemic approach to corruption prevention and law enforcement integrity
Published by the Targeting Natural Resource Corruption (TNRC) project, this Topic Brief explains how a well-designed system of internal controls can help to reduce corrupt behaviour affecting law enforcement against illegal wildlife trade (IWT), as well as enhance the functioning of IWT enforcement systems as a whole.
It is based on extensive field research and collaboration with agencies tasked with IWT enforcement in three countries in Africa and Latin America.
The topic brief covers:
What an internal control system is and does. 
How internal controls help to both address corruption risks and achieve wider objectives of protecting wildlife from poaching and trafficking.
Different levels of internal control relevant to IWT enforcement, at the agency, ministry and national levels.
The five key components to internal controls and how they relate to a poaching case.
Findings from our field study – including that internal controls are rarely applied to IWT enforcement, and where they are they are often not implemented.
The importance of developing robust methods to properly value wildlife and other natural resources to ensure crimes are properly prioritised and penalised.
Recommendations for practitioners working to combat IWT on how to strengthen internal control systems, ultimately to prevent corruption from undermining efforts to protect wildlife and the natural environment from destruction.
The short paper is focused on IWT but the findings are relevant for practitioners working in other areas of natural resource management. 
It was developed under the Basel Institute's Green Corruption programme as part of a wider research collaboration between the Basel Institute and TNRC project consortium. 
About the TNRC project
The TNRC project seeks to improve biodiversity conservation outcomes by helping practitioners to address the threats posed by corruption to wildlife, fisheries and forests. TNRC harnesses existing knowledge, generates new evidence, and supports innovative policy and practice for more effective anti-corruption programming on the ground.
A USAID-funded project, TNRC is implemented by a consortium of leading organizations in anti-corruption, natural resource management, and conservation: World Wildlife Fund (WWF), the U4 Anti-Corruption Resource Centre at the Chr. Michelsen Institute, TRAFFIC, and the Terrorism, Transnational Crime and Corruption Center (TraCCC) at George Mason University.
Links and other languages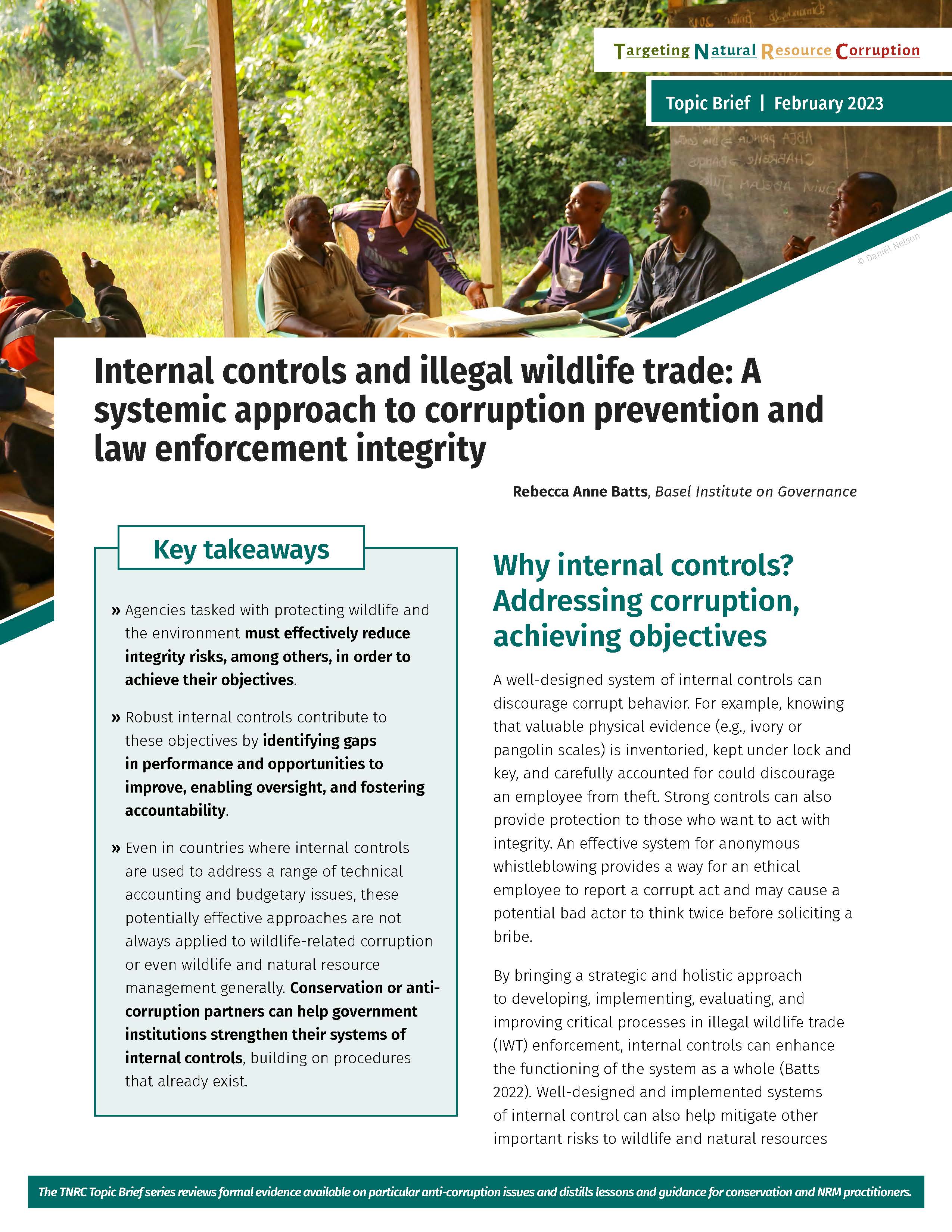 Publisher
Targeting Natural Resource Corruption (TNRC) project
Author(s)