Quick Guide 1: Cryptocurrencies and money laundering investigations
This quick guide to cryptocurrencies and money laundering investigations addresses the use of cryptocurrencies such as Bitcoin or Monero to facilitate serious crimes or to launder stolen money. It was originally published in March 2019 and updated in August 2023.
It explores, in brief:
What kind of crimes involve cryptocurrencies?
How do you "follow" virtual money?
What are the challenges in recovering stolen assets held in cryptocurrencies?
What more can law enforcement do to enhance their ability to investigate and prosecute cryptocurrency-related crimes?
The author, Senior Investigation Specialist Federico Paesano, leads the Basel Institute's Cryptocurrencies and AML Compliance Training. The four-session course is delivered virtually and is open to anyone seeking to prevent, detect and investigate the use of virtual assets for illicit activities, including both law enforcement and private-sector professionals.
The guide draws on recommendations of the Global Conference on Criminal Finances and Cryptocurrencies, co-hosted annually by the Basel Institute on Governance and Europol.
About this Quick Guide
This work is licensed under a Creative Commons Attribution-NonCommercial-NoDerivatives 4.0 International License. It is part of the Basel Institute on Governance Quick Guide series, ISSN 2673-5229.
Links and other languages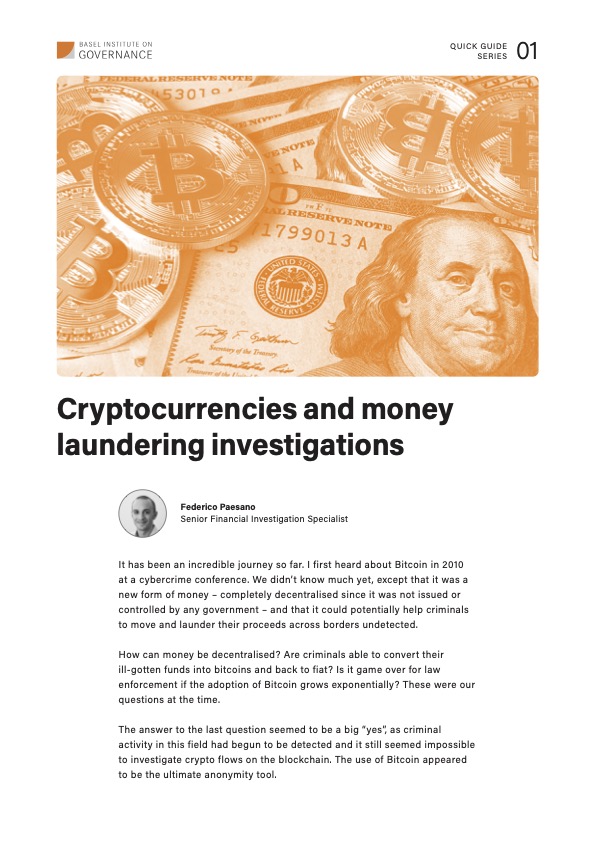 Publisher
Basel Institute on Governance
Author(s)