Policy Brief 7: Reducing the social acceptability of wildlife trafficking through behaviour change interventions
Behaviour change interventions aimed at reducing the social acceptability of wildlife trafficking are an important part of efforts to prevent wildlife crime. This policy brief summarises lessons learned about how to develop and frame effective messages in the context of these interventions, based on field work conducted in Uganda. 
A key first step is to narrowly identify the right target audience. While a general public awareness campaign may have its merits, it may be more effective to focus on those identified as most vulnerable to participating in wildlife trafficking, namely young men, those that live around wildlife trafficking hotspots and those involved in trade.
Second, it appears most promising to formulate messages that challenge narrow utilitarian perceptions of wildlife by highlighting the hidden costs of trafficking and its negative impact on the economy and the environment. Messages that focus on legal risks should showcase successes in detection and sanctions, especially in a context in which impunity is perceived to be high. Other messages that seek to challenge the overvalued benefits of engaging in wildlife trafficking in relation to wealth and social status should be carefully nuanced to avoid rejection.
Third, how we frame such messages is equally important. The research suggests that appealing to social identity and highlighting personal consequences are the most promising frames to adopt.
Overall, practitioners are advised to develop and test messages and approaches that are personal and precise.
About this Policy Brief
This publication is part of the Basel Institute on Governance Policy Brief series, ISSN 2624-9669, and supports the Basel Institute's Green Corruption programme. It is licensed under a Creative Commons Attribution-NonCommercial-NoDerivatives 4.0 International License (CC BY-NC-ND 4.0).
Suggested citation: Kassa, S., Costa, J., Lugolobi, R. & Baez Camargo, C. (2021) Reducing the social acceptability of wildlife trafficking through behaviour change interventions. Policy Brief 7, Basel Institute on Governance.
This report was funded by PMI IMPACT, a grant award initiative of Philip Morris International (PMI). In the performance of their research, the authors maintained full independence from PMI. The views and opinions expressed in this document are those of the authors and do not necessarily reflect the views of PMI. Neither PMI, nor any of its affiliates, nor any person acting on their behalf may be held responsible for any use which may be made of the information contained herein.
Links and other languages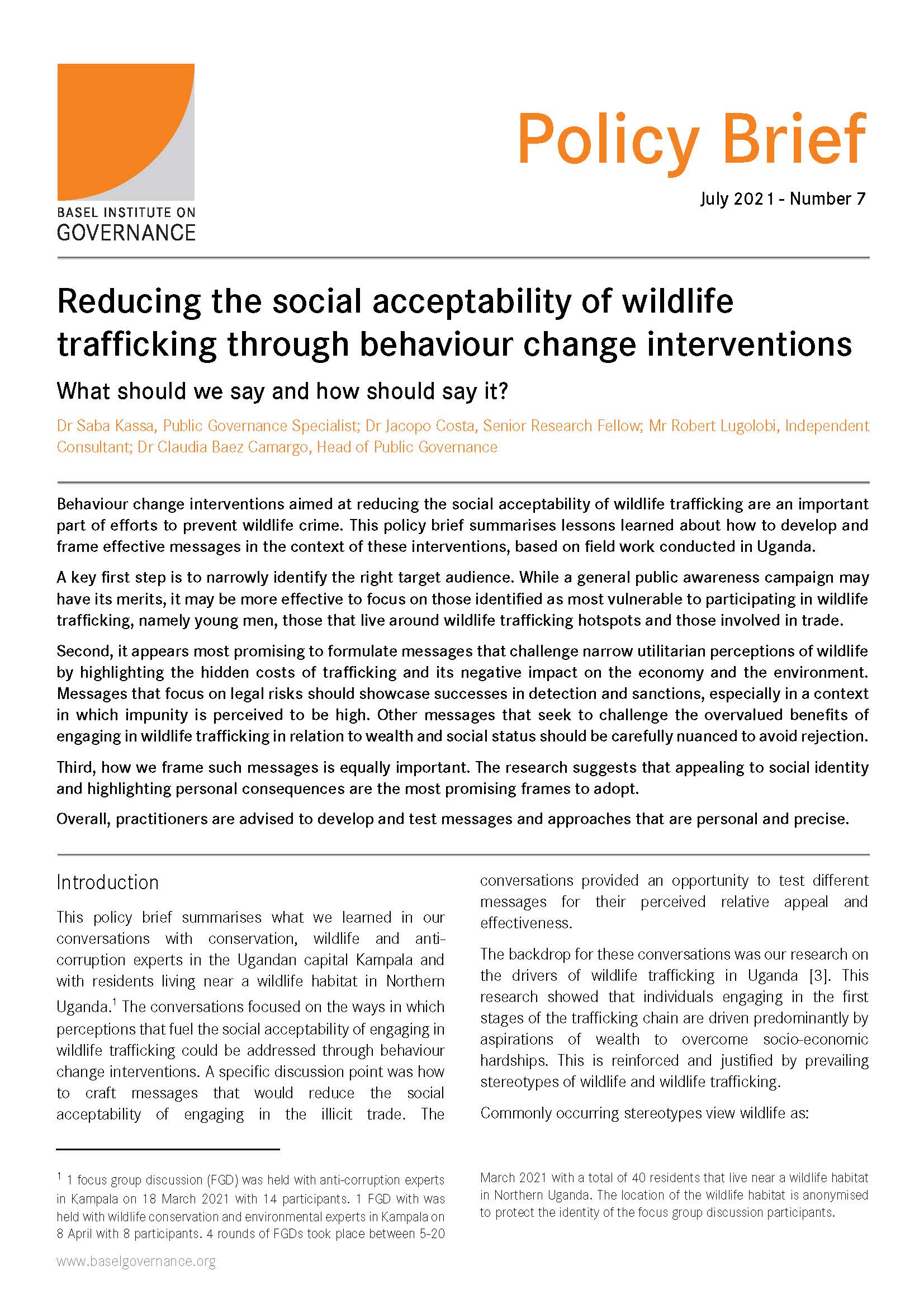 Publisher
Basel Institute on Governance
Author(s)