Learning Review: Transparency International's Integrity Pacts for Public Procurement
This Learning Review was the first comprehensive analysis of experiences with Integrity Pact implementation in over 20 countries over two decades.
The main findings confirm that Integrity Pacts:
Bring value as a corruption prevention mechanism in procurement, particularly in specific procurement processes;
Do not contribute to delays or add significant costs to procurement; but rather
Promote a level playing field among private sector competitors; and
Can contribute to cost savings and increased trust in public procurement.
It identifies the following key factors that contribute to an Integrity Pact's success:
Political will of the contracting authority to use the Integrity Pact to its full extent to reduce corruption;
Maximum transparency at every step;
External independent monitoring to verify that Integrity Pact obligations are fulfilled;
Monitors with expertise in the relevant industry and anti-corruption compliance and integrity;
Including the monitor from the design phase of a tender through contract execution;
Effective communication channels between the monitor(s) and all parties to an Integrity Pact;
Defining a clear process for identification, reporting and escalation of potential integrity issues through dispute resolution or sanctions from the outset.
Finally, it offers additional recommendations to improve the management and effectiveness of Integrity Pacts:
Tenders that apply Integrity Pacts should benefit from a thorough needs assessment and analysis of contextual corruption risks. This can set the baseline for an increased focus on data collection and monitoring and evaluation of the impact and benefits of using an Integrity Pact to monitor procurement.
Lessons learned from a one-off use of an Integrity Pact in a tender should be seized to promote systemic improvements and reforms to public procurement in each context.
Best practice sharing and on individual experiences with Integrity Pacts among anti-corruption and procurement experts should be enhanced.
The report applied a rigorous research methodology, canvassing nine review questions and gathering evidence from Integrity Pact practitioners and stakeholders through extensive desk research of relevant materials, a survey, interviews, and two on-site missions (in Mexico and India).
Learn more about Integrity Pacts on the Basel Institute's 2020 Integrity Pact resource site. Drawing on the 2015 Learning Review and new research and analysis, the online resource site aims to promote greater awareness and exchange of experiences for all stakeholders interested in implementing Integrity Pacts to monitor and improve public procurement.
Links and other languages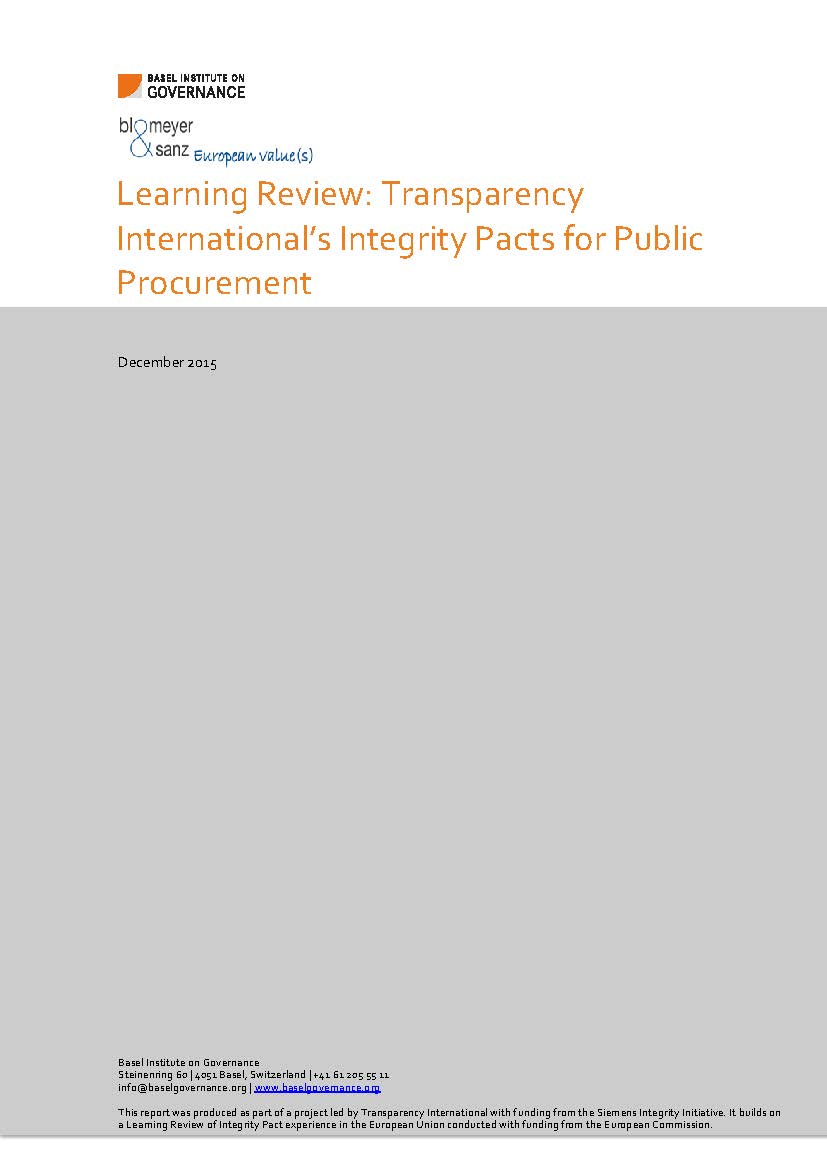 Publisher
Basel Institute on Governance
Author(s)