E-informality: smartphones as a new regulatory space for informal exchange of formal resources
Mobile phones and other technologies have transformed the nature and dynamics of informal social networks in Kyrgyzstan. Some scholars argue that new technology (electronisation, digitalisation) helps to prevent corruption and reduce the risk of bribery, informal social networks and bureaucracy. In their view, new technology has the potential to create transparent and efficient ways to access public services. This is usually done by implementing electronic queue systems, online payment platforms, registers and other public services, as well as transparency portals providing access to government data, statistics and state laws and regulations.
Based on our research in Kyrgyzstan, we explore the extent to which smartphones and new technologies are empowering citizens to access public services in Kyrgyzstan through the logistics of informal networking. We observed that this is especially practised among young people both in Kyrgyzstan and in Russia. By using smartphones, young people:
help each other in times of need (to expedite access to public resources);
share information about possible reliable networks (svyazi);
recommend reliable networks to each other;
prioritise these networks over others.
As many international organisations and government agencies are trying to support the fight against corruption and informality through the use of new technology, young people in Kyrgyzstan are finding creative ways of bypassing new technology. At the same time, they are driving the dynamics of informal social networks by using this technology and in particular smartphones.
The generational aspect became unexpectedly important during the research because of striking differences between the experiences and practices of informality between younger and middle-aged generations. Both generations have similar contemporary experiences of insecurity, financial struggles and socio-economic conditions in the post-Soviet context, but these two groups have different experiences with the Soviet times themselves. Several young people pointed out that "informality, even corruption, for us is a normal thing". They perceive informality and bribery as a "normal" feature of daily life with two sides – hindering as well as establishing careers. The middle-aged generation, however, whose background is rooted in the Soviet period, see it in a negative light, even though they still practise informality and bribery in their everyday lives.
The intensive use of smartphones by young people becomes obvious when they try to access public services by means of informal social networks. Middle-aged generations use telephones for logistical tasks and communication with friends and family members, but young people go beyond these merely logistical tasks. They actively use social media (odnoklassniki groups - Russian social networking services, like Facebook, that are widely used in Kyrgyzstan and in other post-Soviet countries) and mobile applications (WhatsApp, immo) when they need help by sharing information amongst one another, and their friends and friends of friends.
More specifically, young people have created "WhatsApp-based communities for getting things done quickly". These perpetuate the mutual benefit of reciprocity, mainly for issues related to the public sector. Young people are better socially connected and informed about each other's work, receive news (who got which positions), stay in touch with important people on a regular basis (even if they move to another place), learn about important events, and get advice on specific issues.
About this research
The research presented in this report is funded by the Global Integrity Anti-Corruption Evidence Programme (GI-ACE) as part of the Basel Institute on Governance-led research programme on Harnessing informality: Designing anti-corruption network interventions and strategic use of legal instruments. For more information see the GI-ACE project description and the Basel Institute's Informal Governance resource.
The authors would like to express their gratitude to the Volkswagen Foundation, which supported the research of Gulzat Baialieva. Our thanks also go to the Leibniz Leibniz-Zentrum Moderner Orient (ZMO).
Links and other languages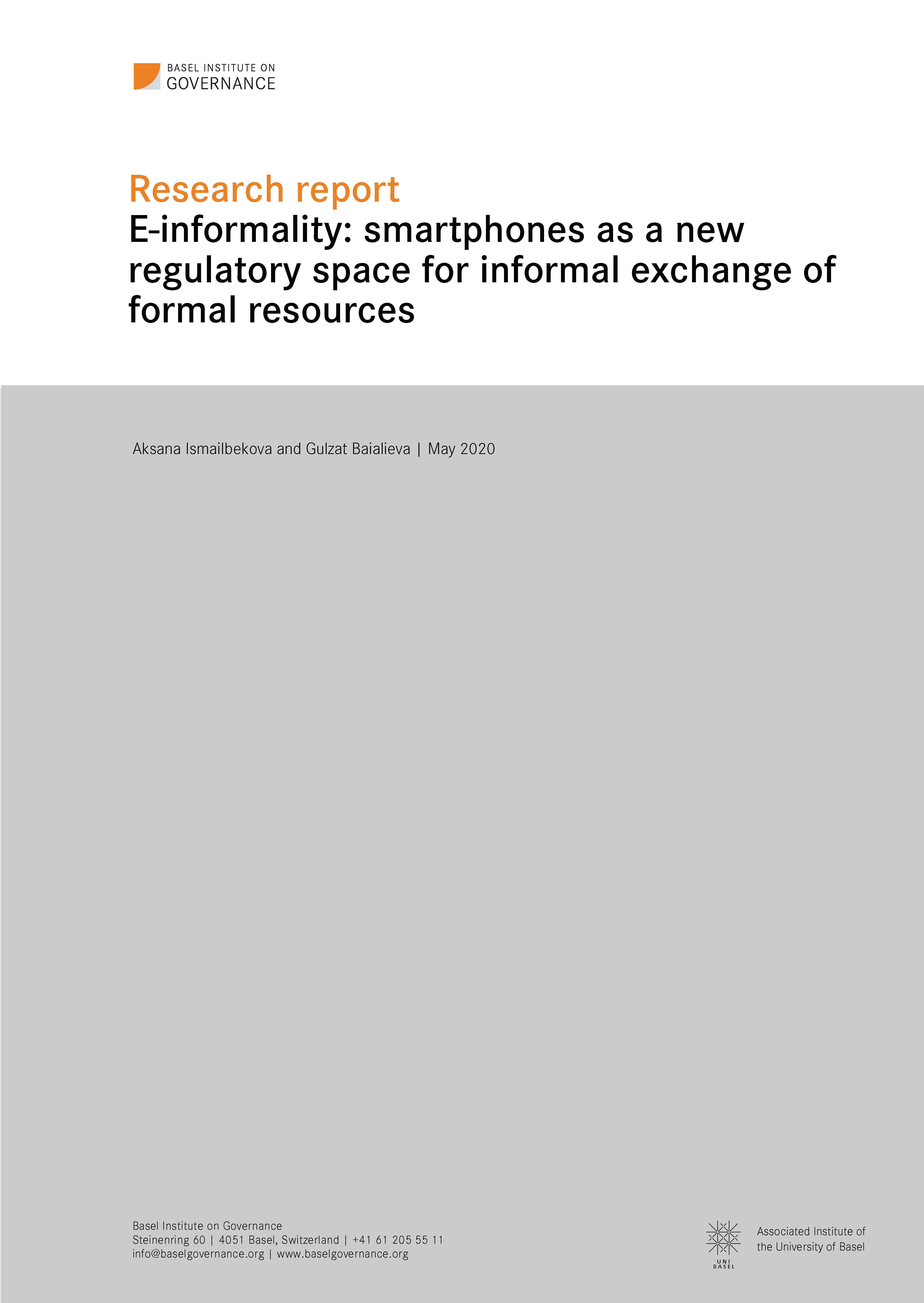 Publisher
Basel Institute on Governance
Author(s)