Desafíos para la ejecución de grandes proyectos de inversión desde los gobiernos subnacionales del Perú
**Español abajo**
This analysis reveals the challenges that local and regional governments in Peru face in implementing public investment projects such as energy, transport and telecommunications infrastructure.
Its case studies and recommendations will help all those implementing or monitoring public projects to anticipate problems and better achieve objectives.
The report, published in Spanish, is based on the experiences and research of the Basel Institute's Subnational Public Finance Management Strengthening Programme (Programa GFP), supported by the Swiss SECO Cooperation in Peru since 2015.
Español
Según diferentes estudios, las demoras en la adjudicación de los proyectos y la paralización de inversiones en ejecución se encuentran entre las principales razones que explican el bajo impacto de la inversión pública en la competitividad. Al respecto, se ha calculado que los países pierden en promedio entre 30% y 50% de los beneficios en el proceso. En el Perú, específicamente, se pierde el 40% debido a las dificultades en la administración de dichos proyectos (FMI, 2020).
Ante dicha problemática, se hace necesario fortalecer las capacidades de los gobiernos subnacionales para la ejecución de la inversión pública y para superar los desafíos que estos procesos plantean.
En tal sentido, el presente documento se plantea como objetivo contribuir con la mejora de las capacidades de los niveles de gobierno regional y local en la ejecución de la inversión pública, a través del estudio de casos referidos a la identificación y análisis de situaciones adversas y obstáculos recurrentes que afectan o pueden afectar la continuidad, el resultado o el logro de los objetivos.
Ello permitiría a los funcionarios de gobiernos subnacionales contar con mayores herramientas para el diseño y gestión de los proyectos a su cargo.
La publicación fue desarrollada en el marco del Programa GFP Subnacional de la Cooperación Suiza-SECO, implementado por el Basel Institute on Governance.
Links and other languages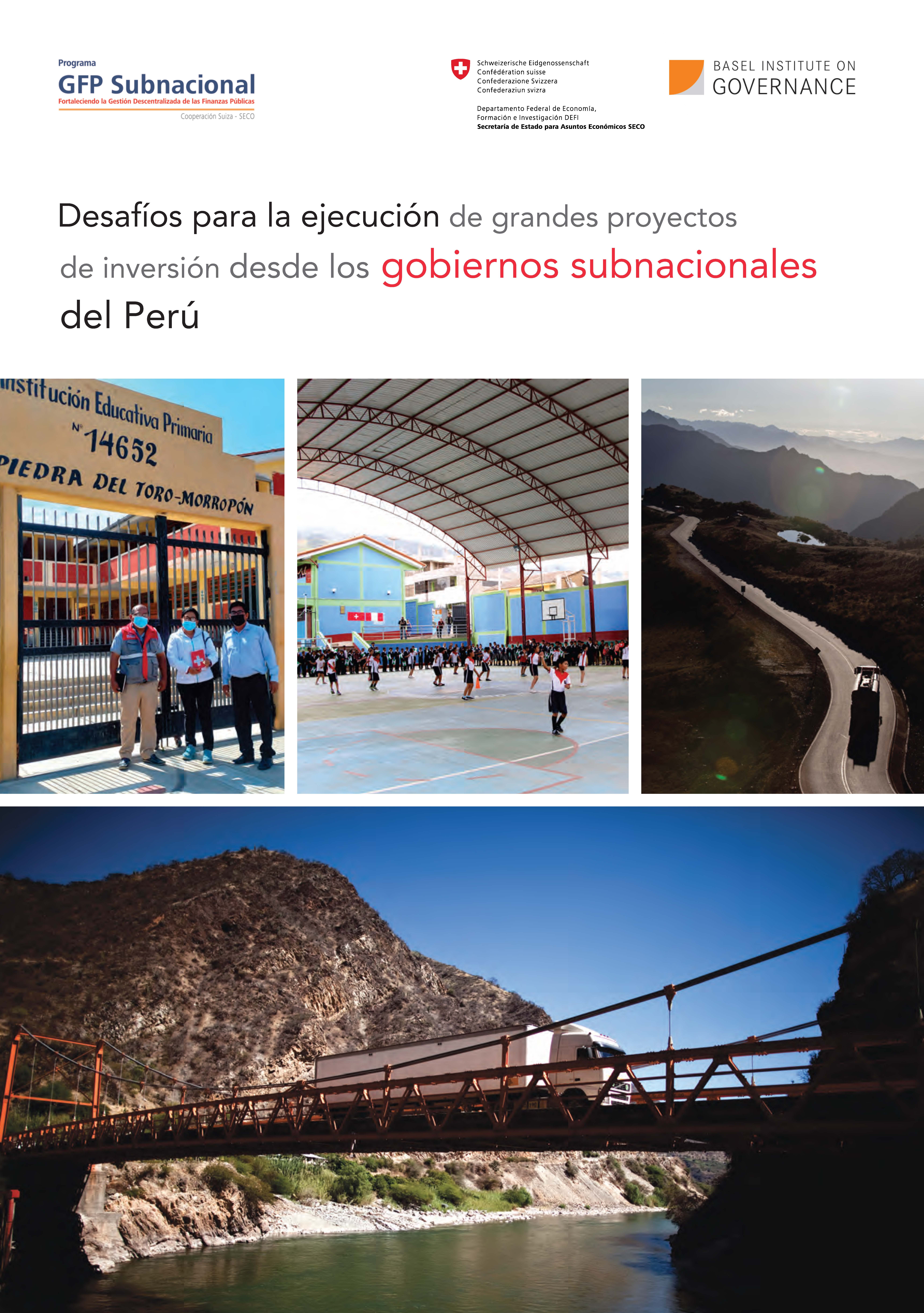 Publisher
Basel Institute on Governance - Peru