14. February 2023
Large public investment projects, large challenges – new analysis from Peru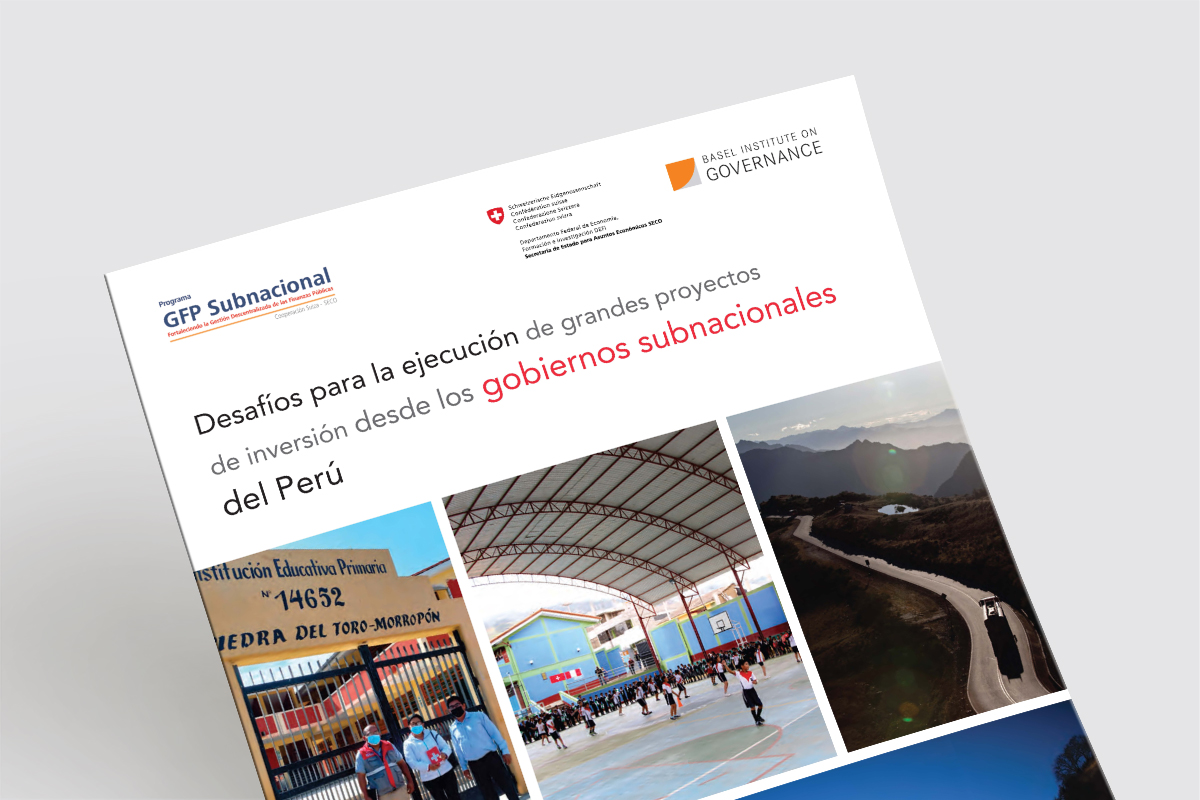 A new report reveals the challenges that local and regional governments in Peru face in implementing public investment projects such as energy, transport and telecommunications infrastructure.
Its analysis, case studies and recommendations will help all those implementing or monitoring public projects to anticipate problems and better achieve objectives.
The report, published in Spanish, is based on the experiences and research of the Basel Institute's Subnational Public Finance Management Strengthening Programme (Programa GFP), supported by the Swiss SECO Cooperation in Peru since 2015.
Executive summary (adapted translation)
Various studies show that delays in the awarding of public tenders and the interruption of investments during project execution are among the main reasons for the low impact of public investment on competitiveness.
Countries are estimated to lose on average between 30 and 50 percent of the potential benefits in the process. In Peru, around 40 percent of returns are lost due to difficulties in the administration of such projects.
That is why it is necessary to strengthen the capacities of subnational governments to implement public investment projects and to overcome the challenges posed by these processes.
233 problems in 36 projects
The aim of this document is to help improve the capacities of regional and local governments to successfully execute public investment projects. Through case studies, it identifies and analyses adverse situations and recurrent obstacles that affect or may affect the continuity, results or achievement of a project's objectives.
Ultimately, this understanding provides subnational governments with more tools to design and manage their investment projects.
To this end, this document studies:
233 adverse situations in the execution of large public investment projects…
…identified from the analysis of 123 control/audit reports, prepared by Peru's Office of the Comptroller General during or after a project…
… for a set of 36 public investment projects mainly belonging to subnational governments…
… of which 12 are executed by public-private partnerships, 12 use a so-called "Obras por impuestos" model in which private companies advance the payment of their income taxes to finance and execute public investment projects, and 12 are public works.
Twelve key typologies
From the various typologies that emerge from the analysis of these adverse situations, 12 are prioritised due to their significant impact on variables such as cost, time and quality, as well as their frequency and relevance.
The most frequent type of adverse situation (9 percent of cases) is non-compliance, during the execution of the works, of technical regulatory requirements listed in the project's technical file.
This is followed, in order of frequency, by:
Delays in the execution of the works
Delays in the development/approval of the technical file due to non-compliance with technical regulations or without the corresponding substantiation
Approval of additional works or services without justification or without meeting the requirements
Inconsistency in the valuation of works
Failure to or a delay in transferring areas or land, or in providing legal clearance and eliminating interferences; and
Non-compliance or deficiencies in supervision.
These typologies represent 36 percent of the adverse situations identified.
Three top recommendations
From the analysis of the most relevant and recurrent types of adverse situations, 11 recommendations to minimise their occurrence emerge.
Some are general, referring to possible improvements in public investment regulations. Others are more specific, aimed at public officials of subnational governments in charge of executing public investment projects.
Among these recommendations, the following stand out:
The standardisation of tools and processes for the design and execution of public investment projects, with the aim of improving quality levels in the development of technical files and ensuring compliance with the regulations.
The establishment of Project Management Offices in the subnational government departments in charge of large investment projects or mega-projects. This could support more integrated management and improve the monitoring of project portfolio schedules, as well as enable more attention to be paid to the different aspects of project execution (time, cost, scope, risks, quality, communications, stakeholder management, among others).
Improvements in contracting mechanisms and systems, in order to ensure quality contractors are hired. This could significantly reduce the deficiencies observed in the development and approval of technical dossiers.
More