Event
CoSP 10: Conference of the States Parties to the UNCAC
A Basel Institute delegation will be at the 10th Conference of the States Parties (CoSP) to the UN Convention Against Corruption (UNCAC) this year. CoSP10 takes place in Atlanta, Georgia, USA from 11–15 December 2023.
Come and find us at our booth, where we'll have staff to answer your questions and free publications and tote bags to take away.
We are involved in several special events, including those below. The agenda is still being firmed up – check back or follow us on LinkedIn, Twitter or Facebook for updates. 
Monday 11 December, 14:00: Special Event on Combating Corruption to Protect the Environment
Gretta Fenner, Managing Director, will moderate this high-level event on environmental corruption. Learn more and register to live stream.
Monday 11 December, 16:00: Collective Action Approach to Drive Impact across the 2030 Agenda 
Gretta Fenner will moderate this session during the Private Sector Forum "Uniting Leaders for Business Integrity" organised on the margins of CoSP 10 by UNODC and the UN Global Compact. Learn more and register to live stream.
Tuesday 12 December, 14:20: Righting the Wrong: Tools for Asset Recovery in Global Corruption Cases
Gretta Fenner will moderate this session during the StAR Initiative Asset Recovery Day covering:
Assets recovered in foreign bribery cases: end uses of recovered assets and remedies for affected governments or citizens.
Assets frozen under sanctions regimes: possibilities to confiscate these assets and links with investigations and asset recovery proceedings.
Wednesday 13 December, 13:00: Special Event: Ukraine Integrity Ecosystem: War and Post-War Recovery
Juhani Grossmann, Green Corruption Team Leader and Senior Advisor for Central and Eastern Europe, will speak at this event about the integrity ecosystem in Ukraine in the context of both the war and post-war recovery. Topics include:
Integrity ecosystem for preventing and managing global crises
How to build integrity through digitalisation
Ensuring transparency with monitoring and data analysis
The role of civil society during recovery process
Ways to efficiently manage financial resources within the context of integrity-building 
The event is organised by Ukraine's National Agency on Corruption Prevention and Transparency International Ukraine.
Wednesday 13 December, 14:00: Special Event: Lessons Learned in Fighting Environmental Corruption
Led by our Green Corruption team, this event will stake stock of progress in fighting the corruption that drives environmental degradation and the climate crisis. Specifically, the panellists will look at activities that support the resolution adopted at the 8th CoSP on "Preventing and combating corruption as it relates to crimes that have an impact on the environment" (Resolution 8/12).
It is part of a series of special events on environmental corruption taking place on Wednesday 13 December from 08:00–10:00 and 13:00–15:00.
Learn more and register for virtual participation.
Wednesday 13 December, 17:50–18:30: Special Event on International Cooperation – From Policy to Practice
This special event of the GlobE Network, Basel Institute on Governance and Independent Commission Against Corruption (Hong Kong) will explore "our common endeavours to strengthen international cooperation under the UNGASS Political Declaration". 
Gretta Fenner will speak about challenges in international cooperation to recover stolen assets. 
Thursday 14 December, 14:00: Special Event on Financial Investigation: A Powerful Tool to Prevent Corruption 
Gretta Fenner will speak at this Special Event on the challenges and opportunities of using financial investigations as a tool to prevent corruption.
The round table event is organised and moderated by UNODC Corruption and Economic Crime branch.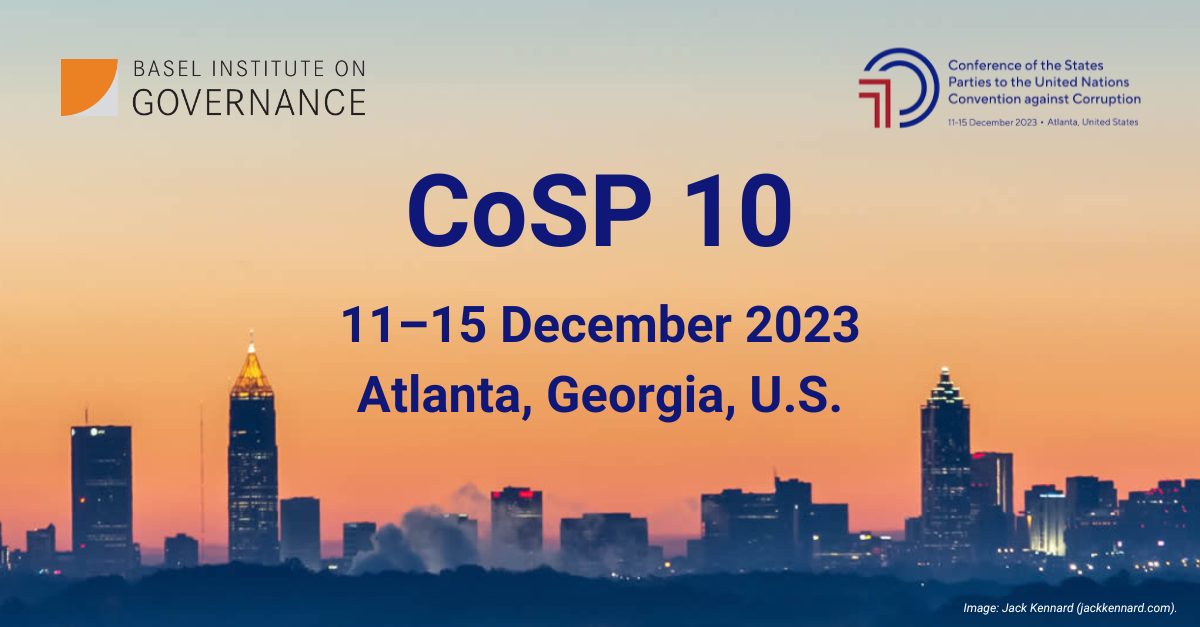 Start date
11 December 2023
End date
15 December 2023