Event
Combating Green Corruption: Fighting financial crime as a driver of environmental degradation
Senior representatives of the United States, Ukrainian and Liechtenstein Governments are gathering at the Wilson Center in Washington, D.C. on 19 September 2023 for a high-level panel on tackling the "Green Corruption" that is destroying our environment.
The 1.5-hour event is a unique chance to find out how those at the forefront of fighting corruption and illicit financial flows approach financial crimes linked to environmental degradation. 
Speakers include:
Richard Nephew, Coordinator on Global Anti-Corruption, U.S. Department of State
Oleksandra Azarkhina, Deputy Minister, Ministry for Communities, Territories and Infrastructure Development of Ukraine
Andrea Gacki, Director of FinCEN
Himamauli Das, Former Director of FinCEN
Roberto Troya, Senior Vice President for WWF U.S. country offices and Regional Director for Latin America and the Caribbean, WWF U.S.
Juhani Grossmann, Team Leader Green Corruption, Basel Institute on Governance
Ambassador Georg Sparber, Ambassador of Liechtenstein to the U.S., will give the welcoming address. Lauren Herzer Risi, Director of the Environmental Change and Security Program at the Wilson Center, will moderate.
All are welcome to attend this free event and to join us for post-event refreshments. Live streaming is available for those unable to attend in person.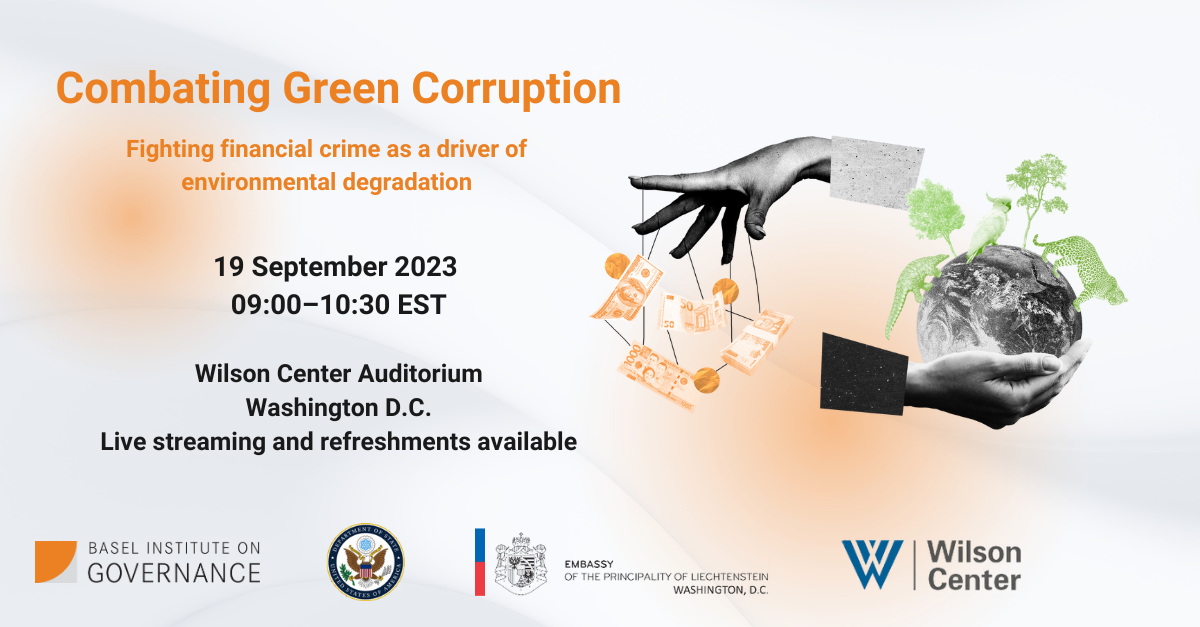 Start date
19 September 2023
End date
19 September 2023
Organiser
Basel Institute on Governance; Embassy of Liechtenstein in Washington D.C., U.S. Department of State, Wilson Center