Event
Recovering stolen assets through non-conviction based forfeiture – an UNGASS side event
The UN General Assembly Special Session against Corruption (UNGASS) calls for countries to adopt a wide range of measures to recover assets stolen through corruption.
This includes non-conviction based forfeiture (NCBF), which is emerging as a powerful tool to recover illicit assets when a criminal conviction is not possible.
What can we learn from actual cases of NCBF around the world? What should States consider when introducing NCBF legislation? How can it be applied more effectively and what challenges stand in the way?
These questions are the focus of a side event at the 2021 Special Session of the General Assembly against Corruption (UNGASS) on 1 June, co-hosted by our International Centre for Asset Recovery (ICAR) and the Stolen Asset Recovery Initiative (StAR) of the World Bank and UNODC.
Co-moderators:
Gretta Fenner, Managing Director, Basel Institute on Governance
Emile Van Der Does De Willebois, Co-ordinator, StAR Initiative
Panellists:
Stefan Cassella, Independent asset recovery and money laundering expert
Patrick Konsbruck, Public Prosecutor, Grand Duchy of Luxembourg
Oscar Solórzano, Senior Asset Recovery Specialist and Head of Latin America, Basel Institute on Governance
Nona Tsotsoria, Judge of the European Court of Human Rights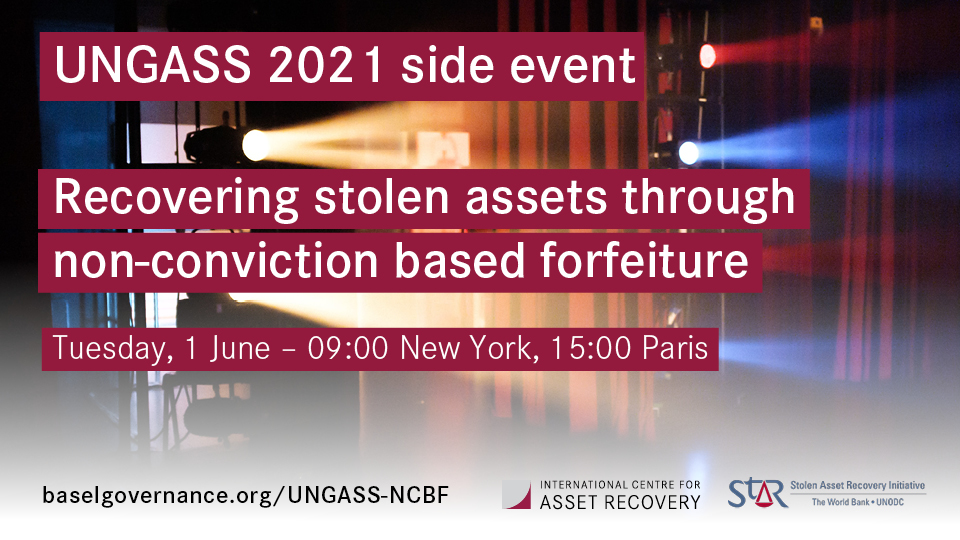 Organiser
Basel Institute on Governance; StAR Initiative