05. April 2023
Transparent reconstruction in Ukraine: Ministry for Restoration and Basel Institute on Governance sign Memorandum of Cooperation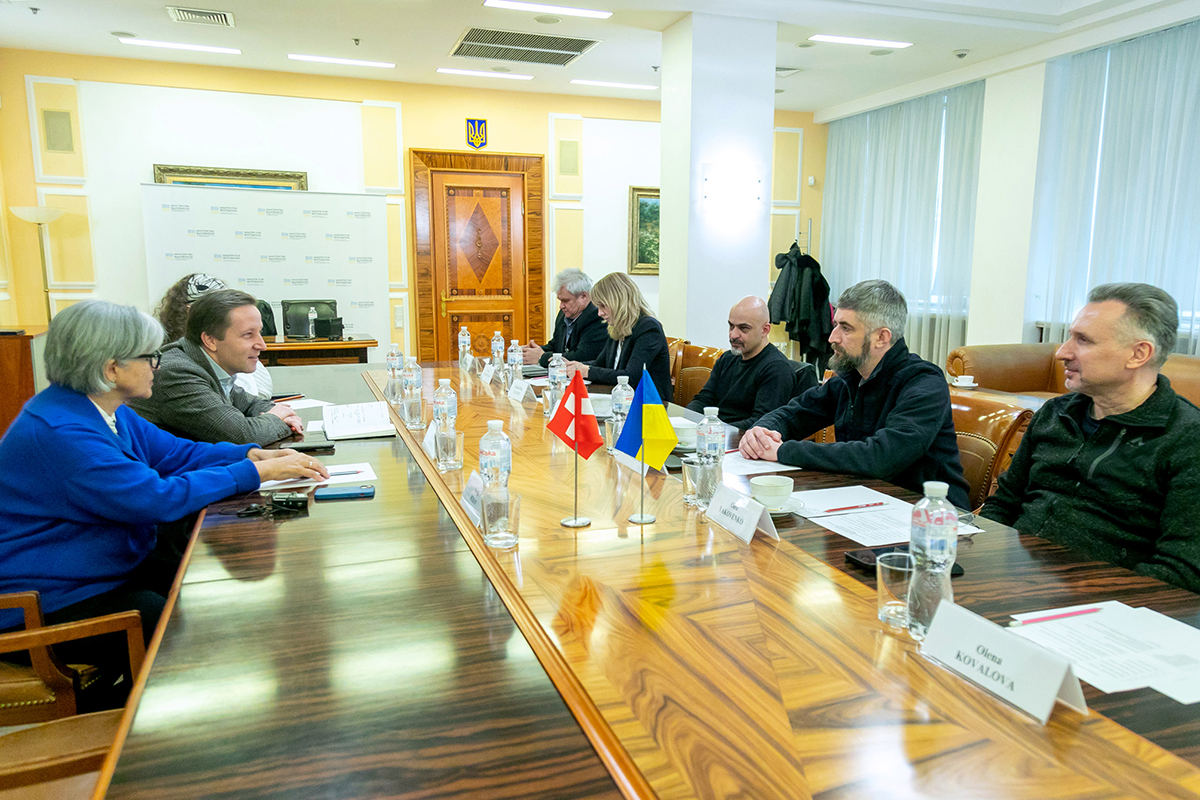 We are delighted to have signed a Memorandum of Cooperation with the Ministry of Communities, Territories and Infrastructure Development of Ukraine, the Ministry responsible for Ukraine's restoration. Under the agreement, we will work to minimise corruption risks in the use of state and donor funds allocated for the reconstruction of critical infrastructure.
This will include strengthening anti-corruption compliance in the road sector and assessing integrity risks when determining the cost of road works and services.
Oleksandr Kubrakov, Deputy Prime Minister for the Restoration of Ukraine, signed the Memorandum of Cooperation with Peter Maurer and Gretta Fenner, President and Managing Director of the Basel Institute on Governance.
Anti-corruption: a critical need
As the Ministry stated in its Facebook post, the World Bank has estimated the total reconstruction need at USD 411 billion. Housing and critical infrastructure facilities require the most funds.
Ukraine is actively working to attract international partners, governmental and non-governmental organisations to assist in financing the reconstruction. The consistency of financial assistance directly depends on effective anti-corruption measures.
Ukraine is already working on digitalising processes and reforming the procurement sector to ensure transparency and accountability at all stages of reconstruction.
Referring to these challenges, Minister Kubrakov said:
"We are grateful to have the Basel Institute on Governance as a partner in our efforts to strengthen internal controls and promote integrity in the infrastructure sector."
Juhani Grossmann, the Institute's Senior Advisor for Central and Eastern Europe noted:
"The Basel Institute has long supported the Ukrainian government in the fight against the "enemy within" – corruption. With the full-scale invasion over a year ago, the corruption risk profile in Ukraine has evolved significantly and the need to prevent corruption in the restoration processes is essential. It is our honour to support the Ministry and its agencies in this endeavour."
Cooperation agreement
The memorandum provides support for Ukraine's efforts to maintain and restore critical infrastructure. It focuses on strengthening resilience and integrity in the operational processes of the Ministry and its subordinate enterprises.
The cooperation also includes: 
conducting corruption risk assessments;
development of plans to identify the risks of corruption-related criminal offences and anti-corruption plans
identification of measures to reduce the risks of fraud and corruption;
training of officials responsible for integrity and anti-corruption policy implementation.
Our work in Ukraine is supported by the European Bank for Reconstruction and Development and the Swiss Agency for Development and Cooperation, as well as the Principality of Liechtenstein which is funding our Green Corruption work on illegal logging in Ukraine.
More
---
Gallery