Working Paper 43: How corruption threatens the forests of Ukraine: Typology and case studies on corruption and illegal logging
**Українська версія нижче**
This report offers a detailed deep dive into how corruption fuelled illegal logging in Ukraine during the period before the full-scale war. It explains how the Russian invasion has raised the risks of illegal logging, by increasing demand for wood and its relative value as a resource, and by reducing inspections and civil society oversight.
Building on pre-war case studies, selected interviews and a review process with various stakeholders, the report outlines the widespread corruption challenges in Ukraine's forestry sector and proposes relevant interventions in the war and reconstruction contexts. 
The report identifies specific corruption patterns linked to three main types of illegal logging:
By private actors such as communities and criminal groups, who can evade justice by corrupting law enforcement officials.
By forest management officials, who sometimes obtain false paperwork to fell trees – thus easing their export abroad.
Following the illegal appropriation of forests through manipulation of land documents. 
A significant proportion of wood illegally logged in Ukraine comes with (illegally obtained) permits, so can be "legally" exported to foreign markets in the European Union and elsewhere.
Both governments and the private sector in countries that import wood and/or support Ukraine's reconstruction efforts have a role to play in preventing the illegal destruction of Ukraine's forests. 
About the report
This report is part of the Environmental Corruption Deep Dive Series, a multidisciplinary research project of the Green Corruption programme at the Basel Institute on Governance. The series is made possible by the generous support of the Principality of Liechtenstein.
It is also part of the Basel Institute on Governance Working Paper Series, ISSN: 2624-9650. You may share or republish the report under a Creative Commons CC BY-NC-ND 4.0 licence.
Як корупція загрожує лісам України: Типологія та аналіз кейсів корупції і незаконних рубок
У цьому звіті представлено детальний аналіз того, як корупція сприяла незаконній вирубці лісу в Україні до повномасштабного вторгнення. У ньому пояснюється, як російське вторгнення підвищило ризики незаконної вирубки через збільшення попиту на деревину та її відносну цінність як ресурсу, а також через зменшення кількості перевірок і рівня нагляду громадянського суспільства.
За допомогою аналізу довоєнних тематичних досліджень, окремих інтерв'ю з експертами, звіт розкриває широкомасштабні проблеми корупції в лісовому секторі України та пропонує відповідні заходи щодо її запобігання в контексті війни та відбудови.
У звіті визначено конкретні моделі корупційної поведінки, пов'язані з трьома основними видами незаконних рубок:
незаконні рубки, вчинені приватними особами (місцевим населенням та/або злочинними угрупованнями), відповідальності за які можна уникнути шляхом надання неправомірної вигоди (хабаря) представникам органів правопорядку.
Незаконні рубки, які вчиняютья постійними лісокористувачами, які іноді отримують підроблені документи на вирубку дерев і, таким чином, полегшуючи завдання експорту такої деревини закордон.
Незаконне знеліснення, шляхом незаконних дій щодо земельної документації
Значна частина незаконно заготовленої в Україні деревини має дозволи (у т.ч. незаконні), тому може "легально" експортуватися на зовнішні ринки Європейського Союзу та інших країн.
Як влада, так і приватний сектор країн, що імпортують деревину та/або підтримують зусилля України з відбудови, мають відігравати важливу роль у запобіганні незаконному знищенню українських лісів.
Про звіт
Цей звіт є частиною серії Environmental Corruption Deep Dive, багатодисциплінарного дослідницького проєкту програми «Зелена корупція» Базельського інституту управління.  Серія Environmental Corruption Deep Dive, включно з цим звітом, стала можливою завдяки щедрій підтримці Князівства Ліхтенштейн.
Це частина серії робочих документів Базельського інституту управління, ISSN: 2624-9650. Ви можете надати спільний доступ або повторно опублікувати робочий документ за міжнародною ліцензією Creative Commons BY-NC-ND 4.0.
Links and other languages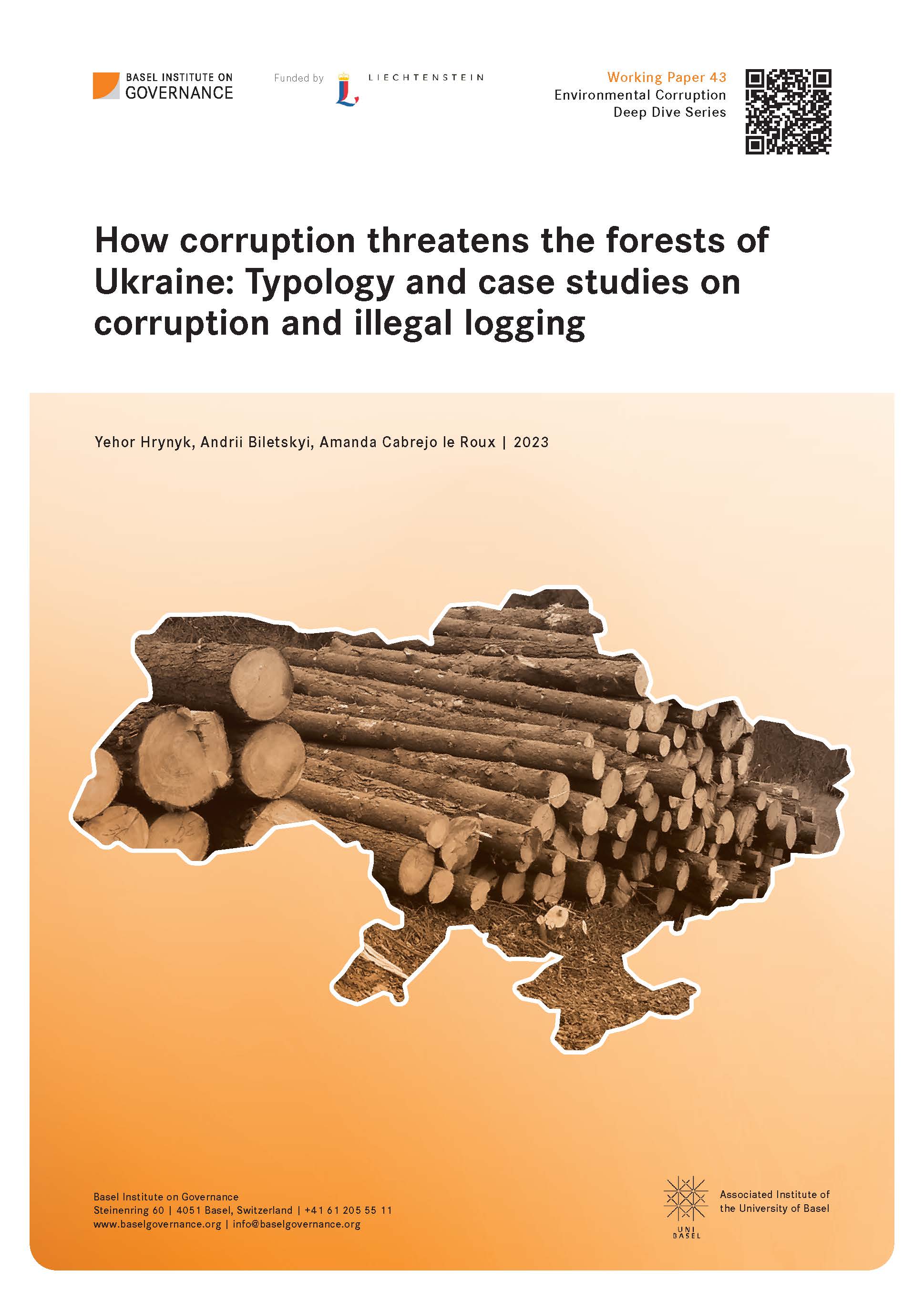 Publisher
Basel Institute on Governance
Author(s)