05. July 2022
RISE Ukraine coalition launched today – Basel Institute among 20+ partners promoting transparent and efficient reconstruction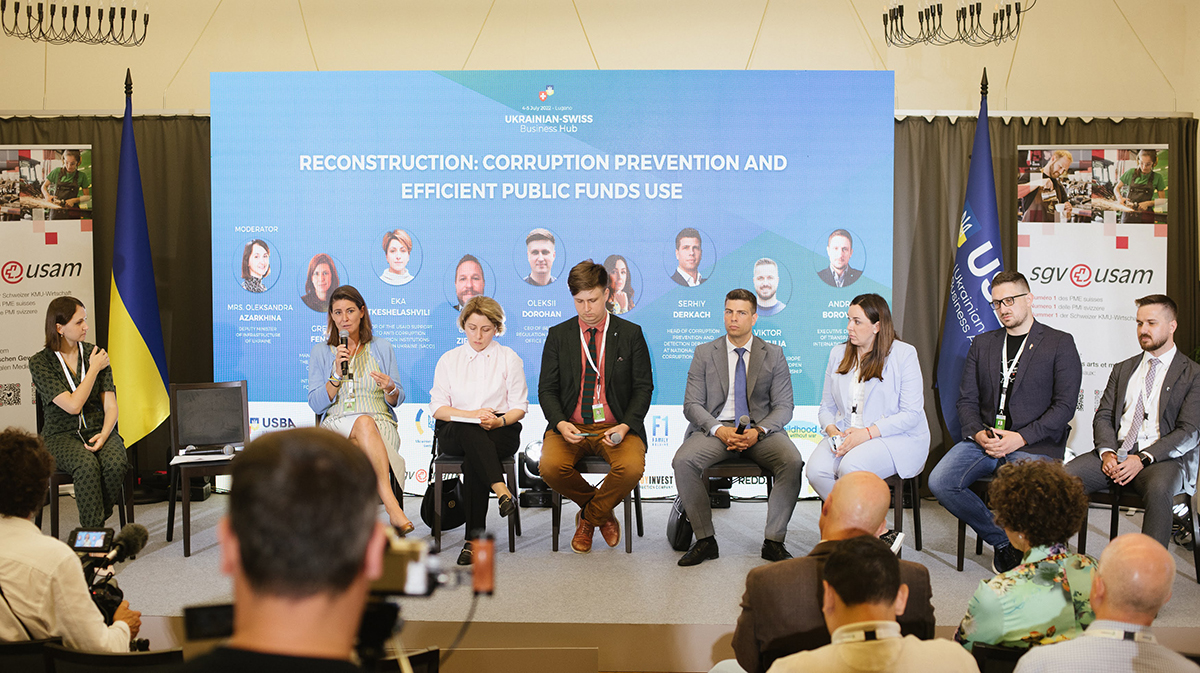 The Basel Institute on Governance has joined a new coalition of Ukrainian organisations and international partners — RISE Ukraine — that was launched today at the Ukraine Recovery Conference (#URC2022) in Lugano, Switzerland. The coalition promotes a vision of integrity, sustainability and efficiency for the country's post-war reconstruction.
The coalition, which unites more than 20 Ukrainian and international organisations working on open government and anti-corruption reform, has unveiled 10 principles for Ukraine's reconstruction and modernisation. It is supported by Ukraine's Ministry of Infrastructure, Ministry of Economy, National Agency for Corruption Prevention, and other leading government institutions.
What will RISE Ukraine do?
RISE Ukraine will lay the foundation for digital solutions and build accountable, transparent and inclusive processes to enable the participation of all actors. The aim is to ensure a fair and level playing field for businesses, while ensuring decisions are accountable and fast.
The coalition promotes open and constructive dialogue across Ukraine's civil society and civic tech community, government agencies, international partners, donors and other authorities to achieve these objectives.
Andrii Borovyk, Executive Director, Transparency International Ukraine, emphasised the importance of inclusivity in Ukraine's reconstruction, saying:
"Every Ukrainian will have to be involved in the reconstruction process, whether it is by ensuring inclusive and equitable project planning and prioritisation, monitoring implementation of projects, or reporting potential corruption."
Gretta Fenner, Managing Director of the Basel Institute on Governance, said:
"In the current environment, we need to consolidate our work and cannot afford silos. RISE Ukraine is designed to address this and will explicitly work in close collaboration with Ukraine's powerful anti-corruption institutions and across the multiple sectors engaged in managing the gigantic reconstruction challenge."
Boosting institutional capacity and coordination
Ukraine also needs to increase its institutional capacity as well as coordinate the efforts of all the agencies involved.
According to the Minister of Infrastructure Oleksandr Kubrakov, for fast, efficient and strategic reconstruction Ukraine has to increase its institutional capacity. This is especially true in relation to systemic approaches and coordinating different ministries' and agencies' efforts. Kubrakov explained:
"The most effective way to fight corruption is to build effective public institutions. At the same time, anti-corruption tools and methods should be applied all along the entire cycle of every infrastructure project. Therefore, with the support of international partners and civil society, we strive to build not only new infrastructure, but also a new infrastructure project management architecture."
Open data on contracting and beneficial ownership
Citizens and businesses should be involved in the planning, monitoring and oversight of recovery spending, building on existing citizen feedback approaches, such as using the Dozorro network of civic monitors.
One of the key aims is to create a full accountability chain through publishing complete, timely and open data in line with international best practices and open data standards. These include the Open Contracting Data Standard for public procurement and the Beneficial Ownership Data Standard for information on businesses winning contracts.
To further prevent corruption and misuse of funds, we will advocate for effective mechanisms to prosecute corruption and violations in the process of reconstruction.
More 
---
Gallery