07. October 2015
Three-day workshop in Basel on the role of good governance and anti-corruption in the context of national development for senior executives of Thailand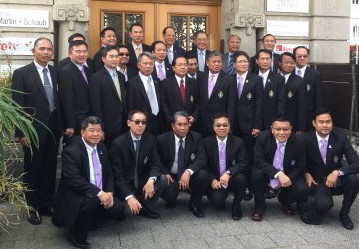 At the request of the National Anti-Corruption Commission (NACC) of Thailand, the Basel Institute carried out a three-day executive workshop on the role of good governance and anti-corruption in the context of national development for senior executives from various relevant public offices and related institutions of Thailand.
The workshop took place from 9 to 11 September at the University of Basel and covered specific topics such as international trends and developments in anti-corruption, private sector corruption prevention and Collective Action, the role of good good governance and anti-corruption for development, trends and developments in preventing money laundering in Switzerland, as well as anti-corruption law enforcement and the recovery of stolen assets.
The audience included some 60 senior Thai professionals from key public operators, including institutions such as the NACC itself, the Department of Public Works, the Office of the National Economic and Social Development Board, the Bank for Agriculture, the Office of Constitutional Court, the Audit Office and the Electricity Generating Authority of Thailand, to name just a few. 
Back in 2011 the Basel Institute and the NACC of Thailand signed an official Memorandum of Understanding with the intent to establish a strong partnership for the purpose of enhancing the sharing of anti-corruption knowledge and expertise between the two parties and other relevant stakeholders as appropriate. It is in line with this partnership arrangement that the Basel Institute regularly engages with the NACC to develop and implement joint activities intended to prevent and combat corruption as well as to promote anti-corruption research and training activities.