08. September 2020
Small businesses in survival mode? Ideas for enhancing integrity at a B20 Saudi high-level panel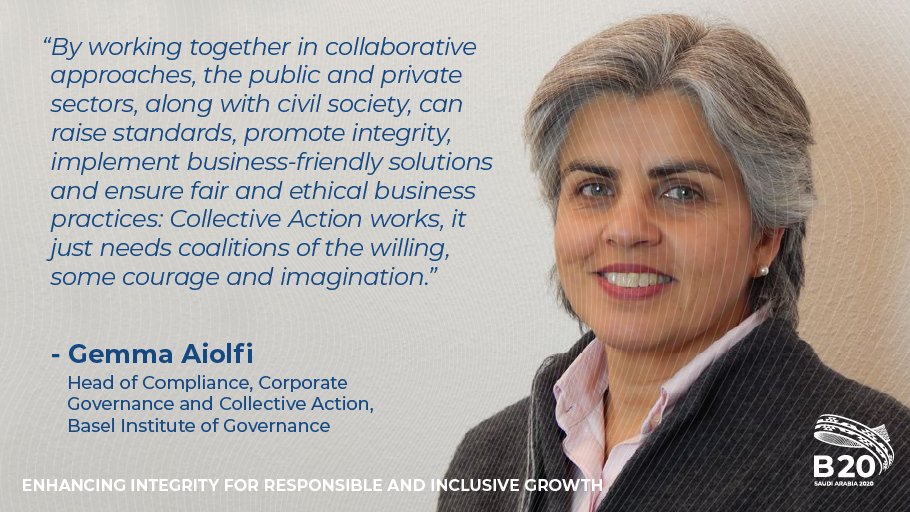 At a high-level B20 panel on "Enhancing Integrity for Responsible and Inclusive Growth" on 24 August, Gemma Aiolfi, the Basel Institute's Head of Compliance, Corporate Governance and Collective Action, discussed how small and medium-sized enterprises (SMEs) have been forced to focus on survival in recent months.
Companies that do manage to survive the pandemic lockdowns and economic fallout, she said, are likely to be looking for new markets and new customers. They may have to adapt to new ways of doing business. All of these changes bring compliance challenges and possibly increased bribery risks.
Among her recommendations was a focus on open communication within companies. SMEs usually have an advantage here because they have shorter reporting lines and less complex structures.
Finding support in Collective Action
Compliance doesn't need to be overly complex for small companies. If they need help or inspiration, then turning to their larger customers and asking for support – or joining an anti-corruption Collective Action initiative – can improve knowledge on implementing compliance measures. Coming together in Collective Action to raise standards of integrity and support a fair business environment is beneficial to all players.
Larger companies and state-owned enterprises have as much to gain from this collaborative approach to integrity as their smaller suppliers.
 "Collective Action continues to be recognised by the B20 as an essential tool for companies of all sizes.  In these tough times organisations need cost-efficient, effective and inspiring approaches to find new customers, enter new markets and to do so without sacrificing their integrity. By working together in collaborative approaches, the public and private sectors together with civil society can raise standards, promote integrity, implement business-friendly solutions and ensure fair and ethical business practices. Collective Action works. It just needs coalitions of the willing, some courage and imagination."
– Gemma Aiolfi
Mitigating public procurement risks
Concerns about corruption risks in public procurement for covid-19 raised questions in particular in relation to protective equipment.
Here again Collective Action can help provide the answer, because keeping public procurement processes transparent and clean is not just the job of governments but all stakeholders.
Tools include Integrity Pacts and the High Level Reporting Mechanism, a novel clean procurement mechanism supported by the Basel Institute and OECD that responds to the need for transparent and speedy resolutions of corruption allegations.
About the B20 Saudi Arabia Integrity & Compliance Taskforce
The panel was convened by the B20 Saudi Integrity & Compliance Taskforce Chair, Mathad Al-Ajmi, and Chair for the Anti-Corruption Working Group of G20, Dr. Nassar Abaalkhail. Professor David Malan moderated the discussion. Joining Gemma Aiolfi on the panel were:
Katja Bechtel, Lead, Partnering Against Corruption Initiative (PACI) at the World Economic Forum
Rauno Hoffmann, Head of Policies, Advisory and Anti-Bribery Program, Novartis, and Vice-Chair of the Business at OECD (BIAC) Anti-Corruption Committee
Viviane Schiavi, Deputy Director, Integrity, Anti-corruption and Responsible Business Conduct, International Chamber of Commerce
Through its Collective Action team, the Basel Institute is supporting the B20 Saudi Arabia Integrity & Compliance Taskforce in 2020 as Network Partner.
Further reading