07. December 2022
Seizing the opportunity: Europol–Basel Institute recommendations on tackling crypto crime and money laundering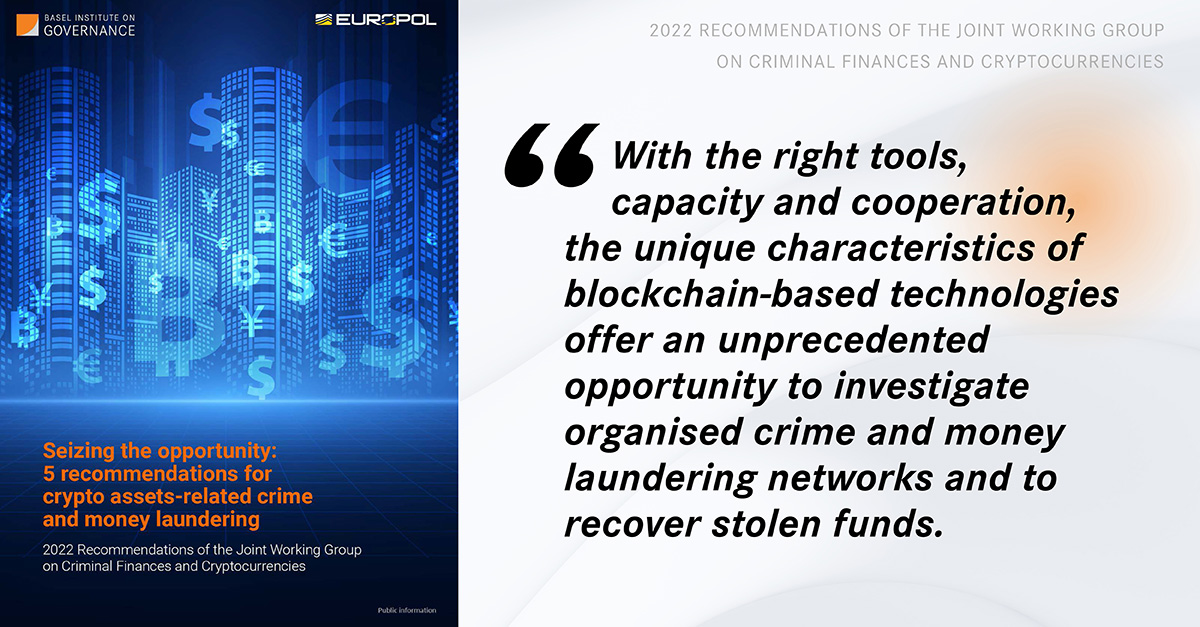 As the use of crypto assets expands into practically every country and sector, so does its abuse to commit new forms of crime and launder criminal proceeds. Yet with the right tools, capacity and cooperation, the unique characteristics of blockchain-based technologies offer an unprecedented opportunity to investigate organised crime and money laundering networks and to recover stolen funds.
That is the main message of a set of five recommendations issued jointly by Europol and the Basel Institute on Governance following the 6th Global Conference on Criminal Finances and Cryptocurrencies earlier this year. 
The Recommendations are intended to highlight broad approaches and best practices. They are designed to help public and private actors stay one step ahead of those seeking to abuse crypto assets (also known as virtual assets) and services to make, hide and launder illicit money.
The five recommendations are, in brief:
1. Break down silos between "traditional" and "crypto"
The separation between "traditional" and "crypto" organised crime and money laundering is increasingly unhelpful. Specialised crypto expertise remains essential for both law enforcement and anti-money laundering (AML) compliance teams in the private sector. This is in part due to the highly technical nature and fast evolution of blockchain-based technologies. But recent trends in criminal activity and the use of cryptocurrencies to launder money show how the two worlds are merging.
Efforts to combat such crimes in both the public and private sectors need to do the same.
2. Regulate broadly and make full use of existing laws
Existing financial crime laws can be (and are being) applied to prosecute crimes and money laundering involving crypto assets and to recover illicit funds. Legislators can make it easier for law enforcement, prosecutors and judges to deal with cases involving crypto assets by considering these when developing new financial crime laws or revising existing legislation.
It is essential that crypto assets are treated like any other asset for the purposes of AML/CFT supervision and enforcement.
3. Take advantage of the blockchain to disrupt organised crime
The blockchain technology that forms the backbone of crypto assets and services offers numerous opportunities to investigate crime and money laundering schemes, gather intelligence, and freeze and confiscate illicit assets.
4. Raise crypto literacy through capacity building and clear communication
Increasing general understanding of crypto assets and services is vital to tackle organised crime and money laundering, both physical and virtual. Finding smart ways to communicate about crypto also pays off.
5. Increase public-private cooperation
Public entities, including law enforcement bodies, can gain significantly by harnessing the tools, data and analytics expertise of the private sector. Closer cooperation with crypto asset service providers can also speed up law enforcement requests to assist investigations and freeze funds.
Learn more