15. July 2019
Renewed MoU signals fresh commitment to cooperate in fighting corruption in Thailand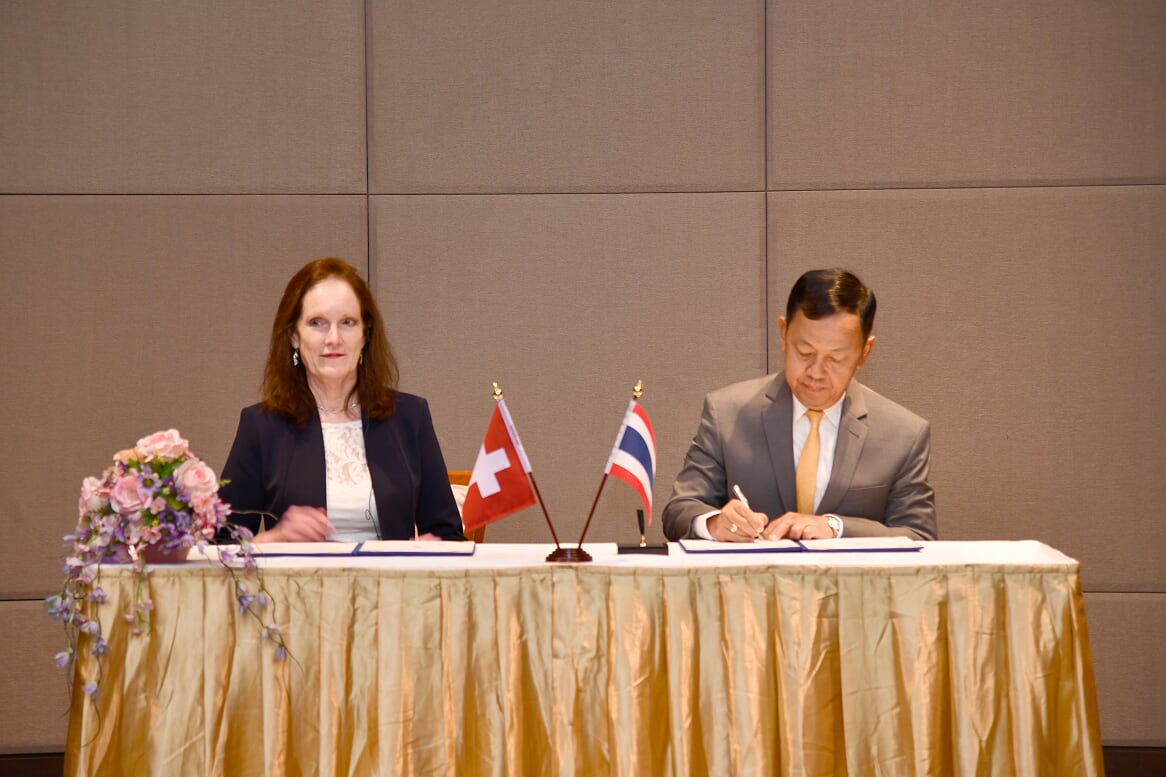 The Thai National Anti-Corruption Commission (NACC) has renewed a long-standing Memorandum of Understanding (MoU) with the Basel Institute on Governance to jointly foster the prevention of and international collaboration in the fight against corruption.
The President of the NACC, Pol. General Watcharapol Prasarnkrajkit, and Mrs Phyllis Atkinson, Head of Training at the Basel Institute's International Centre for Asset Recovery (ICAR), took part in a signing ceremony at the NACC premises in Bangkok on 8 July 2019. The ceremony was witnessed by the Swiss Ambassador, the Honourable Mr Ivo Siber, NACC Commissioners and its Secretary General. 
Deepening a strong and fruitful partnership
The NACC President explained that the MoU, which has been in existence since 2011, has created a strong partnership that enhances the sharing of anti-corruption knowledge and expertise between the NACC, the Basel Institute and other stakeholders.
The extension, he said, would further strengthen the relationship, as well as provide further opportunities for capacity building with regard to mutual legal assistance and investigations for asset tracing and recovery.
The importance of financial investigation for anti-corruption
The President reminded all present that tracing, identifying and recovering assets are important elements of the anti-corruption measures set out in the United Nations Convention against Corruption (UNCAC) and international standards.
He also acknowledged that financial investigation is key to corruption enforcement and anti-money laundering measures. Financial investigation is a first step in providing evidence for effective prosecution in corruption cases, recovering assets and investigating unexplained or "unusual" wealth.
He emphasised that the NACC recognises the importance of financial investigations and therefore encourages capacity-building amongst NACC investigators. This will allow them to remain abreast of new developments and to learn from international experts, including the ICAR training team. He hoped that the workshop (following the signing) to be conducted by Phyllis Atkinson would achieve its goal and that all NACC investigators would benefit greatly from the knowledge shared and implemented.
Hands-on discussion of key components of financial investigations
Following the signing ceremony, Phyllis Atkinson gave a presentation on "Key Components of Financial Investigations" to approximately 90 NACC officers. It focused on methods used to conceal the proceeds of crime and approaches to tracing and recovering such proceeds.
The participants discussed the practical implementation of financial investigative techniques on the basis of an exercise aimed at determining the disparity between a suspect's legal and known income and his expenditure. They were introduced to the "Source and Application Analysis of Funds" method as a means of determining "unusual wealth" in terms of Thailand's 2018 Organic Law on Anti-Corruption.
Feedback indicated that the participants "liked the presentation" and "want the session to be longer than half-day and more intensive as they gained knowledge for their work".
We are always delighted to receive this type of feedback on our training courses and note that it is fully in keeping with the terms of the renewed MoU.
2